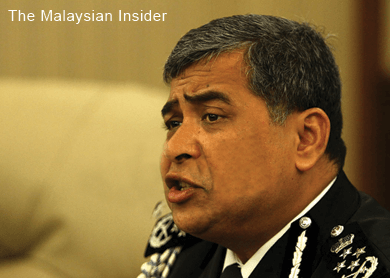 (Nov 26): Philippines police yesterday contacted their Malaysian counterparts to obtain DNA samples from the family of killed Malaysian hostage, Bernard Then Ted Fen, the Inspector-General of Police said today.
Tan Sri Khalid Abu Bakar said police were now making arrangements to send over the DNA samples for verification purposes.
Then, 39, was beheaded in the southern Philippines by Abu Sayyaf militants, after negotiations for his release failed following additional conditions imposed by the terrorists.
The Sarawakian engineer was abducted from the Ocean King Seafood Restaurant in Sandakan in May together with restaurant owner Thien Nyuk Fung.
Thien, however, was released on November 9.
"I have also requested to meet with the Filipino inspector-general. However, that will be later as currently their country is in the midst of preparing their budget," Khalid told reporters in Ipoh, after giving out 264 honorary medals to police commandos who had served in "Ops Daulat" against militants in the Lahad Datu intrusion in 2013.
Khalid had previously said he would be heading to Manila for a Malaysian-Philippine joint taskforce to track down those responsible in Then's execution.
He said criminal gangs from the neighbouring country, including the Abu Sayyaf millitants who had beheaded Then, were always looking for chances to strike in Malaysian waters, especially Sabah's east coast.
"Our security forces in the frontline have to remain on constant guard, which is why I have reminded them to always be on alert.
"With this kind of threat, still there are people who go to meet our enemies there," he said, referring to Lembah Pantai MP, Nurul Izzah Anwar, who has come under severe criticism for taking pictures with Jacel Kiram, the daughter of self proclaimed Sulu sultan Jamalul Kiram III, during a recent trip to the Philippines.
Pictures of both women holding posters demanding the release of Nurul Izzah's father, jailed former opposition leader Datuk Seri Anwar Ibrahim went viral after it was posted on Jacel's Facebook page.
The PKR vice-president is expected to give police her statement tomorrow regarding her meeting with Jacel. A meeting which Nurul Izzah had said was out of her control as it was organised by her Philippine hosts.
Nurul Izzah today filed suits against Khalid and Rural and Regional Development minister Datuk Seri Ismail Sabri Yaakob for allegedly implying that she had committed treason. – The Malaysian Insider