This article first appeared in The Edge Financial Daily, on March 30, 2020.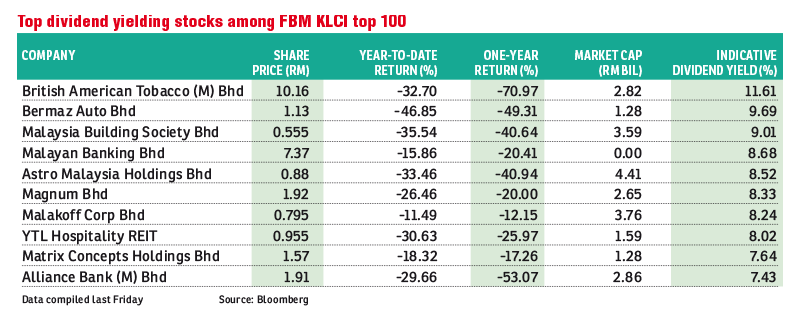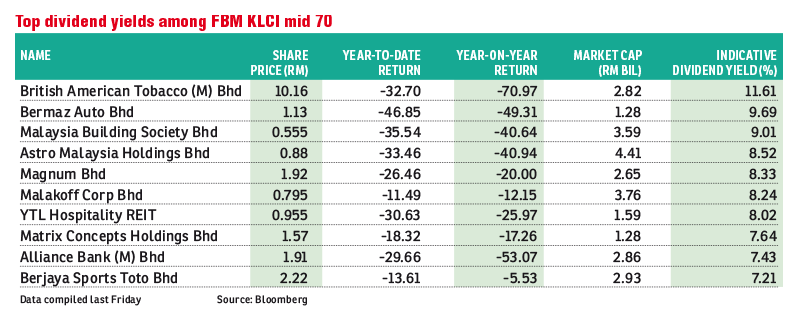 Click / Tap image to enlarge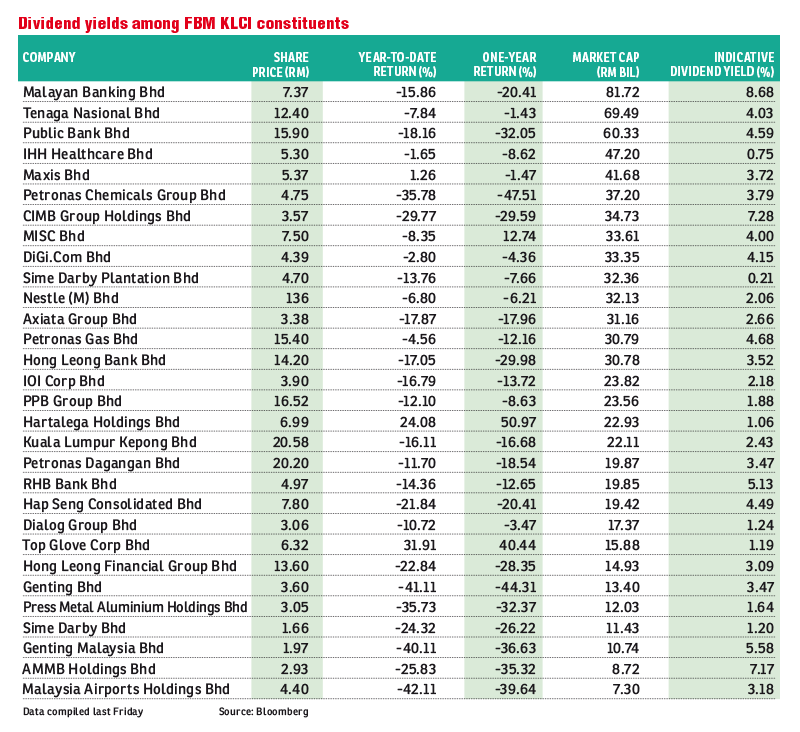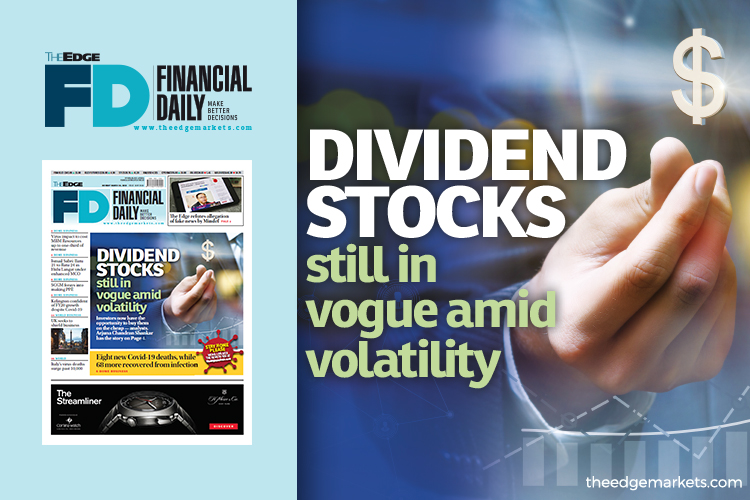 KUALA LUMPUR: Dividend stocks are worth keeping an eye out for despite the volatility in the market amid the Covid-19 pandemic, say analysts.
Investors now have the opportunity to buy many dividend stocks on the cheap, but they should do their homework and see if such stocks are able to weather the impacts of the pandemic, analysts said.
Hong Leong Investment Bank head of retail research Loui Low said investors should go for companies that have a net cash position and high dividend yield provided that their business prospects are unlikely to be impacted by the virus outbreak.
In terms of yields, Low opined that at this juncture, counters with an 8% to 10% yield could be worth looking at.
In particular, he recommended utility companies such as those in water supply.
These would include YTL Power International Bhd, an independent power producer and water and sewerage company, which has an indicative dividend yield of 8.45%, based on Bloomberg data as at market close last Friday.
Taliworks Corp Bhd, which is also involved in the water business, has an indicative dividend yield of 7.45%.
TA Investment Management chief investment officer Choo Swee Kee highlighted that for long-term investors who just need dividend income, anytime is a good time to pick up high-dividend-yield stocks as they are not worried about short-term capital losses.
"Of course, you should increase your purchase now as the yields you can get are much higher now and you can increase your average portfolio yield.
"If you are just a short-term investor or trader, you can actually get much higher capital appreciation returns when [the] market recovers if you buy high beta stocks," he said.
Nevertheless, the Covid-19 outbreak has presented challenges for such high-dividend counters. The movement control order (MCO) means that non-essential businesses have had to suspend their operations.
Combined with weakening consumer sentiment, many experts are of the view that corporate earnings will decline.
LeInves PLT chief investment officer William Ng said traditionally high-dividend-yield stocks are mainly concentrated in sin industries, real estate investment trusts (REITs) and fast-moving consumer goods.
"However, the Covid-19 outbreak is making an impact in a historic way, as almost all sectors will be hurt besides the medical, hospital, pharmaceutical and utility sectors," Ng said.
Low said lower earnings in this weak business environment would also translate into a lower dividend payout.
"Under this scenario, it depends on your business model, whether you could withstand the weaker demand moving forward on most things. At the end of the day, everything should return to normal after the virus has been contained," said Low.
He opined that even if counters are unable to deliver a 10% dividend yield, yields would still be satisfactory.
"This is even if you slash 10% in half you would still get a 5% yield, which is still decent when compared with interest rate you would get from fixed deposits," Low said.
Earnings prospects still a focal point
For Ng, the sheer ability for a company to deliver positive net earnings and dividends in this current climate is already a plus point.
Choo highlighted that all dividend stocks can fall sharply when the market is irrational — with certain dividend-yielding counters affected in the short term due to certain crises that affect their business model.
"That is why we recommend investors to think in longer term. For example, Pavilion REIT's revenue and dividend yield for this year may be affected by the Covid-19 and the MCO but long-term rental revenue and dividend yield should recover," said Choo.
As such, he said investors should focus on sectors that are resilient and have a stable business model can sustain high dividend yields on a long-term basis.
These include monopolistic types of businesses and concession-based sectors such as telecommunications, power generation, gaming, REITs and airports.