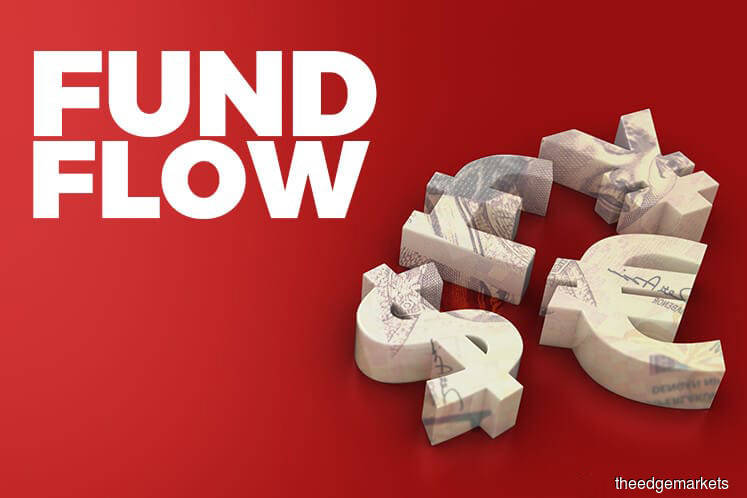 KUALA LUMPUR (Oct 29): Foreign funds disposed of RM310.1 million net of local equities last week, up from a net outflow of RM128.7 million the prior week, according to MIDF Amanah Investment Bank Bhd Research.
In his weekly fund flow report today, MIDF Research's Adam M Rahim said the week started off with a foreign net inflow on Monday worth RM34 million as China announced steps to ease funding strains of private companies to restore confidence within the economy.
He said Monday's inflow was then reversed by the highest foreign net outflow during the week worth RM138.7 million on Tuesday.
"This was in conformity with other regional peers, namely Korea and Taiwan which both experienced a heavy selloff of more than US$400 million net each.
"The remaining days appeared mixed. The foreign net attrition tapered to RM52.4 million on Wednesday before reaching higher to RM101.0 million on Thursday," he said.
Adam said there was an exodus of funds from global markets following a rout in US technology stocks overnight that inflicted the largest decline in a day on Wall Street in seven years, erasing all year-to-date gains.
He said Friday's atmosphere was calm again as foreign selling declined to RM52 million in the wake of Wall Street's recovery overnight.
"With just three trading days left in October, the month has seen a total outflow worth RM1.56 billion, bringing the year-to-date outflow to reach RM10.1 billion.
"This offsets approximately 98% of last year's net inflow but nevertheless, Malaysia still remains as the country with the second lowest outflow amongst the four ASEAN markets we monitor," he said.
Adam said participation among investors in the retail market remained resilient as the weekly average daily traded value was 5.4% higher and remained above RM800 million.
"Meanwhile the weekly ADTV (average daily traded value) for local institutional funds and foreign investors took a dip below their healthy levels of RM2 billion and RM1 billion respectively," he said.