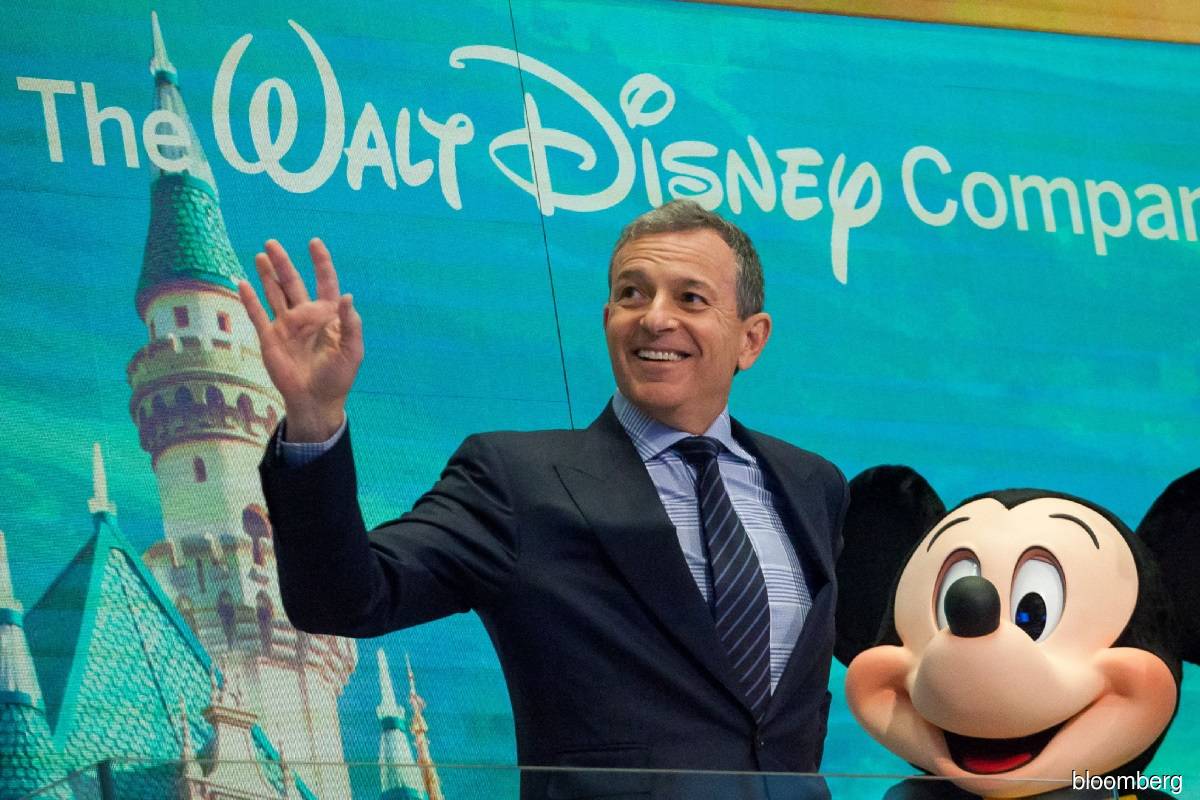 (Nov 21): Walt Disney Co's shares jumped after it brought back former leader Bob Iger to replace his successor Bob Chapek as chief executive officer, a surprise capitulation by the board after a string of disappointing results.
Iger, 71, who spent more than four decades at Disney, including 15 years as its CEO, has agreed to serve for two years and will help find a permanent replacement, according to a company statement. Chapek, 62, is leaving effective immediately. Shares in Disney jumped 10% in pre-market trading on Monday, after falling about 41% this year.
"The board has concluded that as Disney embarks on an increasingly complex period of industry transformation, Bob Iger is uniquely situated to lead the company through this pivotal period," Susan Arnold, chairman of the board, said in the statement.
Iger will be charged with reversing the steep decline in Disney's shares, which are headed toward their worst annual loss since at least the 1970s. He will need to rein in Disney's spending on programming for streaming video while reigniting growth for the Disney+ service, all while managing a declining cable-TV business.
His return may be complicated by an activist investor. Nelson Peltz's fund management firm Trian opposes his rehiring and is pushing for a board seat to advocate for more cost cuts, the Wall Street Journal reported, citing people it did not identify. Earlier this month, the company bought more than US$800 million (RM3.66 billion) worth of Disney stock following its fourth-quarter results, but the stake — under the 5% disclosure threshold — is not as large as Trian would like it to be and will likely grow, subject to market conditions, the report said.
Trian and Disney did not immediately respond to requests for comment sent outside business hours.
"The question is whether it solves Disney's main strategic dilemma ie what to do with Disney+, which lost US$1.5 billion last quarter and distorting the rest of the business," said Ian Whittaker, an independent analyst at Liberty Sky Advisors. "I don't think it does. Iger was the architect of the streaming strategy and still seems wedded to it."
Dan Loeb's Third Point has also taken a stake in Disney and pushed for the company to explore options to boost returns, including potentially spinning off ESPN. Loeb eventually backed off that idea and reached a settlement with the company after it appointed tech and media veteran Carolyn Everson to the board in September.
Disney shares peaked at US$203.02 in March of 2021 and closed on Nov 18 at US$91.80, down 41% for the year.
In an email to employees just before the company announced the move, Iger said he was returning to the job "with an incredible sense of gratitude and humility — and, I must admit, a bit of amazement." He said that employees will be hearing more from him and the company's leaders on Monday and in the coming weeks. "These times remain quite challenging, but as you have heard me say before, I am an optimist," he said.
Iger was CEO at Disney from 2005 to 2020, and during that time the company acquired Pixar, Marvel, and Lucasfilm, and launched the streaming service Disney+. He retired as executive chairman in December, ending an uneasy coexistence with CEO Chapek at Disney's helm.
A Disney veteran for decades, Chapek rose through the ranks, working in the company's home video division in the era of VHS tapes and rising to lead its consumer products and later the theme park business. There, Chapek oversaw a number of major projects including the opening of the company's new theme park in Shanghai, and the debut of the Star Wars-themed lands in California and Florida.
Chapek emerged as a leading candidate for CEO after Iger kept extending his contract and a number of would-be successors departed, including the well-liked former chief financial officer and parks chief, Tom Staggs.
Chapek took over in February 2020, just as the Covid-19 pandemic was getting underway, and got a three-year contract extension in June, in what was widely seen as a vote of confidence from the board at the time.
He led Disney during a tumultuous stretch for the company in particular and for media more broadly as the entertainment industry shifted to making TV shows and movies for streaming over cable and theatres.
Some of the tumult was of Chapek's own making. Scarlett Johansson sued Disney after the company decided to release the film Black Widow online, essentially cutting her pay. In response, Disney suggested she had already been paid enough, generating a conversation about whether the comments were sexist. They later settled the dispute out of court.
Chapek also tried to keep Disney out of a Florida battle over how gender identity was addressed in schools, saying in March that Disney would not take a position on legislation barring such discussions in classrooms. But that led to a backlash from employees, and two days later he recanted, publicly stating Disney would oppose the bill.
Chapek made organisational changes that rankled many staffers, taking responsibility for ad sales, film release schedules, and which TV shows to produce, away from the network and studio heads that had long made those decisions. A push to relocate theme-park designers from California to new offices in Florida, further angered employees.
While theme-park profits surged after guests returned, Chapek made changes that angered many theme-park fans. He began requiring reservations. He raised admission prices, and he instituted a new system letting some guests bypass long lines for a fee, thereby adding even more to the cost of a visit. The stock surged during the early stages of the pandemic.
The then-new Disney+ platform gained millions of subscribers as theatres were closed and home-bound consumers were eager for new programming at home.
But shareholder sentiment toward streaming turned sour when Netflix Inc reported its first subscriber losses and investors began pressing companies to show a profit on surging outlays for new TV shows and films. Disney is poised to raise the price on its flagship Disney+ streaming service by 38% next month, an increase that surprised many in the industry due to its size.
On Nov 8, Disney reported sales and earnings that came in below Wall Street expectations. The shares fell the most in more than two decades.
Three days later, Chapek announced a hiring freeze, and told employees they could not travel to conferences and events without management approval. Many staffers were caught off guard by the severity of the language in the cost-reduction memo, as they would be a week later with the news that the cuts would include the CEO.
With Iger, Disney has a very different captain back at the helm. Iger was popular with the rank and file workers. In contrast to Chapek, Iger said publicly early on that he opposed the Florida schools bill. He also stated on several occasions that he was enjoying retirement and did not even want to serve on big company boards again, suggesting his return was not planned for very long.
"The street will see him as a steady leader in uncertain times," Wells Fargo analyst Steven Cahall said of Iger in a research note on Sunday. "Chapek was seen as an ace on park ops, whereas Iger is the content guru, and we think content is believed to be the lifeblood of the company."
Read also:
Outgoing Disney CEO Bob Chapek likely leaves with at least US$23 mil