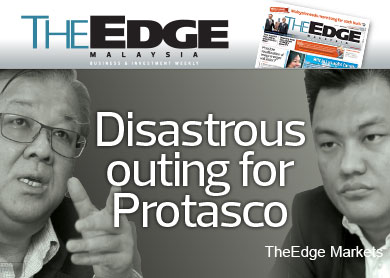 KUALA LUMPUR (Nov 1): Protasco Bhd's oil and gas ambition looks all but gone as it finds itself mired in a slew of lawsuits led by substantial shareholders Datuk Seri Chong Ket Pen (left) and Tey Por Yee, the Edge weekly reported in its latest edition.
In its edition for the week of Nov 3 – Nov 9, the magazine said Protasco executive vice-chairman and managing director Datuk Seri Chong Ket Pen had welcomed the entry of investor Tey Por Yee and his associate Ooi Kock Aun into the company via their acquisition of a 27.11% stake through Kingdom Seekers Ventures Sdn Bhd from Dream Cruise Sdn Bhd and FNQ Advanced Materials Sdn Bhd for RM96.51 million in November 2012.
The Edge said it understood that Chong had welcomed Tey and Ooi as substantial shareholders of Protasco in the belief that they would help look for investment opportunities for the company in a new industry — oil and gas exploration and production.
It said Protasco announced on Dec 28, 2012, that it had entered into a sale and purchase agreement (SPA) with PT Anglo Slavic Utama (PT ASU) for the acquisition of 76% equity interest in PT Anglo Slavic Indonesia (PT ASI) for US$55 million.
Protasco then paid a refundable deposit and part-payment amounting to RM50 million to PT ASU.
PT ASI is an investment holding company that has oil and gas assets in Aceh, Indonesia, and holds a 49% stake in PT Firman Andalan Sakti (PT FAS), which in turn has 70% equity interest in PT Hase
The Edge reported that according to those close to Chong, he believed Protasco needed a new business to maintain the group's growth trajectory.
It said while its construction, road maintenance and property development businesses were doing well, Protasco wanted a slice of the booming oil and gas industry.
Early this year, the company's deal with PT ASU seemed to have got sweeter when it secured a reduction in the purchase price due to material discoveries made after due diligence was done on the latter's assets. A second SPA was drawn up for the company to acquire 63% of PT ASI for US$22 million (RM72.04 million), less than half the original price, said the Edge.
The new sum was payable upon the execution of the second SPA and could be taken out of the RM50 million deposit placed on the first SPA.
PT ASU provided collateral in the form of 297.14 million shares in PT Inovisi Infracom TBK, a company listed on the Indonesia Stock Exchange. It is worth noting that Ooi is the chief financial officer of Inovisi, which is also involved in oil and gas.
One of the conditions of the deal was for PT ASU to secure a 10-year extension of the PMPA from Pertamina.
Unfortunately, PT ASU was unable to meet this requirement — Pertamina only granted it a three-year extension. On July 28, the second SPA lapsed as the terms of the deal were not fulfilled by PT ASU.
While most companies would have paid only a portion of the purchase price as down payment, Protasco had paid the full sum with an additional advance of US$5 million (RM16.37 million) to PT ASI.
Citing sources, the Edge said this was because PT ASI needed the money urgently to undertake exploration works, well reactivation and construction.
It is also understood that Ooi led the SPA talks because of his business experience in Indonesia. Furthermore, he had a working visa in the country.
With what seemed like a good business opportunity having ended on a sour note, Protasco is suing Tey and Ooi for breach of fiduciary and statutory duties to the tune of US$27 million (RM88.41 million).
Protasco claims that Tey and Ooi failed to disclose their interest in the transaction and conspired to defraud the company and undertake secret profit-making, according to filings with Bursa Malaysia, said the Edge.
Protasco is also suing PT ASU for the refund of the US$22 million paid as the purchase price under the second SPA and damages arising from breach of contract as PT ASU was unable to get the PMPA extended for 10 years.
The weekly explained that the situation grew more tense last Tuesday after Tey, through Kingdom Seekers Ventures, counter-sued Chong by filing a derivative action against him and six others (including Protasco) for the recovery of RM10 million that he alleged had been siphoned off by Protasco's senior management.
In a press conference on the same day, Tey told reporters that he had evidence of a money trail that flowed through two layers of companies before a RM10 million cheque was drawn up and paid to RS Maha Niaga Sdn Bhd, which was allegedly Chong's private vehicle.
Armed with documents from the Companies Commission of Malaysia, Tey pointed out that Maha Niaga's shareholders comprised Protasco's senior management, namely Edward Khoo Mong Wei, Lim Yew Ting, Low Kian Seng and Khor Hooi Ling.
The Edge reported that the charges filed by Tey came a day after Protasco announced that it was convening an extraordinary general meeting (EGM) to remove Tey and Ooi as the company's directors. 
"Now I know the real reason for the lawsuit. It is really just a boardroom fight and they want to remove me. I have invested close to RM100 million in Protasco. I am a substantial shareholder and Datuk Seri Chong sees me as a threat," the magazine quoted Tey as saying at the press conference.
For more on the Protasco saga, read the Edge weekly edition of Nov 3 – Nov 9 available at newstands now.