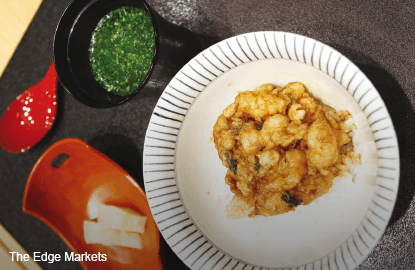 This article first appeared in The Edge Financial Daily, on April 4, 2016.
LAST Friday, the first Malaysian outpost of Tokyo's famed tempura specialist, Ginza Tenkuni, opened at the luxurious St Regis Kuala Lumpur in KL Sentral. While the hotel will only officially open on May 1, the two Japanese restaurants — the other is the renowned Taka by Sushi Saito — are fully operational and taking reservations.
At Ginza Tenkuni, tempura isn't something that's just part of the menu but the heart and soul of the establishment, and preparing it is an art. With a history dating back to 1885, Ginza Tenkuni offers premium Edo-style tempura, and these flash fried morsels are unlike anything served in other Japanese restaurants here. The three major components of tempura — the tentsuyu dipping sauce, wispy batter and frying oil — are concoctions made using closely guarded recipes passed down through the years. Meanwhile, only the freshest of seafood such as prawns and sillago, and vegetables sourced from all over Japan are served at the restaurant.
Dining here is an experience — be sure to obtain a spot at the 12-seater tempura counter to enjoy the full experience of having your food freshly prepared and cooked in front of you. Larger parties can opt for one of the private rooms. The restaurant here is helmed by chef Kenichi Ishikawa, who honed his skills at the original Tokyo restaurant for many years and was handpicked for the Kuala Lumpur post.
Standing at the counter behind a domed copper shield that serves as buffer for diners against the pot of hot oil, chef Ishikawa begins by mixing the batter of chilled rice flour, eggs and cold water using a special tool — a pair of what looks like very fat wooden chopsticks. The selection of seafood and vegetables — some of which are seasonal, such as the aralia sprout from Japan that I sampled — are fried individually to ensure each one is cooked to perfection and served within seconds out of the fryer. Testament to the quality of the tempura is the fact that there is nary a hint of oil residue on the paper that lines the serving plate, and the batter is feather-light — so as to highlight the quality and flavours of the fresh produce and seafood, I was told — with just a bit of crunch.
In addition to the proprietary tentsuyu dipping sauce, which comes with a generous heaping of grated fresh daikon radish, diners also have the option of salt and/or lemon — basically, you decide how you want to season your tempura. The tentsuyu is, hands-down, the most delicious tempura dipping sauce I've ever had, a blend of savoury-sweet goodness bursting with umami. Be sure to also order the tendon or tempura rice bowl with prawn kakiage, which comes dressed in a slightly thicker, more concentrated sauce. It's Japanese comfort food at its best.
---
For reservations to either restaurants, call (012) 330 3600 or email [email protected].