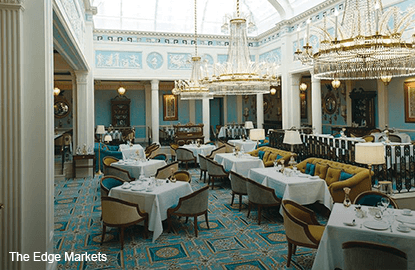 FOLLOWING an extensive 18-month renovation, The Lanesborough hotel in London opened its doors and welcomes a new culinary era with a fabulous new restaurant: Céleste. The latest masterpiece hotel of Oetker Collection, The Lanesborough's sparkling new gastronomical gem will serve French-inspired cuisine that is modern, imaginative and uses the best British ingredients.
The word Céleste derives from the late 19th-century French word meaning "heavenly". Pertaining to the sky framed by the restaurant's glass domed roof, the name also acknowledges the Gallic influence of the French chefs and alludes to a celestial gastronomic experience. The conservatory roof allows daylight to flood in for a naturally lit lunch. Also enjoy an indulgent dinner experience.
Within Céleste, 250 different mouldings were created to achieve the historic scene in bas-relief that surrounds the frise under the sky dome. English crystal chandeliers illuminate the delicate detailing, with the largest weighing 200kg and stretching two metres wide. The restaurant has 110 covers and includes a private dining room that seats up to 14, which can be closed or open to the main room, and two wine-tasting rooms offering an impressive selection of wines.
The cuisine at this stunning new restaurant draws on traditional French savoir faire while championing the authenticity of the finest British organic produce. Speaking on the philosophy behind the cuisine, Oetker's chef patron Eric Frechon says: "The menu takes inspiration from London as a global capital for cuisine, with flavours including herbs and spices. We work closely with local suppliers to use the best ingredients the country has to offer and prepare them using classic French techniques."
Signature dishes, which bear the handprint of the hotel's executive chef Florian Favario, include heritage tomatoes with tomato sorbet, home county lamb with courgette couscous and homemade harissa, and handcrafted sugar strawberry, mara des bois Chantilly and sorbet. Céleste serves breakfast, lunch, afternoon tea and dinner.
---
The Lanesborough is located along Hyde Park Corner, London. For more information or to make reservations, call (+4420) 7259 5599 or email [email protected].
This article first appeared in digitaledge Daily, on September 17, 2015.