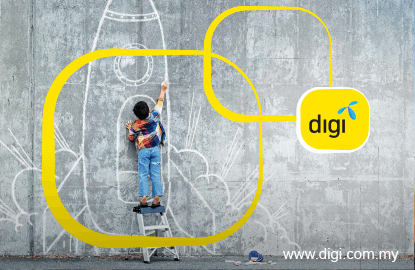 KUALA LUMPUR (Feb 5): Telecommunication provider DiGi.Com Bhd recorded a 31.7% drop in net profit to RM382.36 million or 4.92 sen per share in its fourth quarter ended Dec 31, 2015 (4QFY15) from RM560 million or 7.2 sen per share a year ago as a result of progressively higher operational and maintenance cost.
Revenue slipped 4.1% to RM1.72 billion in the quarter under review from RM1.8 billion last year, according to its filing with Bursa Malaysia today.
"As a flow through effect from progressively higher operational and maintenance (O&M) cost from network expansion, increased market activities, intensified competition, and compounded by elevated cost from weak ringgit currency, earnings before interest, taxes, depreciation and amortisation (EBITDA) trended lower to RM701 million or 41% margin.
"Full-year EBITDA summed up to RM2.98 billion or 43% margin. If foreign exchange rate is kept constant at RM3.50 per dollar (2014 year-end rate), normalised EBITDA would be RM3.1 billion or 45% margin.
"Consequentially, profit after tax trended lower to RM382 million," it said in an analysis.
DiGi declared a fourth interim tax exempt single tier dividend of 4.9 sen for the financial year ended Dec 31, 2015 (FY15), which will be paid on March 25. Entitlement date is Feb 29.
The group's FY15 net profit fell 15.2% to RM1.7 billion or 22.15 sen per share from RM2.03 billion or 26.12 sen per share a year ago.
Meanwhile, revenue dipped 1.5% to RM6.9 billion from RM7 billion in FY14.
In a statement, DiGi said it closed FY15 with 12.1 million subscribers and internet subscribers grew to 7.5 million or 61.9% of its total customer base.
It added that the stronger internet subscribers fuelled by higher smartphone penetration of 59.2%, affordable mobile internet bundles with the latest digital services content positively contributed to the 11.5% increase in internet revenue for the quarter.
In 4QFY15, the company's postpaid internet revenue rose 14.5% while postpaid service revenue strengthened 3.4% year-on-year. Prepaid internet revenue grew 9.7% to RM338 million on the back of higher prepaid internet penetration at 58.9%.
Its service revenue for 4QFY15 remained resilient at RM1.6 billion on the back of stronger demand for its 4G-LTE enabled smartphone bundles and incremental subscriptions from sim-only packages across postpaid and prepaid services although challenged by intense price competition.
DiGi said its 4G-LTE subscribers grew to 2.3 million at the end of 2015, representing 19% of its total subscriber base with 4G-LTE network serving more than 65% of the population supported by an expanded fibre network of 6,600km.
Its chief executive officer Albern Murty said DiGi focused on delivering a strong network and quality customer experience across the board by placing equal emphasis on expanding coverage and access to its network, and on the consistency and quality of its services.
"This made it significantly important to densify our network and overlay a large number of sites to dual band, 1,800Mhz and 2,600Mhz, to ensure customers experience high-speed internet consistently with improved outdoor and indoor coverage wherever they are.
"The overlay also enabled us to offer 4G LTE-A to customers, and provide greater capacity and capabilities for us to support next-generation services that our customers are increasingly consuming," he said.
Moving forward, Albern said DiGi will remain focused on growth and value creation, with growth coming from its existing telco business, and driving data momentum from current and new digital services and verticals.
He said that with strong emphasis on customer experience, the focus this year would be to enable easy enjoyment of next generation services and advanced, innovative digital applications with competitive smart devices bundles and plans made widely available.
"Our leadership position on 4G LTE, capturing data growth and monetisation of data from different digital verticals will be key to driving our business forward," he said.
DiGi plans to maintain its capital expenditure level in FY16 to continue driving internet growth as at FY15 when it made a cumulative investment of RM904 million to support its aggressive 4G LTE and 4G LTE-A network deployment nationwide.
At 12.30pm, DiGi rose seven sen or 1.41% to RM5.05 with 3.7 million shares traded for a market capitalisation of RM39.26 billion.