This article first appeared in The Edge Financial Daily, on May 8, 2019.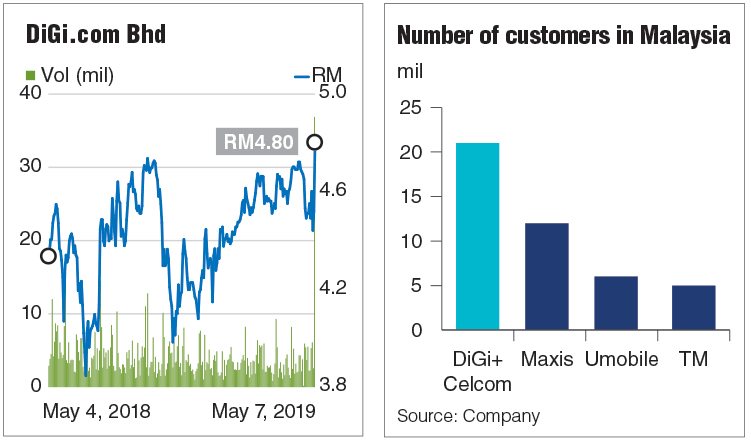 KUALA LUMPUR DiGi.Com Bhd's shares soared yesterday after its largest shareholder, Norway-based Telenor Group, and Axiata Group Bhd said they are discussing a potential merger that will transform them into Asean's largest telecommunications operator.
In Malaysia, the merger is set to see Axiata's unit, Celcom Axiata Bhd, being injected into DiGi. This is expected to see the merged entity overtaking Maxis Bhd to become the country's No.1 mobile operator.
With DiGi seen as the lead player in the merged entity, the strong interest in DiGi shares yesterday was expected, notwithstanding the fact that the proposed merger is still in its early stages and is subject to various regulatory approvals.
DiGi opened at RM5 and rose to as high as RM5.04 — up 11.5% or 52 sen from its previous closing price — before settling at RM4.80 at market close.
The stock has been trading between RM3.845 and RM4.735 over the past one year. It last closed near the RM5-mark in September 2015.
DiGi was among the day's top five gainers on Bursa Malaysia. The biggest gainer was Axiata, which finished 60 sen or 14.9% up at RM4.64. Both stocks helped lift the telecommunications and media sub-index by 2.19%, outperforming the marginal 0.4% gain in the benchmark FBM KLCI.
A total turnover of 36.88 million DiGi shares was recorded yesterday, nearly 10 times more than the 200-day average volume of 3.72 million shares.
CIMB Research believes the possible structure for DiGi's acquisition of Celcom would be via a share swap.
"Thereafter, Axiata and Telenor may inject their stakes in DiGi-Celcom into the new entity. We understand the plan is to keep the listing status of DiGi, which suggests that the merged company will seek a mandatory general offer waiver from the relevant regulatory authorities", said its analyst Foong Choong Chen.
Foong reiterates a "hold" rating on DiGi but ups its target price (TP) by 30 sen to RM4.70, after assuming that the acquisition of Celcom is at a fair value, that the synergies are shared equally between DiGi's current shareholders and Axiata and after applying a 50% chance of the deal happening.
Given that the bulk of the synergy is expected to be derived from the combined Malaysian operations, AllianceDBS Research opines that DiGi is "the more direct and immediate play on this potential merger" while Axiata will be a proxy to the new global entity via its 43.5% stake, before the entity is eventually listed.
"[But] while this development should be conceptually positive for DiGi and Axiata's share prices, we maintain our "hold" recommendations for both stocks until more details and terms of the deal are announced," said its research analyst Toh Woo Kim.
On Monday, Axiata president and group chief executive officer (CEO) Tan Sri Jamaludin Ibrahim and Telenor group president-cum-CEO Sigve Brekke held a joint press briefing, confirming that both companies are in talks to combine their telecommunications and infrastructure assets across Asean and South Asia.
Both parties are now working towards finalising the relevant agreements by September, for the establishment of a merged entity by the third quarter of 2020. A dual listing on the two stock exchanges, including on Bursa, is also in the pipeline.
The merged Celcom-DiGi entity in Malaysia will have a combined subscriber base of 20.8 million.
According to DiGi's latest available annual report, as at end-2018, it serves over 11.7 million customers on its network.
At the time of writing, of the 25 analysts covering DiGi, seven rated the stock a "buy", 14 gave it a "hold" call, while four others held a "sell" call, Bloomberg data showed.
Public Investment Bank Bhd analyst Eltricia Foong, who upgraded the stock to a "trading buy" with a TP of RM4.72, said the Celcom-DiGi merged entity is set to become the leader in Malaysia's mobile segment.
"Our preliminary assessment is that the merger would be positive for DiGi as it would become the largest mobile operator in Malaysia, and could potentially improve margins due to cost savings from sharing of resources, network optimisation and capital expenditure avoidance," she added.
Affin Hwang Capital too upgraded the stock to a "buy", with a higher TP of RM5, from RM4.36 previously.
This is after incorporating a lower weighted average cost of capital and higher long-term growth of 1.5% (from 1%) and expecting the proposed merger to enhance its long-term growth profile,
"It is premature to predict the valuation and shareholdings of the possible merger. Nonetheless, the possible merger has lifted DiGi's overall business prospects," he said.
However, AmInvestment Bank research analyst Alex Goh contended that the potential synergies and cost savings are expected to have a higher boost to Axiata, than to DiGi.
"Axiata currently trades at an EV/Ebitda (an entreprise value to earnings before interests, taxes depreciation and amortisation) of only five times, less than half of DiGi's 12 times.
"Additionally, the merged entity's expanded financial leverage comes from DiGi's low gearing, which could subsequently impact the merged entity's dividend policy," he said. TA Securities maintained an "underweight" recommendation on the sector and a "sell" call on DiGi with a TP of RM4.25, but rated Axiata a "buy".
"While the latest developments could affect the local competitive landscape, the discussions between Telenor and Axiata are still in early stages and there is no certainty that it will evolve into a binding agreement.
"Furthermore, hurdles from shareholders and regulators in various jurisdictions could also be a stumbling block. Our top pick for the sector is Axiata (TP: RM4.75 per share), which we like for its regional footprint in growth markets," it added.