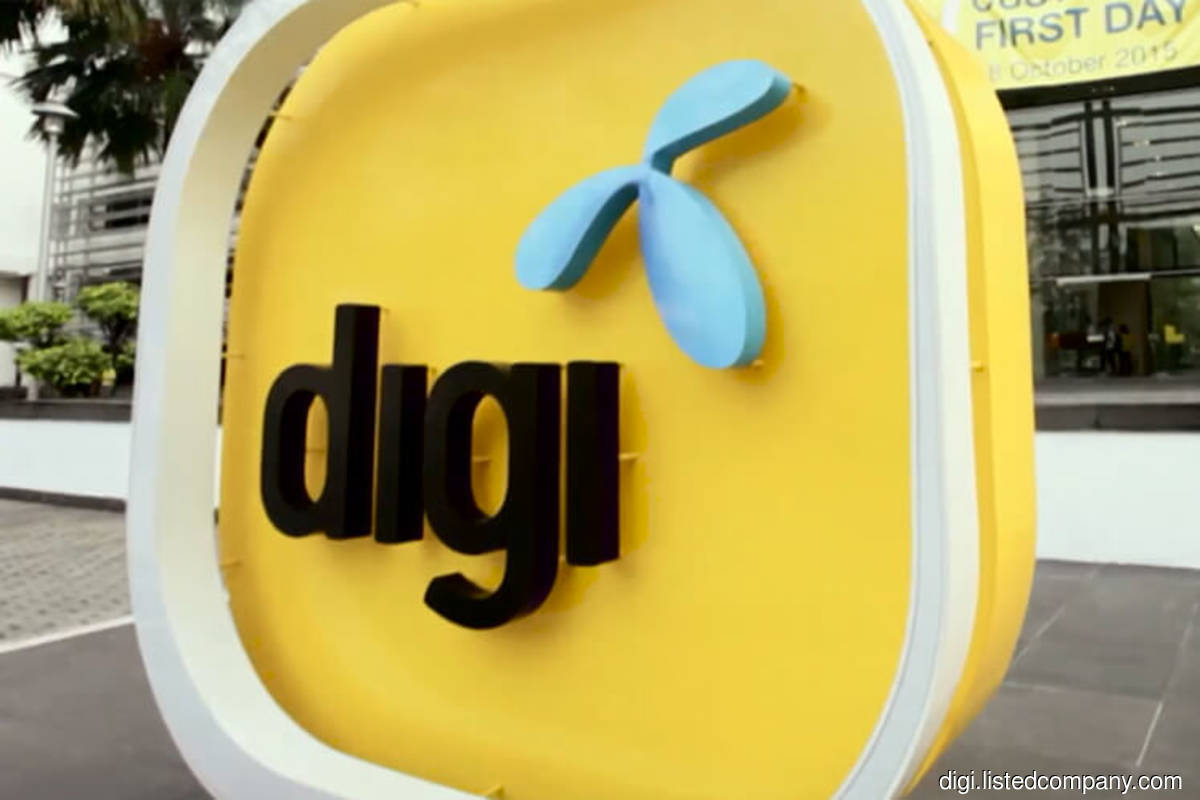 KUALA LUMPUR (July 16): DiGi.Com Bhd's net profit in the second quarter ended June 30, 2021 (2QFY21) slid 2.82% to RM279.91 million from RM288.04 million last year, dragged by higher other expenses incurred in the quarter despite higher revenue.
Quarterly earnings per share slid to 3.6 sen, from 3.7 sen, the telco's filings showed. Concurrently, the group declared a dividend of 3.6 sen per share, bringing its dividends for the first half to seven sen per share, from 7.9 sen last year.
While quarterly net profit trended lower, DiGi said normalised profit after tax (PAT) rose 4.4% year-on-year (y-o-y) amid top line improvement, lower depreciation and lower net finance costs.
Quarterly revenue rose 11.43% to RM1.62 billion, from RM1.45 billion in 2QFY20, on improvements in mobile segment and device sales.
"Excluding a non-recurring device revenue gain of RM37 million, underlying total revenue grew 2.0% quarter-on-quarter (q-o-q) and 8.9% year-on-year on steady commercial momentum and sharp execution across all segments.
"Meanwhile, service revenue recovery of 0.2% q-o-q and 1.7% y-o-y emphasised our strategic efforts in driving data monetisation and increasing penetration rate in the youth and B40 segments," it said.
Prepaid revenue rose y-o-y due to sustained demand for mobile connectivity while post-paid revenue declined as a reflection of the ongoing challenging operating environment.
The group's data subscriber base enlarged further by 2.2% q-o-q and 5.2% y-o-y. It also saw blended average revenue per user (ARPU) sustained at RM43, whilst prepaid ARPU rose further to RM34.
For the six-month period ended June 31, 2021, DiGi's cumulative net profit fell 12.14% to RM544.74 million from RM620.03 million despite higher revenue, on higher costs, operating expenditure and finance costs.
Revenue in the period was up 5.2% to RM3.17 billion from RM3.01 billion on higher sales of devices, which more than offset the lower telecom revenue incurred.
DiGi said it stepped up its network optimisation activities, with higher investments y-o-y of RM196 million for network capacity enhancements and new site deployments.
The group is reaffirming its FY21 guidance of low single-digit decline for service revenue, medium single-digit decline for earnings before interest, taxes, depreciation and amortisation.
"DiGi remains committed to supporting the connectivity needs of society in these times, as we intensify efforts to provide consistent network experience, deliver on Jendela ambitions, bring to market more innovative and affordable plans to support consumers," said chief executive officer Albern Murty.
"At the same time, we continue to step up our vigilance on the safety and health of our employees, partners, and in particular our retail and network frontliners, to continue serving our customers safely in our stores and digital channels," Murty said.
Shares of DiGi traded up one sen or 0.24% to RM4.15 at noon market break, valuing the group at RM32.27 billion.