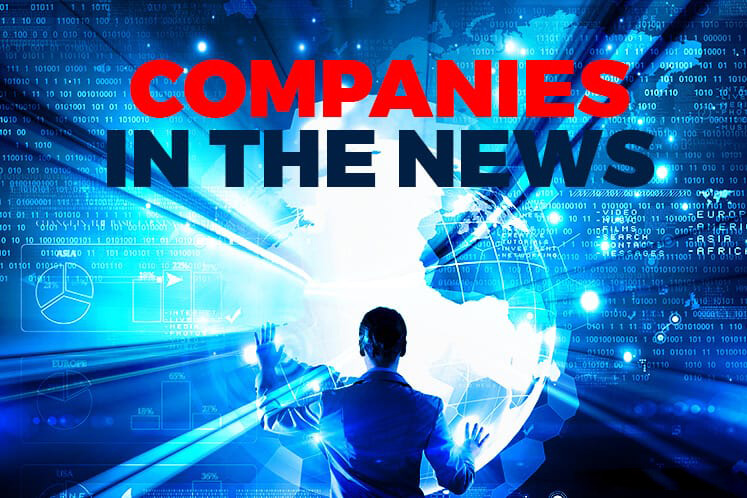 KUALA LUMPUR (April 13): Based on corporate announcements and news flow today, companies in focus on Monday (April 16) may include: DiGi.Com Bhd, UEM Sunrise Bhd, Datasonic Group Bhd, Serba Dinamik Holdings Bhd, Tropicana Corp Bhd, MCT Bhd, MK Land Holdings Bhd, WZ Satu Bhd, Ireka Corp Bhd, Inari Amerton Bhd, Nexgram Holdings Bhd and Vizione Holdings Bhd.
DiGi.Com Bhd's net profit for the first quarter ended March 31, 2018 rose 3.5% to RM386.11 million compared with RM373.11 million a year earlier, thanks to improved service revenue, cash flow and stronger operational efficiencies. Earnings per share rose to 4.97 sen from 4.8 sen.
Quarterly revenue rose 4% to RM1.63 billion from RM1.57 billion previously.
Service revenue grew 0.7% year-on-year to RM1.48 billion, fuelled by solid internet revenue growth within the quarter from the company's strong postpaid performance and stronger data monetisation of its prepaid business.
The group declared a first interim dividend of 4.9 sen per share, payable on June 29.
Moving forward, DiGi said it is committed to investing in growth opportunities and aspire to deliver efficient capital expenditure between 10% and 12% of service revenue.
UEM Sunrise Bhd has acquired 72 acres of land near a lake garden in Kepong to undertake a mixed commercial development, with an estimated GDV of RM15 billion.
For this, its wholly-owned subsidiary, Sunrise Bhd, has entered into an agreement with Mega Legacy Equity Sdn Bhd to collaborate in developing the land.
The development — on the land located adjacent to the Kepong Metropolitan Park (popularly known as Taman Layang-layang) — will include service apartments and commercial offerings.
It is expected to be carried out over 15 years and contribute positively to the group's future earnings.
Datasonic Group Berhad's wholly-owned Datasonic Technologies Sdn Bhd (DTSB) has secured a contract worth RM270.71 million from the Home Affairs Ministry to supply 9.96 million polycarbonate biodata pages to the Immigration Department.
The contract is for a period of 46 months, from Feb 1, 2018 till Nov 20, 2021.
DTSB is also required to furnish a performance bond for the amount of RM3.53 million to the ministry, from Feb 1, 2018 till Nov 30, 2022.
The contract is expected to contribute positively to the earnings and net assets of the group for the financial years ending Aug 31, 2018 onwards.
Serba Dinamik Holdings Bhd has acquired 24.84% of Singapore-listed CSE Global Ltd for S$57.67 million (RM170.57 million).
For this, its wholly-owned Serba Dinamik International Ltd had entered into eight conditional share sale and purchase agreements with shareholders of CSE Global for the proposed acquisition of up to 128.17 million ordinary shares of the company.
Serba Dinamik hopes to leverage on CSE Global's client base in the oil and gas industry where the former might be able to extend engineering, procurement, construction and commissioning services, as well as operations and maintenance services.
The proposed acquisition is said to allow the group to gain a stake in a profitable target with its own financial capabilities and ready order books without having to inject further capital.
Tropicana Corp Bhd's wholly-owned Tropicana Metropark Sdn Bhd is disposing of a 9.12-acre plot in Pekan Country Height within the Petaling district in Selangor to MCT Bhd for RM143 million.
A conditional sale and purchase agreement was signed between Tropicana Metropark and MCT's wholly-owned Next Delta Sdn Bhd for the transaction.
MCT plans to build some 1,400 serviced apartments on the land.
The project is currently in the "initial planning stage" and MCT expects to commence building in 2019 and complete the project by 2024.
It has a development cost of an estimated RM570 million, and it expects a gross profit of RM280 million.
MCT's proposed acquisition and eventual development cost of the land will be funded via a combination of internally-generated funds and/or bank borrowings at a ratio to be decided later.
MK Land Holdings Bhd's wholly-owned Saujana Triangle Sdn Bhd (STSB) has been served with a writ of summons and statement of claim dated April 10 for RM64.64 million in taxes allegedly owing for the years of assessment 2009 and 2010.
STSB is of the view that there are reasonable grounds to challenge the claim brought against them on the basis that there is a valid appeal pending before the Special Commissioners of Income Tax.
The group said it will make further announcements if there is any material update on the matter.
WZ Satu Bhd's WZS BinaRaya Sdn Bhd has secured a RM68 million subcontract from Mujur Minat Sdn Bhd to construct two carriageway bridge structures in Kuala Langat, Selangor.
The contract has two sections, with the first one commencing on April 16 this year and completing on March 31, 2019, while the second one will begin tentatively around January or February 2020 and be completed 12 months later.
The group said the contract will contribute positively to its earnings and net assets per share for financial years ending Aug 31, 2018 to 2021.
Ireka Corp Bhd is projected to kick-start its Rimbun Kasia development, which has a GDV of RM1.3 billion, in Nilai by the second quarter of this year.
The development is a new residential enclave covering a commercial and five residential projects on a 30.56-acre piece of land in Nilai.
The project is set to kick off by July, with the initial phase having GDV exceeding RM400 million and which will be jointly developed with Hankyu Hanshin Properties Corp.
It is expected to contribute to the company by the third quarter ending March 2019.
Inari Amerton Bhd has revised downward the exercise price of its warrants.
The new exercise prices of Warrants 2013/2018 and Warrants 2015/2020 are now 8.8 sen (from 13.2 sen), and 53.33 sen (from 80 sen), respectively.
This is part of its proposed bonus issuance of up to 1.03 billion new shares, whereby holders of its existing warrants became entitled to additional warrants.
An additional 1.035 million warrants 2013/2018 and 26.3 million warrants 2015/2020 were issued.
Nexgram Holdings Bhd has teamed up with China's Shanghai Zhida Science and Technology Development Co Ltd to jointly distribute electronic vehicle (EV) charging products and services in Southeast Asia. Malaysia will be a sole distribution hub.
A proposed joint venture (JV) will be formed between Nexgram's wholly-owned Nexgram Industries Sdn Bhd with Zhida Group's unit Shanghai Zhida New Energy Automobile Public Support Development Co Ltd.
Nexgram will hold an 85% stake in the JV and Zhida Group, the remaining 15%, which will initially see an investment injection of RM10 million.
Under the strategic cooperation framework agreement, both parties will cooperate to carry out all-round operations in the field of localised implementation of technology and resources in the new energy and automotive industries.
Zhida Group is the No 1 EV home-charging service provider in China.
Vizione Holdings Bhd's unit Wira Syukur (M) Sdn Bhd has landed a road upgrading contract worth RM137.13 million.
It received the award from Vertice Construction Sdn Bhd (VCSB), formerly known as Million Twilight Sdn Bhd, to upgrade the Federal Road 12 (FR 12) from Gambang, Pahang to Segamat, Johor — Phase 1.
The contract is to supply materials, labour, necessary tools and equipment to carry out the upgrading works.
Date of completion is April 30, 2019.