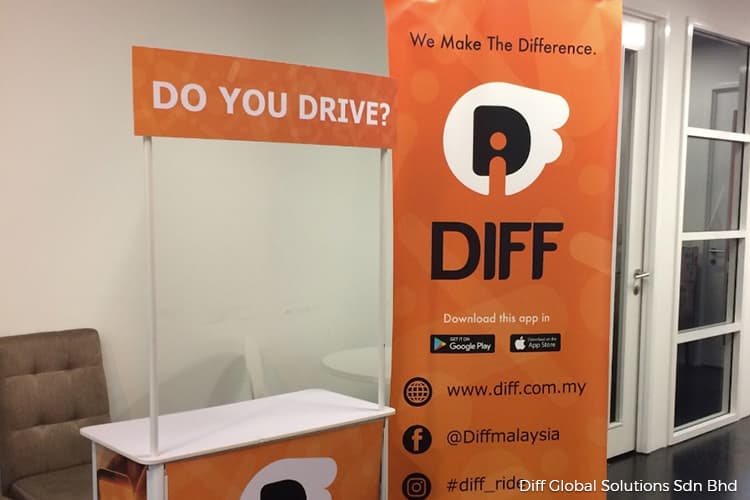 KUALA LUMPUR (Aug 21): Local start-up Diff Global Solutions Sdn Bhd launched its new e-hailing service, diffride, for potential drivers to sign up today.
At the launching ceremony today, which was officiated by Transport Minister Anthony Loke Siew Fook, the company's chief executive officer Hannah Yong said there are already 2,000 drivers registered to be diffride drivers, and management is screening their profiles before submitting to Land Public Transport Commission (SPAD) for approval.
"I think it will take about two weeks for us to do that, but we want to get it done faster, and make the service available for passengers," she said.
Yong said that by end of this year, diffride aims to have 6,000 drivers, with about half a million ridership.
Yong said diffride's intention is to provide fair remuneration to its driving partners, hence all they need to pay the service provider is a flat fee of RM5 daily.
The daily fee gives drivers access to diffride's services to connect with passengers, and insurance coverage for both drivers and passengers.
"We are the first e-hailing service provider in Malaysia to offer this flat fee of RM5 to our driver partners for daily access to connect them to their potential passengers," she said.
"By not requiring them to pay us a percentage of their fares, this means that we can not only offer our riders a more competitive fare rate for their journey, but also allow our drivers to take home a larger amount of their earnings," she added.
Yong said payment options are flexible with diffride, with both cash and cashless options available.
"With safety being a common concern among e-hailing customers, diffride will ensure that their driving partners have no summonses or a criminal record when they register with the provider," she said.
Yong said as the first e-hailing service provider to fully comply to the Ministry of Transport's regulations for such services, drivers registering with diffride will also have to undergo screening by SPAD.
"Their cars, which they must either own or be legally authorised to drive, must also be less than eight years old and be of a model that ranks three stars or above on the New Car Assessment Programme for South-East Asian Countries (ASEAN NCAP), or its equivalent," she said.
Yong said diffride will be the first e-hailing service provider to offer telematics technology to their drivers.
"This will allow car owners and drivers to track the location of their car, should it be stolen. This system also provides an unbiased performance report, in addition to reviews provided by customers, giving all users a reliable evaluation tool to rely on," she said.