This article first appeared in The Edge Financial Daily, on February 17, 2020.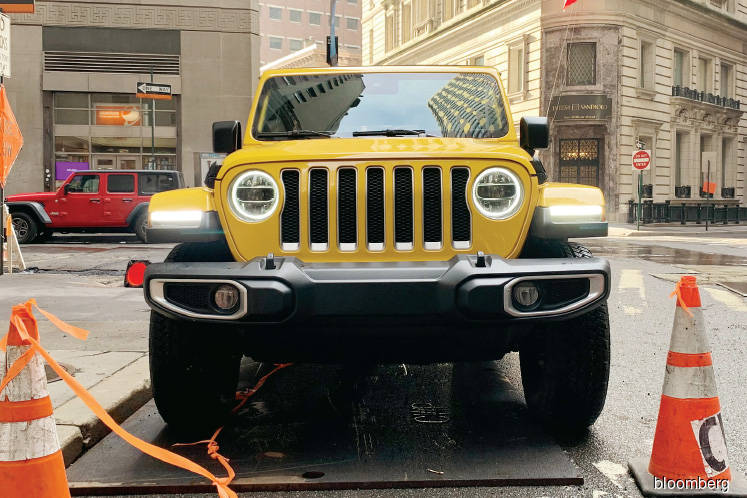 LED headlights, LED fog lamps, and LED reflector headlights put an imposing face on the new Jeep Wrangler. They are optional, at US$1,045 for the set.
There was a moment last week when I felt I should probably shave my head.
Behind the wheel of the 2020 Jeep Wrangler Unlimited, I had just stomped on the gas, loudly barrelling over the Brooklyn Bridge amid motorcycles and cars, and had never felt more like Furiosa from Mad Max: Fury Road.
Charlize Theron is unforgettable as the closely shorn heroine who drives a massive "War Rig" truck in the movie to help people escape slavery under the evil Immortan Joe. But it was the truck that got me thinking. The steaming, belching, bellowing War Rig, while decidedly gnarlier than the latest Wrangler to hit dealerships, might still be accurately approximated by the Jeep in less apocalyptic environments. As I stomped through city streets in one, I thought maybe shaving my head would make it feel even more powerful and fun.
After all, the new Jeep sits very high above the ground (10 inches [25.4cm] of ground clearance, and you will need that sidestep to get in). It feels worlds above everything else in traffic. I felt like a giant behind the wheel, capable of seeing well ahead down the road unobstructed, eyes level with only the tallest competitors, mostly UPS trucks and school buses.
It contains myriad rugged spaces and built-in containers to hold tools, weapons, and safety gear — you know, the typical things you need for freeing prisoners at the end of the world.
And for the first time, the Wrangler runs on diesel, thanks to a 3.0 V6 Turbo Diesel engine that whistles and clatters as the turbo spools up and driving the monster to bear down on anything in its path. As with the War Rig, that efficiency means it can go longer distances than most without refuelling.
All the better in worse road conditions.
A history of diesel
This is not the first time Jeep has put diesel technology into vehicles. In the 1960s, for example, the CJ-5 offered a four-cylinder diesel with 62 horsepower (hp) and 65kg-foot of torque. In the mid-1980s, the Jeep Cherokee XJ and Comanche MJ came with diesel options. Jeep put diesel engines in its Grand Cherokee in 2014 in North America and continues to offer them here today. (Europe received those Grand Cherokee diesel engines earlier, in the early 2000s).
But this engine with 260hp and 200.5kg-foot of torque is the first Wrangler diesel to be sold in the US. Borrowed straight from the production line that makes the 2020 Ram 1500 engines, it comes at a time when American consumers could be forgiven for feeling conflicted by the prospect: Witness the Volkswagen scandal that saw executives cheating at diesel emission tests as other automakers decide to skip diesel altogether in favour of electric batteries to lessen dependence on traditional gasoline. Still, Cadillac is announcing a first-time diesel engine for its Escalade.
These are confusing times.
The diesel is a good fit for this Wrangler, helping it achieve 9.3km per litre in the city and 12.3km per litre on the highway, compared with the standard 7.2km per litre and 10.6km per litre respectively. It also matches the sturdy, industrial feeling of the heavy duty brakes; skid plates; 33-inch, all-terrain tyres; boosted suspension and shocks; and four-wheel-drive off-road systems. It completes the total lumbering menace feel that we all crave from a truck like this to feed the Furiosa within.
It comes at a price. While the base cost of the 2020 Jeep Wrangler Unlimited Sahara 4x4 I drove is US$38,645 (RM159,990), the diesel engine costs an additional US$4,000, and there is a required eight-speed automatic transmission (US$2,000). If you are like me, you will see few diesel pumps in your neighbourhood. There is one on the island of Manhattan. For the right to call yourself a diesel head here, you will be paying six thousand more and slashing your access to fuel options.
And, it should be mentioned, the final price for the Wrangler I drove in "HellaYella" paint costs a whopping US$53,425, after such extras as that diesel engine and light-emitting diode (LED) lights and LED fog lamps and LED reflector headlights (US$1,045) are added. It is quite a jump in price from what is supposed to be a utilitarian work vehicle.
The Daily Jeep
But here is a way the Wrangler beats Furiosa's War Rig, and we all benefit greatly from it: This is the best Wrangler for daily driving, period.
Wranglers have always looked cool, driven by icons of masculine Americana, from Steve McQueen to Ralph Lauren. And they have always done well off-road. But they have not always been great as errand ferries. The first time I ever got into a Wrangler — as a college kid who had lusted after one for years — I was shocked at how disappointing it was. It felt wobbly, unstable, spartan, thinly made, loud, and drafty.
The Wrangler Unlimited Sahara is not nearly as aggressive off-road as the hardcore Rubicon variant. But it comes with lots of modern comforts to soften it: leather-trimmed seats and interiors (US$1,495); an 8.4-inch radio and touchscreen display with Sirius; Wi-Fi; GPS Navigation; Bluetooth; and auto-dimming mirrors (US$1,695). Plenty of nice things such as remote keyless entry, dual-zone climate control, power windows, and backup cameras come standard.
And it drives with light steering, grabby brakes, impeccable contact with the road, and superb sight lines. I felt I could see all the way around me, with big, owl eyes and a carnivore's appetite for action. Though it did have a soft top (US$595), it remained relatively quiet and insulated. Traipsing around New York for a week, using the Jeep to drive to midtown each morning, visiting plant stores with it in Brooklyn, and exploring back alleys in Chinatown, I was eternally grateful for these improvements. I think you will be, too.
Forget the off-road clarion call typically associated with Jeeps — that is all well and good, and very amply covered — but those who own Jeeps need their vehicles to be just as comfortable getting to and from those back trails as they are on the trail. Whether you shave your head for the journey is your call. — Bloomberg