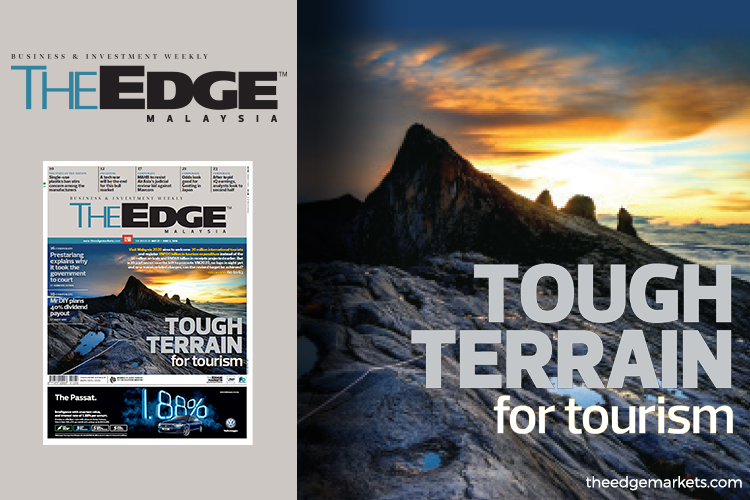 KUALA LUMPUR (May 25): Tourism is big business in Malaysia as it is the third highest foreign exchange earner for the country after manufacturing and commodities. 
The country has laid out big ambitions under the Malaysia Tourism Transformation Plan 2020 — based on the huge success of the Visit Malaysia Year 2007 campaign — to welcome 36 million tourists and obtain RM168 billion in foreign receipts.
Alas, the aviation mishaps in 2014 of MH370 and MH17 derailed Malaysia's goal and very little improvement in arrivals and receipts was seen since then.
The targets have now been revised downwards.
However, with a tight budget, no VMY2020 logo — leading to a lack of publicity on the campaign — and multiple taxes imposed on foreign tourists, it will be an amazing feat if Malaysia manages to reach the 2019 arrival and receipt targets, let alone its 2020 target.
The Edge's latest cover story looks at how charges, fees and taxes tourists used to pay and could potentially end up paying in September — when the proposed departure levy is imposed — could have an impact on arrivals. Will Malaysia be better off postponing the departure levy until after VMY2020?
Arrivals from our single biggest tourist and revenue source, Singapore, is also on a declining trend prompting the search for new markets. Luckily for us, the Arabs, the biggest per capita spenders, are returning to Malaysia.
China, another big market for Malaysia, is also helping improve our foreign exchange receipts. But for how long? Their numbers are beginning to show a decline in some of the regional markets, signalling that we should not be heavily reliant on them.
Malaysia needs to innovate and improve its marketing campaigns and take some drastic measures so that the tourism industry booms and tourists want to come to Malaysia as much as they desire to visit Thailand or Singapore.
Read all about it in the latest issue of The Edge.