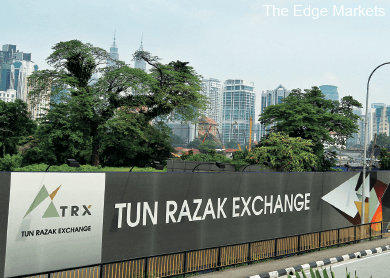 IT seems that 1Malaysia Development Bhd (1MDB) took all of six weeks to rope in unlisted Indonesian property developer, the Mulia Group, to spearhead the development of Signature Tower, which is meant to be the centrepiece of the Tun Razak Exchange (TRX).
Just six weeks ago, Signature Tower was to be sold to Lembaga Tabung Haji for RM578 million (RM3,900 psf), according to documents dated March 20, 2015, leaked online. Tabung Haji has hitherto not declared those documents to be false but has filed a police report against "The Benchmark" blog, which published what looks like investment documents belonging to the pilgrims fund.
In fact, 1MDB wanted RM620 million for the 3.04-acre (148,105 sq ft) land earmarked for Signature Tower, the documents showed.
In addition, the RM578 million price tag that Tabung Haji considered for Signature Tower came with a promise by 1MDB Real Estate Sdn Bhd (1MDB RE) to lease the completed building for five years at a net yield of 5.5% on the actual total development cost incurred. 1MDB RE also agreed to secure tenants for Tabung Haji and ensure compliance with shariah requirements, the documents showed.
1MDB's May 13 announcement of the deal with the Mulia Group did not reveal any other financial details. It is not certain whether 1MDB had asked the Mulia Group for an upfront cash payment and, if it had, what the financial terms are.
Did 1MDB really jump at the deal with Mulia Group because the latter was willing to pay a lot more money than Tabung Haji? Or did 1MDB make even bigger financial promises to be able to say it had roped in the Mulia Group — thanks to its low entry land cost of only RM64 psf?
In its May 13 statement, 1MDB said "the land transaction is valued at RM665 million" without saying specifically how the amount was derived and if the Mulia Group was indeed paying RM4,490 psf just for the land. It was not clear from the statement whether 1MDB was only selling the development rights of the plot to the Mulia Group while retaining ownership of Signature Tower.
"Our agreement with the Mulia Group involves the sale of an approximately 3.4-acre plot meant for the development of Signature Tower for RM665 million. It is part of our overall strategy for the commercialisation of TRX that will help fund TRX's infrastructure works. Mulia Group will have 100% ownership and be fully responsible for the design, funding, construction and commercialisation of Signature Tower as per the TRX building code and masterplan," Datuk Azmar Taib, CEO of 1MDB RE, the master developer of TRX, said in an email reply received in the afternoon of Friday (May 15) to questions sent on May 13.
Incidentally, 1MDB's partnership with the Mulia Group was announced on the same day that news got out that some "jittery lenders" wanted their money back early from 1MDB.
Citing "banking confidentiality", 1MDB president and executive director Arul Kanda Kandasamy in a separate statement on May 13 declined to comment on reports that some lenders were demanding early repayment of the US$975 million bonds that had been secured with 1MDB's wholly-owned Brazen Sky's US$1.103 billion account in BSI Bank Singapore. This followed news reports that the amount in the said account could not be determined. One banking source said there is no direct government guarantee on the loan but added that the BSI account was not the only collateral for the loan.
It is worth noting that the Mulia Group deal was also announced four days after Tabung Haji chairman Datuk Seri Abdul Azeez Abdul Rahim on May 9 told reporters the pilgrims fund had decided to sell the 1.56-acre residential land in TRX it had bought from 1MDB for RM188.5 million (RM2,780 psf) on the advice of prime minister Datuk Seri Najib Razak, who is also finance minister. This was so that Tabung Haji's reputation would not be "tarnished" following public uproar at the purchase, which was leaked online on May 6 and confirmed on May 7.
In any case, no party has disputed what the leaked documents showed about 1MDB asking for 100% cash from Tabung Haji upon the signing of the sale and purchase (S&P) agreement for the 1.56-acre parcel — something that observers see as evidence of 1MDB's need to raise cash quickly to service its mounting debt obligations.
In return for making an upfront payment, the leaked documents showed, Tabung Haji was given as collateral for non-fulfilment of the S&P a 5.03-acre unencumbered parcel in TRX that Jones Lang Wootton had appraised to be worth RM330 million to RM370 million.
Earlier, Tabung Haji had expected Signature Tower to take "a minimum of four to five years to complete" at a gross development cost of RM1.98 billion (excluding RM578 million intended land cost) and its internal investment risk evaluation had found the proposed investment to have a "high" market and development risk owing to oversupply concerns, with only "moderate" returns.
Another analyst points out that 1MDB was also under pressure to demonstrate success in attracting foreign investment to TRX — a 70-acre prime land in Kuala Lumpur that was supposed to have gone to Pelaburan Hartanah Bhd, formerly known as Pelaburan Hartanah Bumiputera Bhd (see timeline).
In its May 13 statement, 1MDB said the "significant investment underscores foreign investor confidence in Malaysia", adding that the Mulia Group "joins the list of investors such as Lend Lease International, a global property and infrastructure group developing the RM8 billion [gross development value] Lifestyle Quarter; and Veolia Water Technologies, whose water management technology will halve potable water use in TRX".
It is also worth noting that 1MDB sealed its 40:60 partnership with Lend Lease to develop the Lifestyle Quarter on March 19, 2015, nine months after announcing the Australian-listed company as its chosen partner "from a pool of international and local bidders for the Lifestyle Quarter, following an invitation in December 2013 to participate as a strategic development partner in TRX". The financial details of its agreement with Lend Lease have also not been disclosed.
According to 1MDB, the Mulia Group has a large market share of premium commercial properties in Jakarta. It developed, owns and manages seven premier office buildings in Jakarta's central business district, including the Wisma Mulia 1 and 2, which are among Jakarta's tallest and most prestigious office buildings. The Mulia Group has also developed and managed internationally renowned hotels such as the Hotel Mulia Bali, as well as residential projects and shopping malls.
The statement did not provide any financial details on the Mulia Group, whose real estate unit PT Mulialand Tbk was privatised and delisted from the Jakarta Stock Exchange in September 2007. A sister company, PT Mulia Industrindo Tbk, which makes building materials such as ceramic tiles as well as automotive safety glass, has a market capitalisation of IDR820.26 billion (RM224 million), and returned to the black in FY2014 after three straight years of losses, according to Bloomberg data.
Forbes magazine ranked the Mulia Group's president director and owner Eka Tjandranegara, 69, number 17 on its 2014 Indonesia's 50 Richest list, calculating his net worth at US$1.7 billion. Tjandranegara started in business with his father and two brothers. Legal trouble forced one brother, Djoko Tjandra, to flee the country in 2009 for the safer confines of Papua New Guinea, Forbes says.
"As one of the biggest commercial property developers in Indonesia, we are excited to be embarking on this project to develop Signature Tower to become the new landmark of Kuala Lumpur city. Our Mulia Group wishes to be an integral part of this iconic state-of-the-art development not only for Malaysia but for the region and beyond," Tjandranegara said in a joint statement issued with 1MDB on May 13. "We see TRX's potential to further develop the city's role as a financial capital, and the Tun Razak Exchange aids our growth and expansion plans. I am committed to personally seeing this project through, drawing from our vast experience," he added.
While both partners appear to be pleased to have the deal sealed, should the financial details of the partnership be allowed to remain private, given the public interest in 1MDB's dealings, especially when the deal appears to have come together relatively quickly?
This article first appeared in The Edge Malaysia Weekly, on May 18 - 24, 2015.