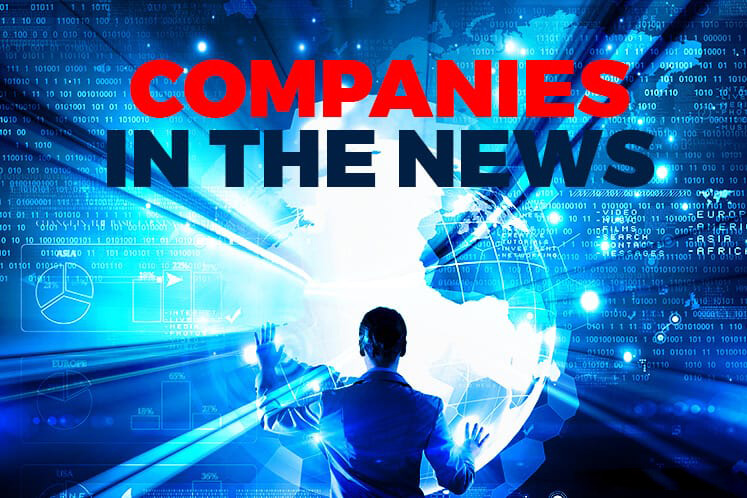 KUALA LUMPUR (Feb 13): Based on corporate announcements and news flow today, stocks in focus on Friday (Feb 14) may include: Dialog Group Bhd, Marine & General Bhd, Duopharma Biotech Bhd, Sunway Real Estate Investment Trust, Gas Malaysia Bhd, PLS Plantations Bhd, Barakah Offshore Petroleum Bhd, British American Tobacco (M) Bhd, Carlsberg Brewery Malaysia Bhd and Pos Malaysia Bhd.
Dialog Group Bhd today announced a 15.53% rise in net profit for its second quarter ended Dec 31, 2019 to RM158.01 million, from RM136.78 million a year earlier, on higher income from operations and joint ventures, lower finance costs and lower tax expense. Revenue rose a marginal 0.44% to RM612.31 million from RM609.61 million.
For the six months ended Dec 31, Dialog's net profit grew 28.33% to RM322.65 million from RM251.42 million in the previous corresponding period, on higher profit from joint ventures and associates as well as the RM28.54 million gain on disposal of a joint venture. The better bottom line came despite revenue falling 3.26% to RM1.26 billion from RM1.3 billion previously.
Marine & General Bhd has secured a contract from Petronas Carigali Sdn Bhd for the provision of one offshore support vessel worth about RM14 million. The work order, awarded on Jan 17, is for one unit of Anchor Handling Tug and Supply (AHTS) vessel, it said. The contract that will start from mid-February this year is for a primary duration of 305 days.
Duopharma Biotech Bhd, which closed its financial year ended Dec 31, 2019 on a stronger footing despite a weaker fourth quarter, reveals it has obtained a 25-month extension on a Government contract.
Group managing director Leonard Ariff Abdul Shatar said the group has been "recently informed that contract periods for the supply of pharmaceutical and/or non-pharmaceutical products to hospitals, clinics and others under the government have been extended for 25 months, from Dec 1 last year till Dec 31, 2021".
The statement came with the group's announcement of its financial results for the fourth quarter ended Dec 31, whereby its net profit fell 16% year-on-year to RM12.03 million from RM14.37 million despite higher revenue, no thanks to higher costs. Quarterly revenue grew 19% y-o-y to RM137.76 million from RM115.63 million.
Notwithstanding the weaker 4QFY19, the group closed FY19 with net profit rising 16% y-o-y to RM55.27 million from RM47.64 million, as revenue climbed to RM576.46 million from RM498.72 million.
Sunway Real Estate Investment Trust (REIT)'s net property income (NPI) grew almost 12% to RM116.62 million in the second quarter ended Dec 31, 2019 (2QFY20) from RM104.23 million a year ago, as revenue expanded 11.7% to RM155.8 million from RM139.5 million, on contribution from its newly acquired Sunway university & college campus and improved performance across all segments.
The group declared an income distribution per unit (DPU) of 2.45 sen in the financial year ending June 30, 2020 (FY20), which is to be paid on March 12. For the six-month period of FY20 (1HFY20), Sunway REIT's NPI go up 9.8% to RM235.69 million from RM214.74 million last year, while revenue rose nearly 10% to RM311.15 million from RM283.24 million.
Gas Malaysia Bhd closed its fourth quarter with a net profit of RM57.93 million, up 13.41% from RM51.08 million the year before, thanks to higher share of results from its joint ventures, which jumped by RM22 million to RM22.71 million. The group announced a second interim dividend of RM61.63 million or 4.8 sen per share. Revenue, however, was down 3.47% at RM1.68 billion from RM1.74 billion last year.
For the full financial year, Gas Malaysia's net profit rose 5.38% to RM190.11 million from RM180.39 million in FY18, supported by higher JV contribution, which more than offset the lower gross profit and higher expenses. Full-year revenue rose 10.48% to RM6.89 billion from RM6.23 billion previously.
Barakah Offshore Petroleum Bhd was served with a summons and claims of RM85.2 million from PRPC Utilities and Facilities Sdn Bhd, a unit of Petroliam Nasional Bhd. Barakah received both the writ of summons and statement of claim yesterday, which followed an initial claim filed by PRPC sometime last year which Barakah had disputed and counterclaimed for RM6.58 million.
The claims are in relation with a contract for the procurement, construction and commissioning of Underground Pressurized Non Metallic Piping Firewater Network East Side (P14 Contract). The similar amount of RM85.2 million is also claimed by PRPC against Barakah's unit PBJV Group Sdn Bhd.
British American Tobacco (M) Bhd (BAT) will be removed from the MSCI Global Standard Index while Carlsberg Brewery Malaysia Bhd will be added to the equity gauge following the February 2020 quarterly index review for the MSCI Equity Indexes.
Following the removal, BAT will be added to the MSCI Global Small Cap Index, where Carlsberg and Kerjaya Prospek Group Bhd will be removed from. The changes will be implemented as of the close of Feb 28.
Pos Malaysia Bhd is selling a 49% stake in its indirect wholly-owned subsidiary Pos Aviation Engineering Services Sdn Bhd to SIA Engineering Co Ltd (SIAEC) for an indicative cash consideration of RM10.09 million to facilitate the entry of SIAEC as Pos Aviation Engineering's strategic partner.
According to Pos Malaysia, SIAEC is a major provider of aircraft MRO services in Asia-Pacific. SIAEC has a client base of more than 80 international carriers and aerospace equipment manufacturers.