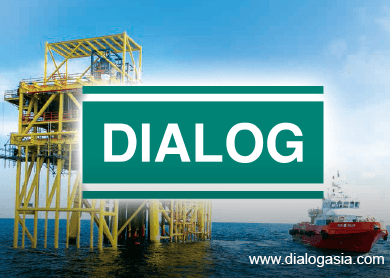 KUALA LUMPUR: Dialog Group Bhd's net profit jumped 21.8% to RM63.63 million or 1.26 sen per share for its fourth financial quarter ended June 30, 2015 (4QFY15) from RM52.24 million or 1.06 sen per share a year ago, mainly driven by its Malaysia operations.
Revenue for the quarter, however, declined 10.6% to RM576.58 million against RM643.73 million, dragged down by its international business and lower share of joint venture results.
The group proposed a final dividend of 1.2 sen per share for FY15, subject to approval of the shareholders at the forthcoming annual general meeting. This brings the total cash dividend for FY15 to 2.2 sen amounting to RM111.76 million.
For the full FY15, Dialog saw its net profit grow 27.5% to RM275.13 million or 5.54 sen a share from RM215.87 million or 4.41 sen a share the previous year, despite revenue weakening 7.45% to RM2.36 billion in FY15 from RM2.55 billion in FY14.
In a filing with Bursa Malaysia, the group said its Malaysian operation's performance remained strong, mainly on completion of the engineering and construction activities for Johor's Pengerang Deepwater Terminal (PDT) Phase 1 and the beginning of works on Phase 2 development.
Internationally,, revenue for FY15 was lower by 20% against FY14, mainly on low activities in engineering, construction and plant maintenance in Singapore and lower sales of specialist products and services.
On prospects, Dialog said the group is confident that its business model is well structured and can withstand the current oil-price volatility and currency movements.
The engineering, procurement, construction and commissioning works on Phase 2 of the PDT will keep its engineering and construction division, as well as its fabrication division busy over the next few years. It is optimistic on delivering a healthy performance for FY16.
This article first appeared in digitaledge Daily, on August 21, 2015.