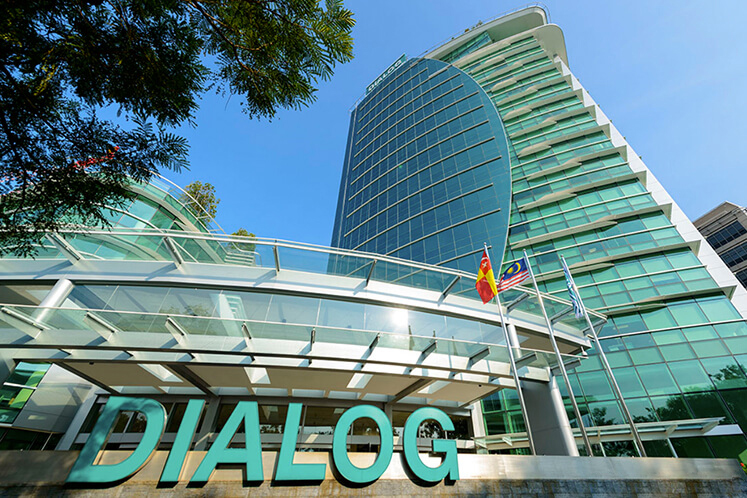 KUALA LUMPUR (Feb 13): Dialog Group Bhd today announced a 15.53% rise in quarterly net profit to RM158.01 million, from RM136.78 million a year earlier, on higher income from operations and joint ventures, lower finance costs and lower tax expense.
Earnings per share for the second quarter ended Dec 31, 2019 rose to 2.8 sen from 2.43 sen previously, the storage tank operator said in a filing.
Revenue rose a marginal 0.44% to RM612.31 million from RM609.61 million.
Dialog said the big jump in performance came from its Malaysian operations which saw higher contributions from the group's share of profit from joint ventures and associates, terminal business and increased plant services activities, while international operations also contributed more.
"Dialog Terminals Langsat 3 which commenced partial operations for its 120,000 cubic metre storage facility in August 2019 had also contributed positively to the Malaysian operations," it added.
For the six-month period ended Dec 31, 2019, Dialog's net profit grew 28.33% to RM322.65 million from RM251.42 million in the previous corresponding period, on higher profit from joint ventures and associates as well as the RM28.54 million gain on disposal of a joint venture.
The better bottom line came despite revenue falling 3.26% to RM1.26 billion from RM1.3 billion previously.
On prospects, Dialog referred to the latest development at the Pengerang Deepwater Terminal (PDT) in Johor, on top of the operations in Langsat 3 and the five-year Groupwide Master Service Agreement from Petronas that it won last July.
"With Phase 1 and Phase 2 of PDT already in operations, the entry into the long-term storage agreement with BP Singapore Pte Ltd for PDT Phase 3 is another significant milestone and is expected to catalyse the further development of PDT in the coming years," the group said.
"With approximately another 500 acres available for development, we are still in the early stages of developing PDT into the largest petroleum and petrochemical hub for the Asia Pacific that we have envisioned it to be," it added.
Dialog also said that it continues to develop new upstream reserves from existing contracts, and is looking for opportunities to increase its development and production services and assets.
Shares of Dialog closed one sen or 0.29% lower at RM3.39, giving it a market capitalisation of RM19.13 billion.