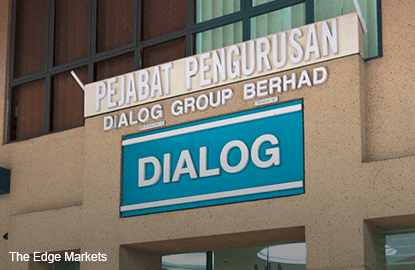 This article first appeared in The Edge Financial Daily, on November 18, 2015.
KUALA LUMPUR: Dialog Group Bhd's first quarter net profit climbed 20.4% year-on-year, driven by international business which offset lower earnings from its Malaysian operation.
Net profit increased to RM60.07 million or 1.18 sen a share in the three months ended Sept 30, 2015 (1QFY16) from RM49.91 million or 1.02 sen a share a year ago, mainly due to higher fabrication activities in New Zealand and better margins on sales of specialist products and services, which are mostly denominated in US dollars.
Revenue for 1QFY16 was slightly lower at RM536.37 million from RM541.55 million in 1QFY15, on lower revenue from its international operations.
However, revenue from its Malaysian operations for 1QFY16 was higher mainly contributed by the engineering and construction activities from ongoing projects, said Dialog.
"The works on Phase 2 of the Pengerang deepwater terminal (in Johor) are progressing as scheduled. In addition, the group is also involved in various projects such as the MLNG (Malaysia LNG) Train 9 and Samur (Sabah Ammonia-Urea) piping works," it said in a filing with Bursa Malaysia yesterday.
"However, the higher revenue recorded from these activities was offset by lower sales in specialist products and services, and upstream activities," it added.
On prospects, Dialog said the drop in oil prices will lower the overall costs of processing, manufacturing and production of a wide range of petroleum and petrochemical products.
"This would have a positive impact on the midstream and downstream sectors of the oil and gas industry.
"The current oil price development reinforces the group's strategy to develop and invest in the Pengerang deepwater terminal for the long term," it said.
It also sees demand for storage facilities to be strong for crude oil and products. Phase 1 of the Pengerang deepwater terminal is in full operation with 1.3 million cu m fully leased out.
Phase 2 will have 2.1 million cu m of storage capacity, with a total investment cost of RM6.3 billion, and is scheduled to be completed progressively in 2018 and 2019.
"Further development of the Pengerang deepwater terminal will provide more opportunities for the group's engineering, procurement, construction, commissioning and fabrication services. The group will continue to benefit from long-term recurring rental income derived from additional tank terminal facilities when they go into operation," it said.
"The group is now working towards securing new potential partners for subsequent phases of the Pengerang deepwater terminal, which include the development of more petroleum, petrochemical and liquefied natural gas storage facilities," it added.
Dialog said the group is also confident that its business model is well-structured and can withstand the current oil price volatility and currency movements. "Barring unforeseen circumstances, the group is optimistic that it will continue to deliver a healthy performance for the financial year ending June 30, 2016," it said. Dialog shares closed up two sen or 1.23% to RM1.64 yesterday, with a market capitalisation of RM8.51 billion.