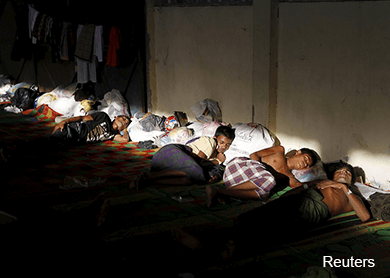 (May 19): A motion to debate in Parliament the plight of Rohingya and Bangladeshi migrants stranded in boats off Malaysia's western coast was rejected today, after Dewan Rakyat Deputy Speaker Datuk Ismail Mohd Said said Malaysia was already in the process of dealing with the matter.
Sungai Siput MP Dr M. Jeyakumar Devaraj, who filed the motion, expressed disappointment at the rejection, adding that the House had missed an opportunity to discuss ideas that could help Putrajaya deal with the crisis.
Jeyakumar told reporters in the Parliament lobby that the matter should be debated on humanitarian grounds.
In his motion filed, Dr Jeyakumar said Malaysia's policy to push back refugee boats to sea was an irresponsible action that tarnished the country's image in the international arena.
The motion also carried suggestions by a few Pakatan Rakyat MPs for the government to consider, including discussions with other Asean countries on ways to address the refugee crisis responsibly.
"We just want to discuss this crisis, it is not about slamming the government. Discussions and solutions are needed," Dr Jeyakumar said
The Parti Sosialis Malaysia MP said Asean countries could no longer continue brushing off the plight of Rohingya refugees as an internal, domestic problem of Myanmar that could not be touched.
"This is because the issue has spilled over to affect other countries on a large scale. It has become a huge burden for other neighbouring countries."
The refugee crisis was also intertwined with human trafficking, the PR MPs added in the motion.
Prime Minister Datuk Seri Najib Razak has promised action on the boat refugee crisis and against human trafficking syndicates, saying that the Foreign Ministry and the National Security Council would be taking necessary steps.
Government officials of Malaysia, Thailand and Indonesia are to meet on the matter tomorrow.
But all three are members of the Asean regional grouping, which has a principle of non-interference in domestic issues of member countries.
Malaysia is the current Asean chairman, and has been warned by opposition politicians that its failure to be proactive in providing humanitarian assistance to the boat refugees and to pressure Myanmar to stop persecuting the Rohingya minority would render its chairmanship useless.
Malaysia has been turning away refugee boats and preventing them from coming ashore, drawing international and domestic criticism. The United Nations has reminded Malaysia and other countries in the region of international obligations to rescue the migrants and to prevent their refoulement if they faced persecution at home.
About 1,000 boat migrants, a mixed group of Rohingya and Bangladeshi nationals, are currently under immigration detention in Kedah after coming ashore in Pulau Langkawi after their boat was abandoned by people smugglers last week. – The Malaysian Insider