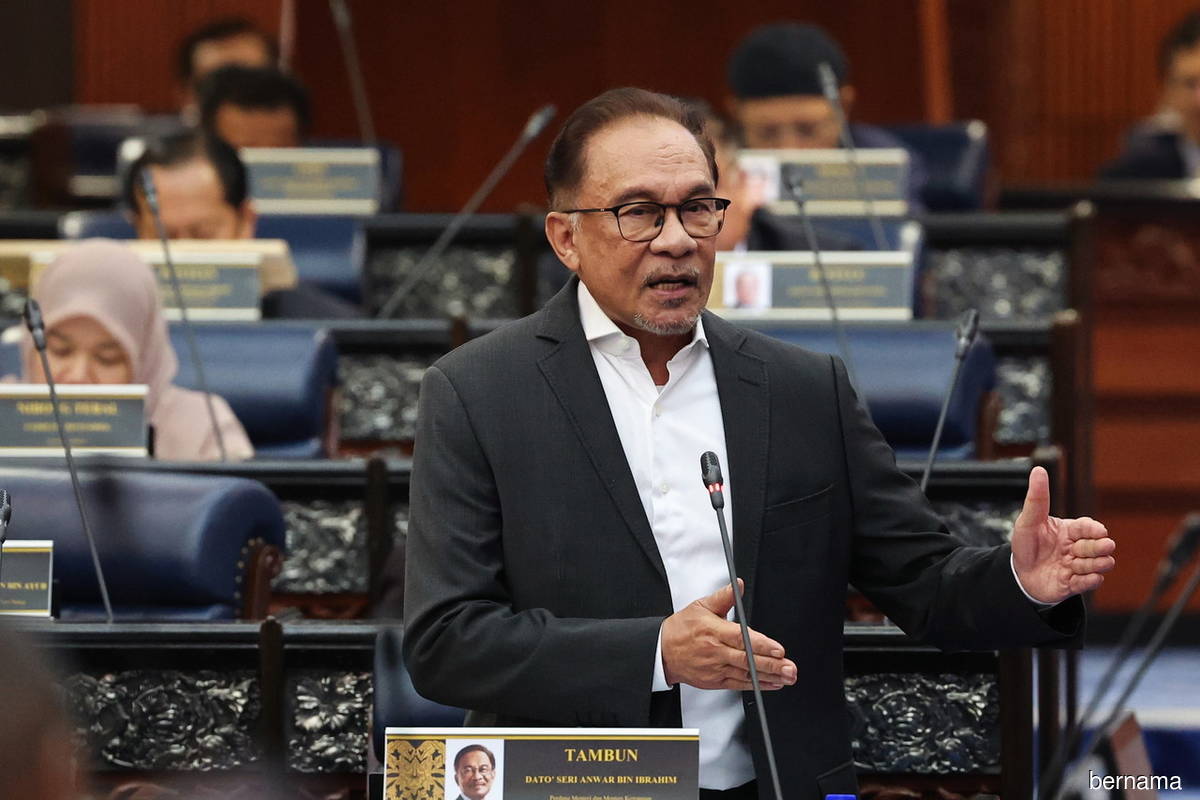 KUALA LUMPUR (Dec 20): The Dewan Rakyat approved a RM107.7 billion operating expenditure for the first half of 2023, which Prime Minister and Finance Minister Datuk Seri Anwar Ibrahim said is essential for the functioning of government services, pending the tabling and approval for the revised Budget 2023 in February.
The expenditure under the Consolidated Fund (Expenditure on Account) Act 2022, which will come into force on Jan 1, 2023, includes salary payments to civil servants, utilities, scholarships, welfare assistance as well as education and health services.
Anwar said that the expenditure is also for the continuity of ongoing projects, especially repair and maintenance projects for schools, roads, hospitals and health clinics.
He said that the intent of the Bill is in line with the Federal Constitution. According to the Bill, the largest allocation of RM107.72 billion will be for the Treasury general services (RM28.12 billion), followed by the Ministry of Education (RM24.98 billion), and the Ministry of Health (RM17.05 billion).
Tabling the motion for the expenditure allocation's approval, Anwar elaborated on some of the initiatives that the RM107.72 billion will be channelled towards, including early school assistance of RM150 to all students regardless of the parents' income limit in January to prepare children with appropriate school equipment, and 50,000 career opportunities for youths by contracts, including 35,000 by government-linked companies through the Short-Term Employment Programme (MySTEP) for the year 2023. 
In addition, Anwar said Phase 1 of the people's cash aid will be distributed earlier in January 2023, compared to this year's distribution in March. 
"The Phase 1 payment will benefit almost nine million recipients, with an allocation of RM2 billion, involving a rate of RM300 for each household, and RM100 for singles," he said. 
Besides this, he said the Government will continue to ensure the welfare of small rubber farmers during the monsoon season. 
"So far, the Government has distributed monsoon season aid for the months of November and December, with RM600 to nearly 320,000 small rubber farmers. 
"In addition, the Government plans to distribute an additional aid of RM200 to small rubber farmers for the month of January."
Also, he said the Government had agreed to provide a special additional annual salary increment in 2023 of RM100 to all civil servants of grade 11 to 56. 
"The Government also agreed to provide special financial assistance of RM700 to 1.3 million civil servants of grade 56 and below, and of RM350 to one million government retirees," Anwar said. 
The approval of the temporary budget concluded the first term of the 15th Parliament seating, which was held over two days.
For more Parliament stories, click here.
Note: The headline has been amended for accuracy.