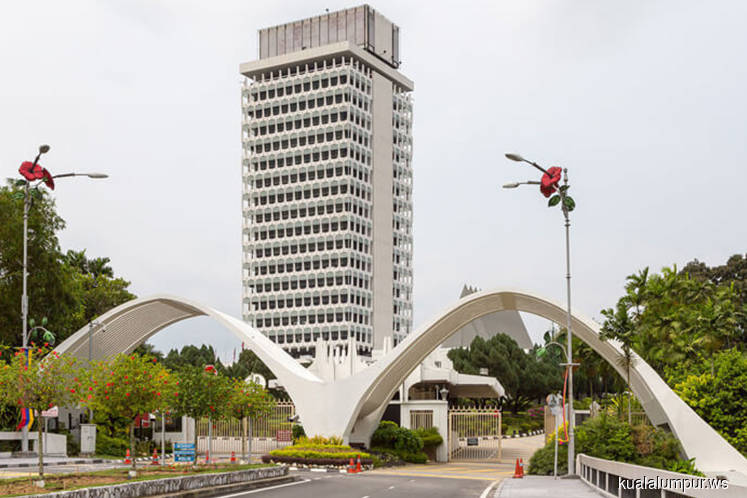 KUALA LUMPUR (July 1): The Dewan Rakyat has passed a special motion today that makes asset declarations compulsory for members of parliament (MPs).
The motion faced some rejection earlier during a debate that lasted for about five hours, as opposition MPs argued the rationale of regulating asset declaration via a motion, instead of amending the Malaysian Anti-Corruption Commission Act 2019.
Twenty-six MPs stood up to debate the special motion, before it was passed via a voice vote called by Dewan Rakyat speaker Mohamad Ariff Md Yusof, after a winding-up speech by de facto Law Minister Liew Vui Keong.
When the speaker asked whether the MPs agreed with the motion, there was a chorus of "Agree" from the government's side.
But when he asked if anyone disagreed with it, the hall was silent. "There is no voice that disagreed (with the motion)," he noted, before the sitting was adjourned.
The motion requires MPs to make their asset declaration to the Speaker within three months from today.
Failing to do so, the speaker will table a motion to refer the MP to the Committee of Privileges, which is made up of the speaker as the chairman, and six members nominated by the Committee of Selection.
It is the duty of the committee to consider any matters given to it and issue a statement regarding the matter to the House.
Liew said the opposition should not worry about investigations, after the implementation of this asset declaration motion.
"The declaration will not necessarily come with an investigation, unless there is a complaint filed with the authorities; this is just a declaration, so there is nothing to worry," he told reporters at Parliament lobby later.
"As MP, when they were elected by the people, it is their responsibility to report to the people of their income and asset they have when they were elected. When this Parliament is dissolved, then people can also refer and see how much [is the] increment in their assets," he added.
Liew said this is the first step for the country to form a transparent Dewan Rakyat, whereby the MPs are dignified and transparent.
Liew also said for MPs who do not declare their asset three months later, they will have to explain to the Committee of Privileges on why they did not do so.
"They have to provide a reasonable explanation, the committee will then decide whether to accept their explanation; or if the committee thinks it is not acceptable, it can recommend the appropriate action to be taken against the MP," he said.
Liew said the declaration has to be made bi-annually, and MPs can inform the Dewan Rakyat Speaker if there is any addition or disposal to their assets.
"These are then copied to the MACC. The speaker only acts as custodian of the information," he said.