This article first appeared in City & Country, The Edge Malaysia Weekly, on December 20, 2021 - December 26, 2021.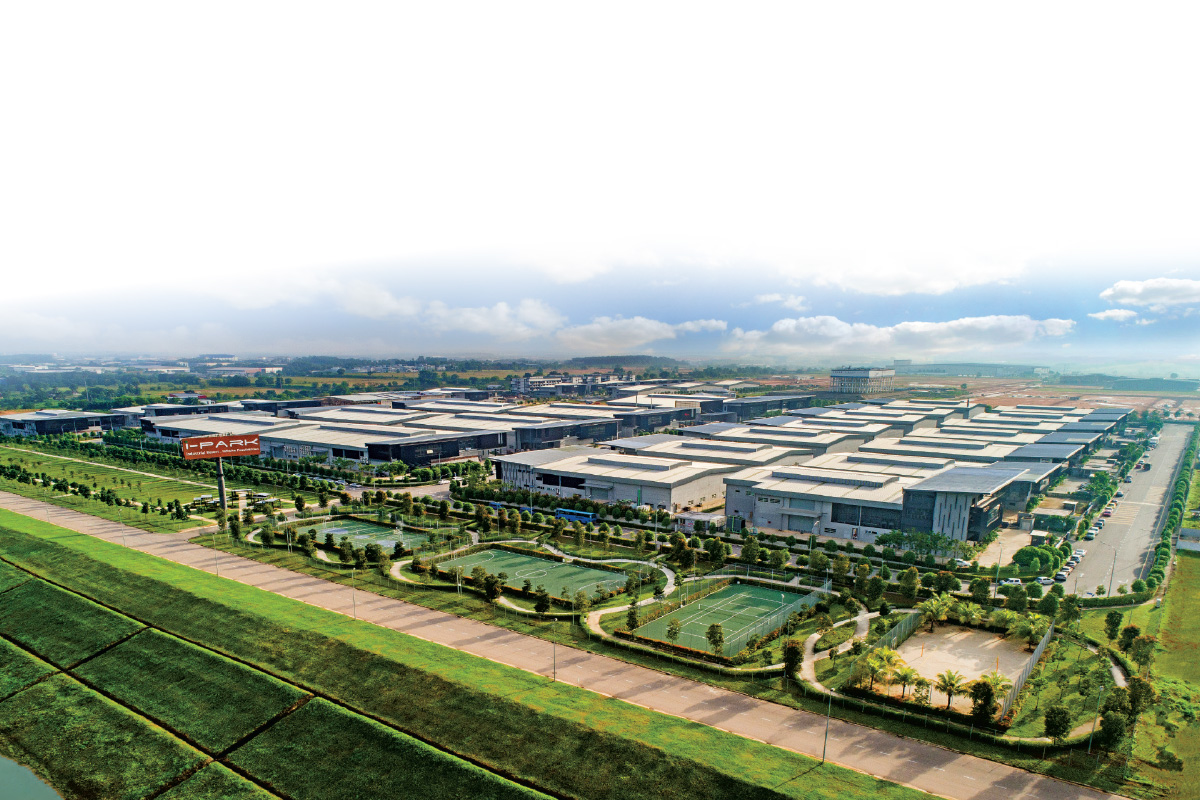 Launched in 2017, the 195-acre i-Park @ Senai Airport City had been improved to include an industrial resort concept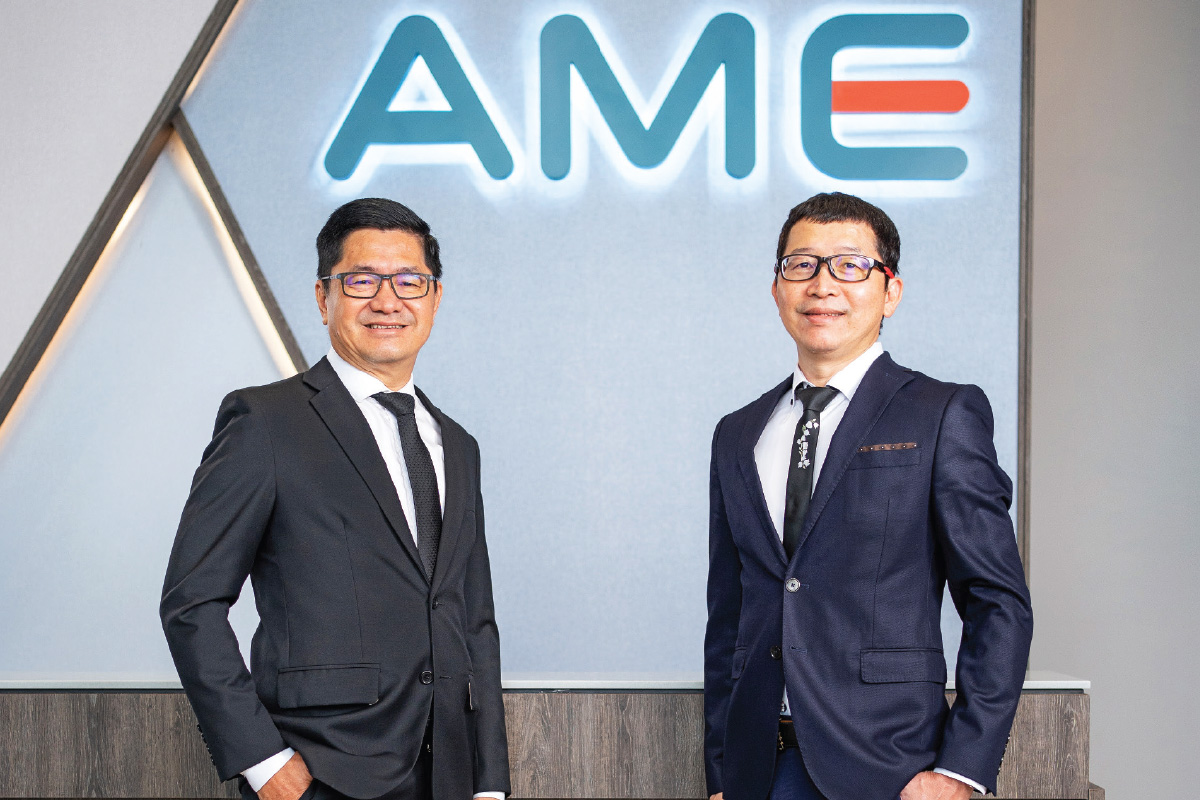 Kelvin (left) and Simon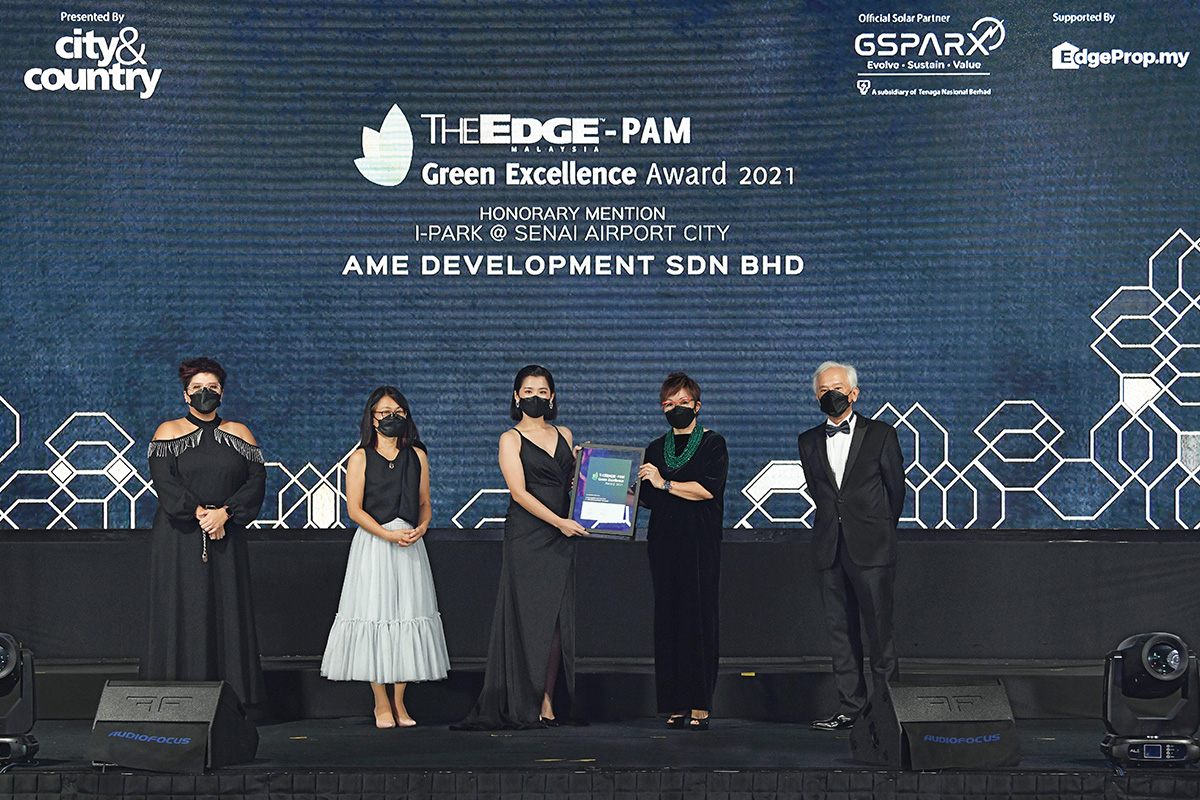 AME Development marketing manager Lee Ling Sien (centre) with (from left) City & Country acting editor E Jacqui Chan, The Edge Malaysia editor-in-chief Kathy Fong, EdgeProp.my managing director and editor-in-chief Au Foong Yee and The Edge Media Group publisher and group CEO Datuk Ho Kay Tat
Honorary Mention  |  i-Park @ Senai Airport City | AME Development Sdn Bhd
For a long time, the general perception of industrial properties was that they tended to be dirty and messy. Not to mention the assumption that the roads in industrial areas are often in bad condition as heavy vehicles frequently travel on them.
AME Development Sdn Bhd — a Johor-based developer that has been building industrial properties in the southern part of the country — decided to change this perception. In 2011, it began developing a modern, managed industrial park under the i-Park brand. Its first products were i-Park @ SILC and i-Park @ Indahpura, Kulai, Johor.
AME Development managing director Kelvin Lee notes that traditional industrial development is messy and not properly maintained while security is an issue, especially when it comes to foreign companies setting up factories in Johor.
"We thought we should do something that the market didn't have — a clean and green industrial park that is properly managed with no security issues. It was not easy because we needed to convince the local authority to allow us to do [such a development]. When you look at the façade [in i-Park], they don't look like factories and that's what we are doing to break away from the conventional perception of factories," he tells City & Country.
"Then, it is about the market perception as they need to pay a premium for the facilities. From there, we developed the industrial park. In order to get quality foreign investors to come in, we need an industrial park that they can invest in."
The response to its first i-Park was so positive that the company has continued to develop more products, including i-Park @ Senai Airport City. Launched in 2017, the 195-acre industrial park is the third product under the i-Park brand. AME Development executive director Simon Lee explains that the design had been improved to include an industrial resort concept — not only putting in workers' accommodation but also facilities to encourage interaction among the working population there.
In i-Park @ Senai Airport City, there are 92 industrial parcels launched over three phases. AME Development builds custom-designed factories for its customers to have control over their façade and quality. All the buildings are certified by the Green Building Index. The maintenance fee is four sen psf based on land area.
"It is more than just the green concept, we also adopt environmental, social and governance (ESG) components, such as workers' accommodation that complies with the government's requirements. This was 10 years ago, when many hadn't even looked into the need for workers' accommodation," says Simon.
"Also, we believe that young people now want to work in a conducive environment and they want to have work-life balance, so there is a clubhouse and a six-acre recreational park in i-Park @ Senai Airport City to provide indoor and outdoor facilities. These will help bring the community together to have activities together."
The clubhouse — called i-Park Privilege Club — has facilities such as a dancing studio, swimming pool, badminton court and gymnasium. For outdoor activities, there is an outdoor gymnasium, jogging track and tennis court. The developer hopes that the people working there will interact with each other when they use these facilities.
Kelvin explains that the clubhouse also provides a platform for the developer to keep in touch with its customers, where it can have proper chat sessions with them to understand their problems and get their feedback.
"It also allows us to grow with them, because as they expand, they will always expand within our park. Many clients have a few factories in our park," he says.
The thoughtful planning that has gone into the overall design of i-Park @ Senai Airport City has earned it an honorary mention in The Edge Malaysia-PAM Green Excellence Award this year. The eco-friendly materials and resources the developer uses include high recycled content building materials.
The company's energy conservation and efficiency building design include 50mm thick fibreglass insulation, sun-shading devices, building orientation as well as low window height design. As a result, the development has seen an average reduction of 13% in electricity consumption, a reduction of 55% in water usage as well as a reduction of 33% in construction waste.
Simon says its target has been multinational corporations and domestic direct investments. With a green and clean industrial park, these companies have a good opportunity to promote their business. He adds that more companies are making an i-Park product as their headquarters.
"As for workers' accommodation, back then, we knew we had to treat our workers well and provide them with accommodation. Nevertheless, at the time we didn't have the experience and we tendered out the job. But no one wanted to bid for it to operate a worker dormitory, so we decided to do it ourselves," he says.
"Today, our workers' dormitories are doing well and the demand is so strong that we have to rush our projects. At i-Park @ Senai Airport City, we currently have more than 2,000 beds. A new dormitory is coming up with more than 3,000 beds.
"As for the industrial park segment, we have 43 acres remaining, and we have already had enquiries. We are selecting our customers because we want prime customers in this park."
Simon notes that i-Park @ Senai Airport City attracted mostly multinational corporations at the beginning. But now, he observes that more local companies are showing interest as well.
As for challenges, he reckons that the developer does incur more cost and time to build green buildings. For example, when planting trees, it looks for trees that provide shade but do not require too much water.
Now, it has even expanded its selection of plants to include those that provide health benefits or have more colours. "You can do a lot of nice things but maintaining them is effort," says Simon.
Nevertheless, AME Development wants to continue developing green and clean industrial parks while encouraging its customers to be part of the green journey.
"Most importantly, it is to bring forth the message that the green initiative is good and is not an additional job. We do a monthly environmental monitoring report to ensure no pollution in the park. We have to keep track of all the monitoring programmes and we want to ensure that these parks are well managed because we have also rented out many factories there," he says.