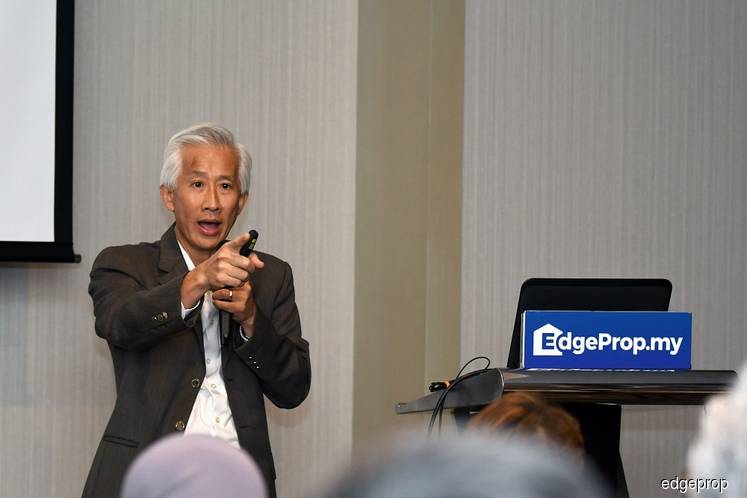 KUALA LUMPUR (June 26): The requirements of indoor air quality standards in Malaysia are low and hence, property developers fail to emphasise this aspect in their building designs.
"Indoor air quality has got such a low bar, even lower than one can imagine. They know it's there, but it's not one of the criteria," Accredited building inspector and trainer, Architect Centre, Anthony Lee Tee said during EdgeProp.my's Talk on Building for 'Wellness' today organised by EdgeProp.my, in collaboration with Panasonic Malaysia.
He added that apart from some buildings that are designed, built and managed by owners, those that are built for sale tend put more effort in design and appearance, instead of designing for maintainability with emphasis on good indoor air quality.
Hence, he called for greater awareness and consideration to ensure good indoor air quality even at the building design stage.
Lee's talk was entitled "How 'sick' can a building be? – Kisah Benar" where he showed real examples of buildings in dire conditions due to bad design.
Lee pointed out that design for maintainability is almost absent in some buildings, such as toilets that do not leave space for pipe maintenance, or air-conditioner compressors of tall buildings that are placed out of reach for repairs and maintenance.
Indeed when asked, he rated local buildings a score of below five out of 10.
 "I think Malaysian [developers] have not put [maintainability] as their priority. But I think it's very important because we are seeing very fundamental problems appearing in some buildings now," he noted.
If buildings that are not designed to be maintained and managed well, when problems such as water leaks happen, people are forced to break the walls to get to the pipes.
Read the full coverage of the symposium in the June 28, 2019 issue of EdgeProp.my pullout. — EdgeProp.my
Click here to visit EdgeProp.my for the latest news on all things property