This article first appeared in The Edge Malaysia Weekly, on February 18, 2019 - February 24, 2019.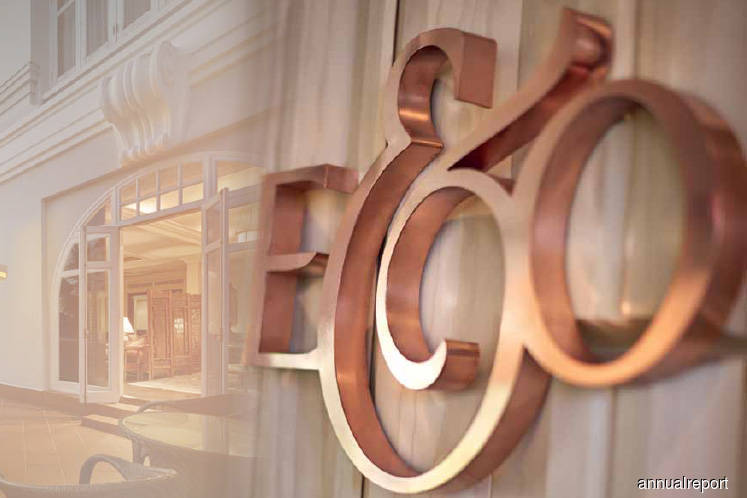 Developers may rethink fundraising plans after E&O shares plunge
EASTERN & Oriental Bhd's (E&O) share price tumbled after it announced an equity fundraising on Feb 11 to finance the development of its massive Seri Tanjung Pinang Phase 2 (STP2) project in Penang. The stock had lost 18.8% as at last Friday, closing at 88.5 sen.
The decline in the premier lifestyle property developer's share price raises questions as to whether it will be able to raise at least RM250 million in the exercise. Its endeavour will be closely watched by other developers hoping to do the same.
"E&O might have to issue the rights shares at a lower price than its illustrative RM1.11, looking at its five-day volume weighted average price when it finalises the pricing of the issuance, if its share price does not recover," Affin Hwang Capital property analyst Loong Chee Wei tells The Edge.
"If it wants to raise RM250 million, it might have to issue a bigger number of shares if its share price continues to fall or languish at the current level," he adds.
On Feb 11, E&O announced that it was seeking to raise between RM250 million and RM550 million through a private placement to independent third-party investors and a rights issue. The number of rights shares and issue price have not been determined at this juncture.
To raise RM250 million, E&O needs to issue 92.2 million rights shares with warrants at RM1.11 apiece, after placing out 131.03 million shares to the independent third-party investors at the same price. The placement itself will help E&O raise close to RM150 million.
At the moment, the E&O board has yet to receive commitments from its substantial shareholders to subscribe for the rights issue. It says the company will procure a written irrevocable undertaking from the substantial shareholders to subscribe for the shares in full.
The company will also be asking its substantial shareholders to underwrite any of the open portion of the rights shares that are not taken up.
It is expected that E&O's major shareholders Datuk Seri Terry Tham, Sime Darby Bhd, the Tee brothers of Kerjaya Prospek Holdings Bhd and Kumpulan Wang Persaraan (Diperbadankan) will support the fundraising.
But that did not stop the stock from diving to its lowest level in 21 years, of 85 sen, on Feb 12.
"Shareholders are worried about E&O's prospects. The fact that it needs to tap its shareholders' pockets to fund STP2 shows that it could not get investors to partner it in developing the project," says an analyst with a local investment bank.
"E&O has been saying that it is in talks with possible partners but after two years, we still have not seen any come in."
That a substantial amount of the raised funds may be directed towards general working capital might alarm E&O's shareholders, the analyst notes. Of the RM250 million to be raised, RM20.5 million is earmarked for general working capital. This works out to RM48.8 million if the maximum amount of RM550 million is raised in the exercise.
So, will other developers follow in E&O's footsteps, asking their shareholders to fund their businesses amid the property market slowdown?
Analysts who cover the sector do not think so. They say the bigger developers have either already done their equity fundraising or have good cash flow and assets to bank on if they need to pare their gearing levels or fund their projects.
S P Setia Bhd, for example, raised RM3.3 billion through a rights issue in late 2017. It tapped the finances of its shareholders, especially Permodalan Nasional Bhd (PNB), to part-finance its acquisition of I&P Group Sdn Bhd.
The group, together with Sime Darby Property Bhd, also sold the commercial assets of Battersea Power Station Phase 2 to the PNB-Employees Provident Fund joint venture for RM8.35 billion. The proceeds from the sale will be used to accelerate the development of the future phases of the iconic redevelopment project in London.
According to an analyst with a China-based research firm, some developers are facing the maturity of a substantial amount of financial instruments this year. These developers might have to think of ways to refinance these liabilities before they mature, he says.
The ways to refinance or restructure a company's debt and capital profile include equity fundraising to pare bank borrowings, overdrafts and debt paper.
Of the major property developers listed on Bursa, a few, including IOI Property Group Bhd, stand out for their significant amounts of debt maturing this year. According to IOI Property's annual report for its financial year ended June 30, 2018, RM2.7 billion of its debt is maturing within a year while RM1.37 billion of financial instruments are maturing within a year or two. The developer also has strong net operating cash flow and substantial cash reserves.
In FY2018, IOI Property generated RM1.89 billion cash from its operations and paid RM308.6 million in interest. It had RM2.38 billion of short-term borrowings, RM1.84 billion of deposits with financial institutions and RM547.6 million in cash and bank balances.
Another company that has a huge amount of debt — RM2.11 billion — maturing within a year is TA Global Bhd, according to its 2017 annual report. It had a huge cash reserve of RM745.8 million as at Dec 31, 2017, which increased to RM1.23 billion as at Sept 30 last year. For the nine-month period ended Sept 30, 2018, TA Global generated RM1.17 billion cash from its operations.
The group has valuable assets in strategic locations in Australia, Singapore, Canada, Thailand and China, which it can monetise in the unlikely event of a cash crunch, says an analyst. "But I don't think TA Global will need to do that."
Save by subscribing to us for your print and/or digital copy.
P/S: The Edge is also available on Apple's AppStore and Androids' Google Play.