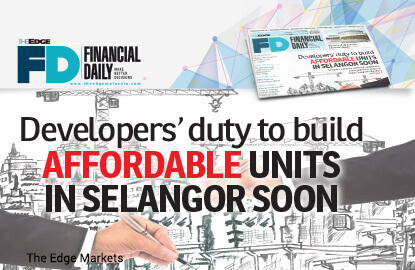 This article first appeared in
The Edge Financial Daily,
on September 1, 2016.
KUALA LUMPUR: Property developers will be required to build affordable units for serviced apartment, small office/home office (Soho) and small office/virtual office (Sovo) projects in Selangor under the state's new blueprint for housing development, which is expected to be unveiled soon.
According to Selangor Exco for Housing, Building Management and Urban Settlement Datuk Iskandar Abdul Samad, the sale of the affordable units will be under the control of the Selangor Housing and Property Board (LPHS).
He said homebuyers in the state will need to register with LPHS for the purchase of affordable units. Developers are not allowed to sell those units. He reiterated that the 30% bumiputera quota remains as a requirement for the development projects.
"Whether a person will be entitled to affordable units will depend on several criteria, including household income," he said.
Iskandar did not reveal the maximum household income needed to be entitled to the lower priced units when contacted.
The new blueprint will require property developers in Selangor to build 10% to 20% of affordable units for their serviced apartment, Soho and Sovo projects which they did not need to previously.
Currently, most of the Soho and Sovo units are often priced at of RM450,000 and above. Under the new guidelines, developers will have to offer some affordable units that are priced between RM230,000 and RM270,000, Iskandar wrote in the statement on Tuesday, which was uploaded to his Facebook.
The percentage for affordable units will be determined according to the total of units built for a particular project, according to his statement on Facebook.
He said Selangor is the first state that will be imposing controls on the development of serviced apartment, Soho and Sovo units.
According to statistics compiled by the National Property Information Centre, Selangor had 25,811 serviced apartments yet to be sold in the third quarter of 2015, with an incoming supply of 32,866 units.
LBS Bina Group Bhd managing director Tan Sri Lim Hock San said the details of the new guidelines are scant, but he said developers will be able to adapt to new policies accordingly.
Besides focusing on the selling price and supply of affordable housing, he pointed out that the state government should also look at measures that will help homebuyers from the low-income group to secure loans.
"There are cases that low-income buyers, who are entitled to buy affordable houses under the state government's programme such as Selangorku, could not secure housing loans from the banks," he told The Edge Financial Daily.