This article first appeared in The Edge Financial Daily, on September 18, 2019.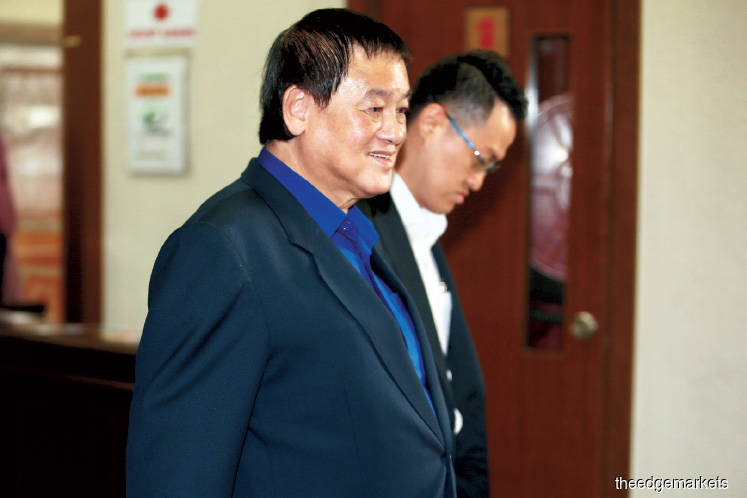 A High Court justice says by pleading guilty earlier, Tan (left) has saved much judicial time. Photo by Suhaimi Yusuf
KUALA LUMPUR: Businessman Datuk Tan Eng Boon was fined RM1.5 million by the High Court here yesterday after he pleaded guilty to abetting former federal territories minister Datuk Seri Tengku Adnan Tengku Mansor in receiving a RM1 million bribe.
Justice Mohd Nazlan Mohd Ghazali ordered him to pay the fine by yesterday, failing which he would have to serve a default sentence of one-year imprisonment.
The court yesterday was supposed to hear Tan's application to postpone the hearing of his case, which was to be heard jointly with Tengku Adnan's case.
The property developer, however, decided to plead guilty to the alternative charge. His trial was scheduled to start tomorrow.
For the alternative charge made under Section 165 of the Penal Code, Tan could have been sentenced to a maximum of two years jail or a fine, or both.
Justice Mohd Nazlan said as Tan had pleaded guilty before the trial, it has saved much judicial time and costs associated with a long corruption trial. The court also took into account that this was Tan's first conviction.
The judge, however, stressed that corruption is a very serious crime as it undermines the country's social and economic development and adversely affects the fabric of society.
"In view of the foregoing, and after taking into account the sentencing trend in respect of the same offence under Section 165, and in seeking to achieve a sentence that as closely as possible reflects the key objectives of sentencing policy; that are of prevention and deterrence, but also of retribution and reformation, and especially taking into consideration the agreement reached by the parties in the plea bargaining process which preceded the guilty plea," he said.
Deputy Public Prosecutor Julia Ibrahim told reporters that Tan,  also the most important witness in Tengku Adnan's corruption case, was prepared to plead guilty to the alternative charge provided he would only be fined.
The prosecution and Tan's lawyer, Faisal Moideen went through a plea bargain pursuant to Section 172C of the Criminal Procedure Code earlier yesterday.
On Nov 15 last year, Tan, 70, a director of a property development company, pleaded not guilty to a charge of giving a bribe to Tengku Adnan, 68, by depositing a RM1 million Public Bank cheque belonging to Pekan Nenas Industries Sdn Bhd into Tengku Adnan's CIMB Bank account.
It was allegedly a reward for Tengku Adnan for approving Nucleus Properties Sdn Bhd (or now known as Paragon City Development Sdn Bhd) to increase the plot ratio for the development of Lot 228, Jalan Semarak here.
The charge, under Section 16(b)(A) of the Malaysian Anti-Corruption Commission Act, provides for imprisonment of up to 20 years and a fine not less than five times the gratification amount or RM10,000, whichever is higher, if found guilty.
On Nov 15 last year, Tengku Adnan pleaded not guilty to a charge of corruptly receiving RM1 million from Tan to approve a company's application to increase the plot ratio for a development at Jalan Semarak here.