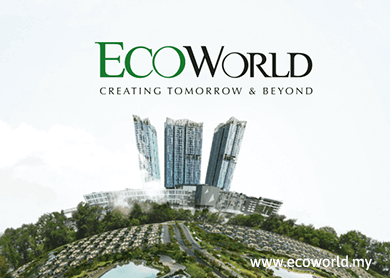 ECO WORLD DEVELOPMENT GROUP BHD charged onto the real estate scene to create a distinctive brand of housing and within just two years, it is coming into its own.
"We are compressing 20 years of what we did at S P Setia Bhd into what we are doing now," says EcoWorld non-executive director and former S P Setia president and CEO Tan Sri Liew Kee Sin.
"We are far from S P Setia in terms of sales and strength but we are setting new standards. It is now about EcoWorld standards. We are different today compared with our previous employer. We are moving at a different speed and have a different style and different DNA."
Following the reverse takeover of Focal Aims Holdings Bhd, EcoWorld undertook a series of corporate exercises that included the acquisition of companies with development rights for 3,100 acres and emerged with over 5,200 acres worth more than RM65.1 billion in gross development value in Penang, Johor and the Klang Valley. Development on all this land is beginning to produce results for the company.
In its financial year ended Oct 31, 2014 (FY2014), when most other developers were feeling the effects of a slowing property market, EcoWorld launched 4,652 properties, sold 3,416 of them and secured enviable sales of RM3.2 billion.
"We think the property market is very strong. People want to buy but the biggest issue is securing bank loans. In the case of EcoWorld, we have to work doubly hard. For every lot that we sell, we must make sure one buyer plus a backup," Liew says.
The company's achievement in Johor, where an oversupply of residential properties is a common complaint, is respectable. In FY2014, it managed to generate 57% of its total sales or RM1.8 billion from its Eco Botanic, Eco Spring and Eco Tropics townships as well as its business parks in Johor.
"In Johor, we are looking at landed and gated developments and business parks. We have been in these segments for the last 1½ years. Iskandar Malaysia is giving a lot of employment opportunities. The number of Malaysians working in Singapore is growing. There is demand there if you are in the right market segment," says EcoWorld CEO Datuk Chang Khim Wah.
In its second quarter ended April 30, 2015 (2QFY2015), the developer made a net profit of RM11.8 million on revenue of RM417.8 million. Sales up to May stood at RM1.2 billion, representing 40% of the year's RM3 billion target. In fact, the company's landbank injection in January produced the first contribution to results in this quarter.
For the rest of FY2015, sales and earnings will be supported by EcoWorld's new launches. There were four this month — Eco Sanctuary in the Klang Valley, Eco Tropics and Business Park III in Pasir Gudang and Eco Terraces in Penang.
A reason for EcoWorld's success is its ability to capture the imagination of what it calls the "mass niche" — those looking to "stay better and live better" in a gated environment with amenities.
"We not only serve a mass niche but also an aspirational mass, like upgraders and first-time homebuyers, who want to enjoy amenities like clubhouses and the safety of a gated housing area," observes Chang. "We believe that is the way the Malaysian society is developing."
With Chang heading EcoWorld's day-to-day operations, Liew says he is stepping back and getting more involved in stakeholder management and engagement. He is also helping develop a new generation of leaders with "an improved DNA" for EcoWorld and sister company Eco World International Bhd (EWI).
"I am now more involved in stakeholder management and strategic thinking, not operations. My key role now is mentoring and developing new talents. I spend a third of my time doing that. The key to our survival is ensuring we have enough talent to take over, starting with my son," says Liew.
EcoWorld's workforce is young with 60% of them being Gen Y. Liew's 24-year-old son Tian Xiong is a prime example of the company's talent drive. He sits on the board as executive director.
This article first appeared in The Edge Malaysia Weekly, on June 29 - July 5, 2015.