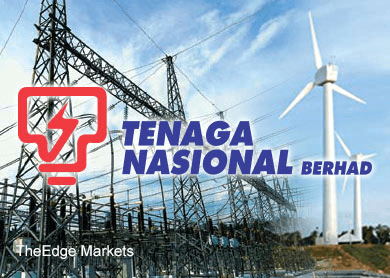 KUALA LUMPUR (May 7): With several power assets that are reported to be up for sale, Deutsche Bank Markets Research has raised concerns on the risk of Tenaga Nasional Bhd overpaying for these assets.
Also, Duetsche Bank foresees electricity tariff reduction going forward.  
"There are no details on the assets up for sale, but we are concerned about Tenaga overpaying for these assets if it participates," said Deutsche Bank in a report.
Deutsche Bank has downgraded the utility group to "sell" recommendation and slashed target price by 27% to RM11.50, compared with the market price of RM14.16.
Speculation is rife that 1Malaysia Development Bhd (1MDB) is looking for buyers for its power assets to raise fresh capital. Tenaga is perceived to be a prospective buyer. Also, there is rumour that Tenaga is currently in talks with Jaks Resources Bhd to acquire a majority stake in the latter's 2X600MW coal-fired power plant project in Hai Duong, northern Vietnam.  
In the report, Deutsche Bank wrote that such concern came after Tenaga's proposed takeover of Integrax Bhd for RM780 million, which was priced 24 times forward the formers price earnings (PE).
Deutsche Bank pointed out that TNB's aggressiveness in acquiring Integrax, a port operator, signals a worrying trend on future acquisitions.
The research house is of the view that Tenaga's readiness to acquire margins and control comes at an expensive price tag.
"We view this as a near-term overhang and risk to future return on equity. Our concerns are also relevant in volume growth by acquisition via investment in IPPs (independent power producers). Media has reported that IPPs are raising capital wither via equity or asset sales. We believe this risk will cap share performance," said Deutsche Bank.
Furthermore, Deutsche Bank noted that the utility group's under leveraged balance sheet, which has a net gearing ratio of 0.4 times, provides abundant financial ammunition to acquire growth.
"With potential power generation assets/concession up for sale, we believe this may cast an overpriced acquisition overhang to the share price. Furthermore, Tenaga's under leverage balance sheet provides it ample financial ammunition to undertake any acquisition," it said.
Deutsche Bank said the low reserve margin of 23% in Malaysia has led to new capacity investment and resurgence in independent power producers (IPP) investments. With an estimated capital expenditure of RM36 billion, 5,400MW of new capacity has been awarded.
Apart from possible asset acquisition, Deutsche Bank also highlighted the risk of a tariff reduction cannot be discounted because the chances of the government passing back recent operating cost improvements to consumers are high.
"We expect a 2.1% or 0.76sen/kwh cut in the July 2015 review to pass back the cost savings. The government could also hike the gas cost by 10% or RM1.50/mmbtu. Decisions made to date have, likewise, been consumer-friendly. Furthermore, Malaysia is facing rising inflation pressure following the 6% Goods and Service Tax (GST) implementation on 1 April 2015," it said.
"The next ICPT (Imbalance Cost Pass-Through) review, due in July 2015, just three months after GST implementation, will be a real litmus test of the effectiveness of the ICPT mechanism," Deutsche Bank added.
Tenaga share price closed at RM14.14 at the end of morning trading session with 2.96 million shares traded.