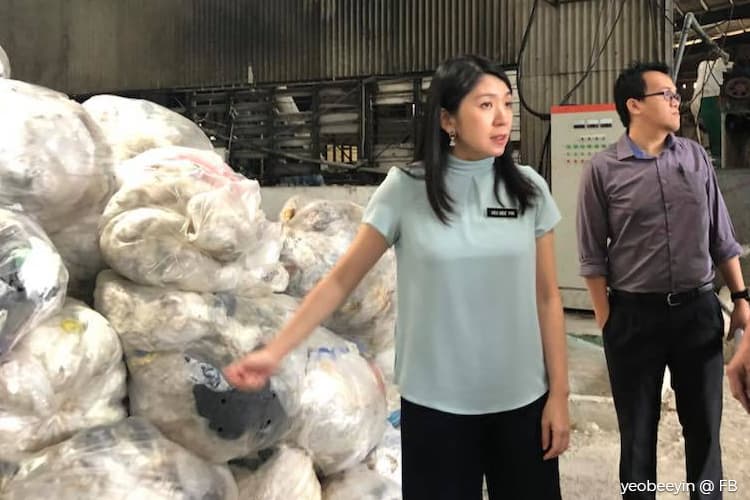 KUALA LUMPUR (Oct 16): Putrajaya aims to finalise details of banning the import of non-recyclable plastic waste by end of this year.
At a press conference today, Minister of Energy, Technology, Science, Climate Change and Environment Yeo Bee Yin said the newly-established Joint Ministerial Committee (JMC) will meet for the first time on Oct 26 this year, and deliberate on plans to resolve this issue related to plastic waste import.
The JMC consist of Ministry of Housing and Local Government; Ministry of Water, Land, and Natural Resources; Ministry of International Trade and Industries; and Yeo's ministry. 
"For now, it is a blanket freeze on the import of plastic waste with HS Code 3915, and issuance of license to set up recycling factories. The committee will go through the details of the types of plastic waste, and come out with details on which type of plastic waste we are about to ban; definitely, it will be more stringent to import plastic waste by then," Yeo said.
"For the existing recycling factories, which are legal and still complying to the law, they can still operate normally, and they will have enough supply, despite the government's freeze on import, because we have confiscated plastic waste from those illegal factories, and we will Lelong (auction) off to the legal players. And there are a lot of plastic waste; that is why we put a freeze on it since June this year, because it is too much.
"For the waste that we could separate out for recycling, Malaysia can still do it, for the portion which are contaminated and non-recyclable, we got no choice but to do landfill, otherwise the waste will go everywhere," she said.
Yeo said the industry value of plastic waste recycling in Malaysia, including waste sourced domestically, is worth RM3.5 billion annually.
Yeo also urged main exporters of plastic waste into Malaysia, which are mainly developed nations, to take care of their own plastic waste and not assume Southeast Asia nations, including Malaysia, as their waste dumpster.
Yeo said she has taken steps to convey the government's message to ambassadors of these countries in Malaysia.
"We can ban (plastic waste import), but we cannot resolve this issue, because the developed nations are still exporting. So, the effective way is for them to stop exporting, take care of your own waste," she said.
"Malaysia has been having recycling businesses in the past years, but the volume went up drastically in the first half of this year, after China — which was a popular destination for developed nations to throw their plastic rubbish — banned the import of plastic waste," she added.
Between January to July, the top four countries that exported plastic waste to Malaysia were the US (195.44 million tonnes), Japan (104.92 million tonnes), UK (95.25 million tonnes) and Australia (34.18 million tonnes), Yeo revealed.