This article first appeared in The Edge Malaysia Weekly, on August 13, 2018 - August 19, 2018.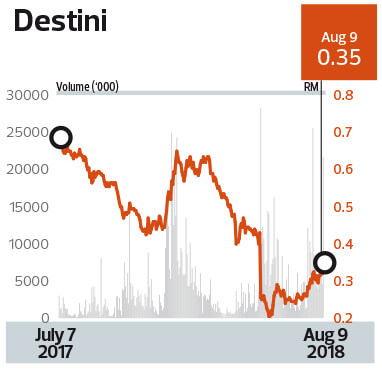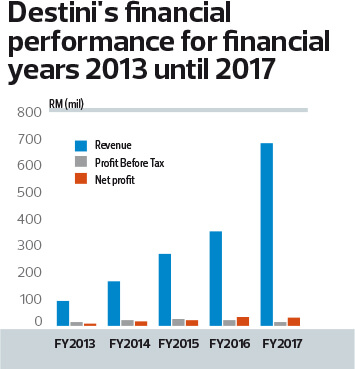 THE largest shareholder of Destini Bhd, Datuk Rozabil Abdul Rahman, has refuted rumours that he is looking to exit the integrated marine and aviation engineering service company following the change of government in May.
In an exclusive interview with The Edge, Rozabil, who is president and group CEO, says he has no plans to sell his stake, but will continue to run the group and grow the business.
However, he does not discount the possibility of getting fresh funds from new investors.
"It is a public company. As far as I am concerned, this is my destiny, it is not short term for me. I would love to build up and run this company. As a public company, it goes by the terms and regulations.
"If there is a strategic investor, for instance, why not? If there is, and if we think that our expansion needs more funds, why not?" he replies to a question about new investors in the wake of talk that Destini is seeking investments via Project Aero.
In a purported fact sheet on Project Aero sighted by The Edge, Destini is promoted as an "opportunity to invest in a fast-growing integrated engineering solutions provider".
But rumours of a change in shareholders could have been prompted by the general perception of Destini as a "politically linked" company as it used to land many government contracts.
Hence, it is also perceived to be vulnerable to a change in government — it was one of the counters badly battered following Barisan Nasional's stunning loss of power in the 14th general election.
Destini plunged 40.7% to 25.5 sen on May 14, when the stock market resumed trading a week after the polls, before sliding to its lowest in a year of 20.5 sen on May 24. Its share price has since retraced 70.73%, closing at 35 sen last Thursday — still a distance from its 52-week high of 65.5 sen.
Industry observers say Rozabil wants to exit Destini, or at least reduce his 26.5% stake following the administrative change in Putrajaya.
Rozabil maintains that he does not have to sell his stake to make way for new investors and says the group can issue up to 10% of its share base to new investors if Destini needs funds for its expansion programme.
To underscore his commitment, Rozabil has come up with a five-year plan to wean Destini off its dependency on government contracts, by focusing on both organic and inorganic growth.
The plan includes the acquisition of two Europe-based aircraft safety and survival component businesses, which he says, will be a very substantial acquisition for Destini.
"We will go big in terms of commercial aviation by either organic growth or M&A. We have set up our safety equipment MRO (maintenance, repair and overhaul) shop in Bukit Jelutong, in partnership with Avia Technique Ltd. We have two companies based in Europe on our radar now for the component shops as well."
Destini Aviation Sdn Bhd, the group's aviation MRO engineering service subsidiary, has set up a safety equipment inspection, repair and overhaul service facility in Bukit Jelutong in a joint venture with UK-based Avia Technique.
The company counts Malaysia Airlines Bhd, AirAsia Bhd and AirAsia X Bhd as its customers.
Destini has a RM322 million contract to supply six scout-attack helicopters from MD Helicopters to the Malaysian Army Aviation.
However, keen to earn more than a one-off margin from the supply contract, Destini approached MD Helicopters to set up an exclusive service centre for the latter's fleet of commercial and military aircraft within Malaysia and managed to clinch the deal.
Through a joint venture with Sapura Aero Sdn Bhd, Destini was also appointed the authorised sales representative for MD Helicopters in Malaysia, Brunei, Cambodia, Indonesia, Laos, Myanmar, Singapore, Thailand and Vietnam.
These acquisitions and tie-ups, its existing businesses in the aircraft safety and survival equipment MRO as well as oil and gas (O&G) decommissioning and tubular running services (TRS) will act as catalysts for Destini's commercial businesses.
Although up to 80% of its order book comprises government contracts, the group is confident of achieving a more balanced representation in contract value by next year as the construction of the three offshore patrol vessels (OPVs) for the Malaysian Maritime Enforcement Agency (MMEA) reaches its 70% milestone next year, thus reducing the scale of government-related jobs.
"When I took over the company, the plan was to go commercial. We have a five-year plan to increase the contribution of commercial contracts to our order book. Currently, 80% of our order book is from government contracts because of the OPV and NGPC projects.
"These two contracts alone are worth more than RM1 billion. But our commercial businesses are doing well," says Rozabil.
NGPC refers to the Next Generation Patrol Craft, a type of patrol vessel built by Destini for MMEA. The contract secured in 2015 is worth RM381.3 million. Four of the six patrol vessels have been delivered and the remaining two are to be delivered by October.
Perhaps the most visible of Destini's commercial businesses is O&G, where it undertakes decommissioning and TRS for the oil majors.
Its subsidiary, Destini Oil Services Sdn Bhd, secured a decommissioning contract worth RM20.2 million from Petronas Carigali for the Pulai-B work order recently. It was its second oil field decommissioning (OOFD) contract from Petronas.
Research firm CGSCIMB's analyst Nigel Foo says the contract should contribute RM4.3 million to RM5.8 million to group net profit, or 0.4 sen to 0.5 sen earnings per share, in the financial year ending Dec 31, 2018.
"We estimate the profit margin for an OOFD job is high (about 30% to 40% PBT margin) as such jobs are specialised and there are not many such players in the region," says Foo in an Aug 2 research report.
"The long-term outlook will also appear to be bright as according to Destini's annual report, 65% of Malaysia's over-300 platforms are above the age of 25, which is near the end of their life-cycles.
"That could mean more OOFD jobs for established players like Destini over the next few years."
In addition to Malaysia, Rozabil divul-ges, Destini Oil is currently bidding for more decommissioning contracts in Thailand and Vietnam. 
A TRS contract in Myanmar also looms for Destini Oil, Rozabil says, adding he is also confident of securing another decommissioning contract from Petronas "in the near future".
 
Save by subscribing to us for your print and/or digital copy.
P/S: The Edge is also available on Apple's AppStore and Androids' Google Play.