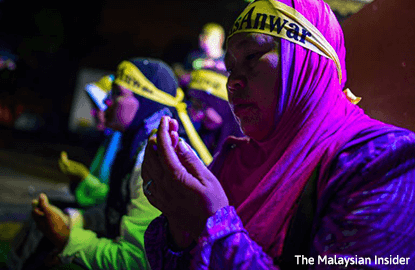 KUALA LUMPUR (Feb 12): PAS has reiterated its support for former opposition leader Datuk Seri Anwar Ibrahim despite being absent at a solidarity gathering outside the Sungai Buloh prison on Tuesday.
Its deputy president Datuk Tuan Ibrahim Tuan Man said party leaders were absent as they did not receive any formal or informal invitation.
He also rejected Selangor PKR leader Badrul Amin Bahron's remark that an invitation had been sent two months prior.
 
"When I did a check, none of us were aware of it, there was no invitation, no official letter and no alert.
"So, I feel a little disappointed that he (Badrul Amin) had said (we) were invited some two months ago and that there was also a meeting.
"I've checked with the head office, and they too did not receive any such letter," he told The Malaysian Insider.
Tuan Ibrahim was asked to comment on the party's absence at the event three days ago.
Dubbed "Himpunan 365", the gathering saw about 1,000 supporters listening to speeches by leaders from PKR, DAP and Parti Amanah Negara (Amanah).
Badrul Amin, as the event organiser, said he was disappointed that none of the PAS leaders were present that night.
Tuan Ibrahim also said the party's absence did not mean that support for Anwar had dwindled.
He said the matter should not be made a problem as PAS supported Anwar, whom they considered a victim of a political play.
Tuan Ibrahim said PKR president Datuk Seri Dr Wan Azizah Wan Ismail understood PAS's stance on the matter.
"To us, we are consistent in our solidarity with Anwar and whoever that are wronged," he said.
Anwar is serving five years in prison after the Federal Court last year upheld his conviction of sodomising his former aide, Mohd Saiful Bukhari Azlan, in 2008.