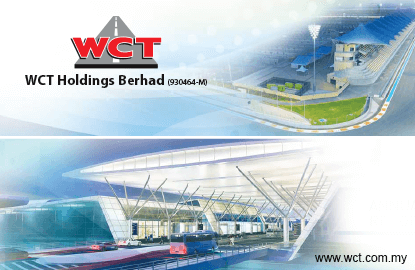 KUALA LUMPUR (Nov 1): Tan Sri Lim Siew Choon, the executive chairman of Malton Bhd, has surfaced as the single largest shareholder of WCT Holdings Bhd after acquiring a 19.67% stake from the private vehicle of WCT Holdings' co-founder and managing director, Peter Taing Kim Hwa.
According to WCT Holdings' bourse filing, Lim, via Dominion Nexus Sdn Bhd, acquired the stake or 245.71 million shares today from WCT Capital Sdn Bhd through a direct business transaction deal.
Although the transaction price was not disclosed in the filing, Bloomberg data showed the shares changed hands in several blocks at RM2.50 per piece. The transacted price represents a 75 sen or 42.85% premium to its closing price of RM1.75 today.
Assuming that all the 245.71 million shares were transacted at RM2.50 per share, it is estimated that Lim has forked out RM614.28 million to WCT Capital, which is co-owned by Taing and Wong Sewe Wing.
Following the share disposal, Taing and Wong, who are two of the four co-founders of WCT Holdings, has ceased to be substantial shareholders of the construction outfit and property developer.
Taing, however, still owns 4.16 million shares or a 0.33% stake in WCT Holdings.
According to Bloomberg, Lembaga Tabung Haji has a 10.19% stake in WCT as at Sept 29, 2016, followed by the Employees Provident Fund with 7.86%, and the Retirement Fund Inc (KWAP) with 6.36%.