This article first appeared in City & Country, The Edge Malaysia Weekly, on January 6, 2020 - January 12, 2020.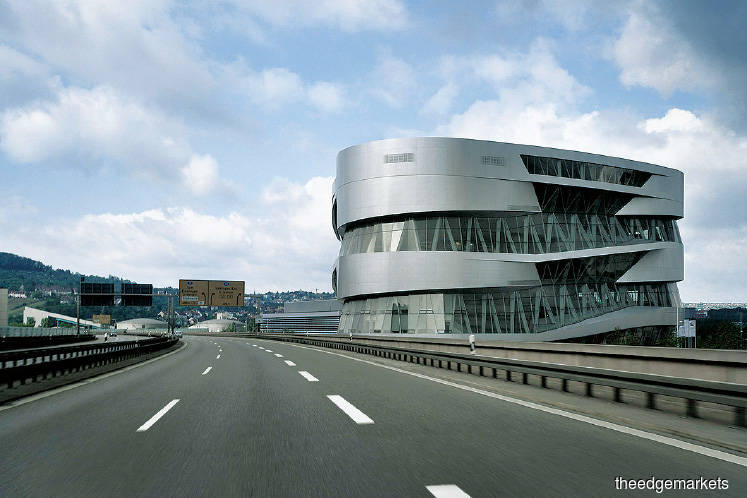 Mercedes-Benz Museum, Stuttgart, Germany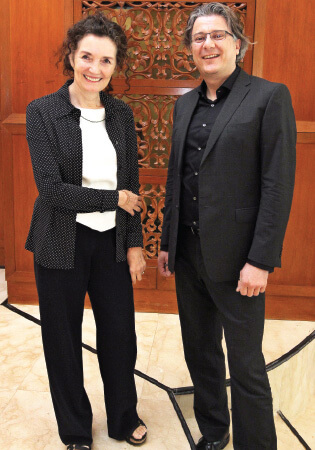 Bos (left) and Pfau
Chinese developer Vanke will soon reveal its maiden project in Malaysia. Situated on a 8.5-acre tract in Jalan Raja Chulan, Kuala Lumpur, the project is a stone's throw from Bukit Nanas and is designed by Dutch architectural practice, UNStudio.
Co-founder Caroline Bos was in Kuala Lumpur recently and she tells City & Country about the company she set up with her husband Ben van Berkel in 1988. The firm was first known as Van Berkel en Bos Architectenbureau and was renamed UNStudio 10 years later. The change was to signify the collaborative nature of the practice, comprising individuals from various countries with backgrounds and technical training in numerous fields.
"UNStudio stands for United Network. The previous name was more traditional, and suited an architectural firm. As we worked on projects like the Erasmus Bridge in Rotterdam, we realised that the role of an architect had evolved from the traditional idea of someone who determines and decides how things are going to be. Architects have to create a strong network, and that is how we can achieve things together," Bos says.
"When it comes to design, every situation is a new one and a new opportunity to learn something. We want to keep challenging and improving ourselves so the next project will always be fresh and new. We strive to do different things every time."
The change in name, she adds, also allows the architects in the firm feel they are working under a collective name and that everyone has their own name within the collective.
In 2009, UNStudio Asia was established with an office in Shanghai, China. Its main function was to facilitate the design process for the Raffles City project in Hangzhou. It then expanded into a full-service design office with a multinational team of architects.
UNStudio currently has more than 200 staff from 27 countries throughout the network. The projects the firm has been involved in include the Mercedes-Benz Museum, Stuttgart, Germany, in 2001; Terminal 2 Landmark Space, Incheon International Airport in 2014; 447 Collins Street, Melbourne, Australia in 2017; EuropaCity Centre Culturel Dédié au 7ème Art in Paris, France, in 2017; the Dutch pavilion for Expo 2020 in Dubai in 2018; and The Scoots Tower, Singapore, in 2018.
Working together
Bos had worked together with Van Berkel before they set up UNStudio. When she was studying for her Bachelor of Arts at Birkbeck, University of London, she was working as a journalist with Van Berkel. Coming from a different background, she views design and aesthetics differently from trained architects.
"When my husband and I were still studying, we started working together as writers for Dutch newspapers and magazines … we could work very well together, even though our ideas were different. He has been an important mentor in my life. What I did not anticipate was that we would go into practice together," she reminisces.
"With my different background, I think the benefits would be the analytical part … I do not look at things as a designer, I look at the concept and idea before I get someone to design it."
Nevertheless, Bos thinks architect training is important as it is where future architects learn the foundations of ideas and the aesthetic aspect that they carry through for the rest of their career.
Her advice to aspiring architects: "Be yourself and at the same time be receptive and open. Use the years of your study to really develop that your own character, voice and fascinations that keep your profession interesting."
Urban planning
Bos also completed a Master's in Urban and Regional Planning at the University of Utrecht. In recent years, she has focused on urban planning and registers herself as a urban designer. Five years ago, she started a dedicated urban unit in UNStudio, where she works on master planning.
"My focus is mainly on urban planning because architecture has achieved such a scale. But my personal ambition is that we can achieve the qualities that we have been realising in architecture also in the urban realm — vibrant architecture that engages people.
"To me, the future of the city is one of the most important issues … it is much more important than just individual buildings. We have done different master planning projects in different cities and regions, such as China, Germany, the Netherlands and the Middle East," she says.
Customisation
UNStudio Shanghai partner and senior architect Hannes Pfau says the knowledge development on architecture and product design within the firm, coupled with the technology aspect, has enabled the firm to work worldwide while customising the products to clients according to their needs.
The diverse backgrounds of his staff and his experience in working at various locations have also helped in the process of customisation and bringing new ideas in different regions.
"I am from Austria and I moved to the Netherlands because of the practice … Europe is also a melting pot of different cultures in different societies. When I moved to Shanghai 10 years ago, I found it really interesting that I was living in a place that I could not understand a word people were saying," he laughs.
"Having worked on different projects globally, it is nice to live in different cultures, picking up knowledge and learning their different qualities. The habits of different cultures make you feel like you are not just from one country, but a human being of this planet. There is a bigger picture to everything."
UNStudio does not only customise projects to the needs of the developers, it focuses on enabling users to find the synergy between the needs of different stakeholders. The idea is for the users to be proud to be inside the building.
Vanke's project in Jalan Raja Chulan is UNStudio's first in Malaysia and its approach will be healthy living and sustainability.
"One side of the development is the nice greenery and the other is the city that wears people out. We want to make the project a resource and a place for rest, where the residents feel at home and can have a healthy lifestyle. We have a lot of ideas such as cross ventilation to bring people closer to nature again and to make low-energy consumption buildings," Pfau says.
"The challenge is how to preserve nature, how we develop a sustainable project and also preserve the culture and the identity of this city. Within the development, we are working on creating a neighbourhood that we can find in the surroundings, as well as taking the greenery vertical."