This article first appeared in City & Country, The Edge Malaysia Weekly, on June 22, 2020 - June 28, 2020.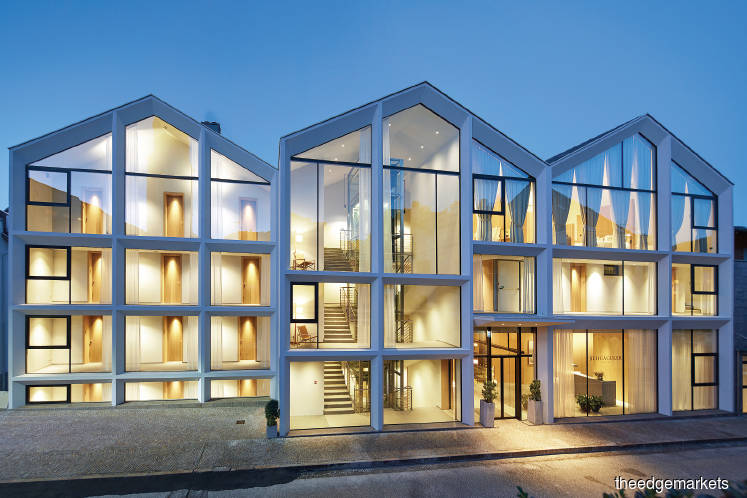 Milan-based studio Peter Pichler Architecture (PPA) constantly strives to develop an innovative and contemporary approach towards architecture, urbanism and design.
Founded in 2015 by Italian architect Peter Pichler in partnership with his wife, Silvana Ordinas, the studio has worked on various residential, retail and hospitality projects in Italy, as well as across Europe, North America and the Middle East.
"We are a young, dynamic and experimental studio that considers [the context] a fundamental aspect of architecture. In all our projects, an appropriate integration of architecture into its surroundings is a priority, and each project solution is determined and informed through sustainability, value engineering and rationalisation," says Peter in an email interview.
Peter's passion for architecture was inspired by Italian architect Walter Pichler, his father's cousin. "This is why I decided to study architecture at the University of Applied Arts Vienna in Austria and later at the University of California in Los Angeles, where I graduated with distinction from the masterclass of the late British-Iraqi architect, Zaha Hadid," Peter says.
After his graduation, Peter joined British international architecture and design firm Zaha Hadid Architects in Hamburg, Germany, where he worked as a project architect, researching and working on award-winning projects and competitions in several countries before establishing his own studio in 2015.
Peter believes architecture should have a strong bond with the culture and history of a specific place. "We take a holistic approach in designing our projects, whereby people can understand and share our architectural design values," he says.
"A good architectural design should highlight the importance of research and take into consideration the vernacular [architecture] elements. A project's sustainability, technology, tradition, historical and cultural values are the key aspects."
The main challenge, however, is to maintain good communication with clients. "During the current Covid-19 pandemic, we have learnt how to communicate effectively with clients through video conferencing," says Peter.
PPA's prominent projects include Oberholz Mountain Hut, Mirror Houses, Casa Puglia, Hockey Stadium Bruneck and Private Villa in Italy, and Looping Towers and One Tech Headquarter in Netherlands and Tunisia respectively.
The studio has received several accolades in the last two years. In 2018, it was named London International Creative Competition's Artist of the Year 2018 for Tree Houses and shortlisted for the Dezeen Awards' Emerging Architect of the Year 2018. In 2019, it won the Best Dining Space Design Award 2019 for Oberholz Mountain Hut; the silver award (second place) for the IDEA-TOPS International Space Design Award in Shenzhen, China; and was a finalist for Hotel Schgaguler at the Italy, Plan Award.
Elegant sanctuary surrounded by beauty of Dolomites
Two of the studio's more recent projects include Hotel Schgaguler in Italy and Tree Houses in the US.
The former is a modern luxury boutique hotel located in the Unesco heritage protected mountain village of Castelrotto in Dolomites, northeastern Italy.
Originally built in 1986, it had traditional alpine architectural elements, including steeply pitched roofs and a balcony lined with wooden balustrades.
"As it began to feel faded and outdated, the renovation project was undertaken by us in 2018, whereby the existing structure was retained as the basis for a more modern design with a minimal aesthetic," says Peter. The renovations were completed in the same year.
He points out that the hotel's architectural design now comprises three monolithic volumes that follow the original structure of the building before reconstruction. It is a modern take on the typical alpine style of the region with the incorporation of vernacular elements such as sloped roofs, while the open and transparent design gives the hotel a contemporary feel.
Photo by PPA
"The expressive exoskeleton façade changes according to orientation and programme. At the northeast façade of the hotel, with mostly corridors and public spaces, the sculptural is less deep, whereas at the south façade, the tapered geometry has more depth and creates loggias with natural shading.
"Tradition and culture are key aspects in the design of the hotel. A 'less is more' approach is implemented [for] the interior design of the hotel, where local chestnut wood, stones and textiles were used to create simple yet functional spaces," he adds.
Characterised by timeless design that evokes a cosy atmosphere, the 42 spacious rooms and roof-top suites, with built-ups ranging from 388 to 861 sq ft, come with balconies. "The rooms all feature an open bathroom concept along with free-standing bathtubs and full-height windows framing views across the valley," he says.
"The hotel offers a premier, high-calibre alpine-meets-Mediterranean culinary experience, as well as a sublime spa with a variety of saunas, two indoor pools, an outdoor whirlpool, a gymnasium, massage and mud-bath treatments," Peter adds.
Public spaces like the lobby, bar and restaurant are located on the ground floor while the wellness facilities and spa are on the underground level.