This article first appeared in City & Country, The Edge Malaysia Weekly, on April 27, 2020 - May 03, 2020.
The 10m-wide, double-volume rectangular box enclosing the main living spaces on the ground and first floors
Photo by Drtanlm Architect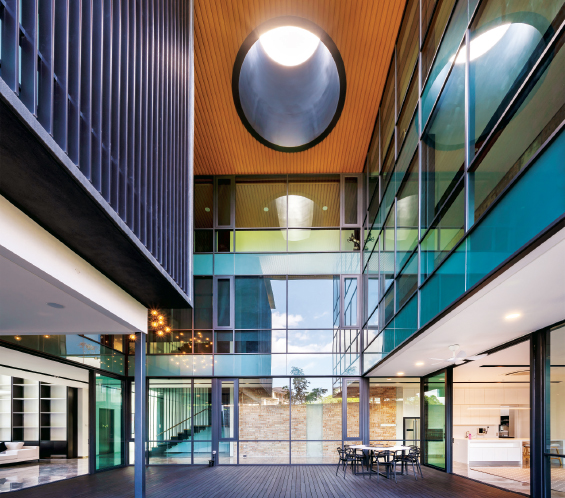 House No 47 has a C-shaped floor plan that incorporates a well-ventilated courtyard
Photo by Drtanlm Architect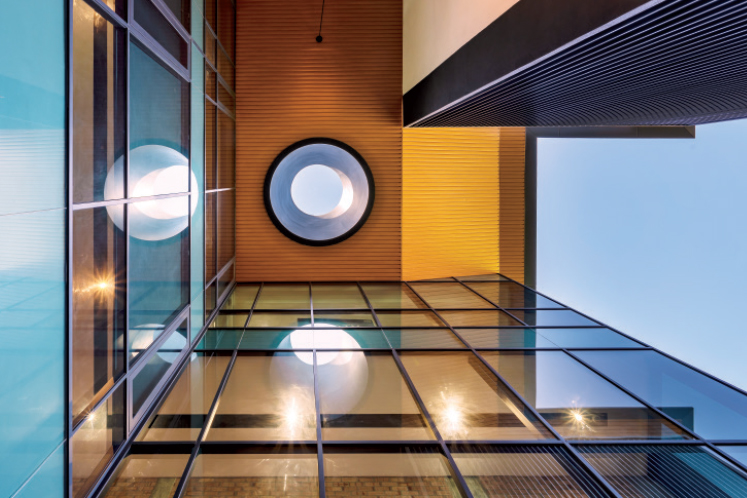 A circular skylight in the roof of the house allows a stream of daylight into the courtyard
Photo by Drtanlm Architect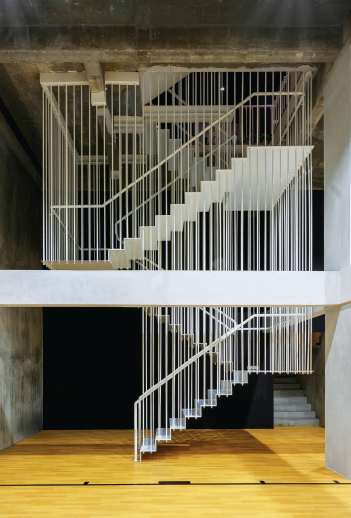 The suspended white sculptural stairwell at House No 100
Photo by Drtanlm Architect
" Our office operates like a design studio, so we have team leaders and separate teams [depending on projects]," says DrTanLM Architect principal Dr Tan Loke Mun, as he shares with City & Country some of his latest works in his Subang Jaya office. "It's a collaborative effort. We run three companies here and have a staff headcount of 180."

An art enthusiast, Tan points out a couple of artworks displayed in the premises while we chat about green architecture and design. "Our signature designs are mostly biophilic: green with raw aesthetics. We design our projects to be green, even the private residential ones that do not necessarily require certification," he says.
Born in Petaling Jaya, Tan has several accolades under his belt: He is a past president of the Malaysian Institute of Architects (PAM), past chairman of the LAM-PAM Green Building and Sustainability committee, past member of the GBI Accreditation Panel (GBIAP) and member of the Board of Architects Malaysia (LAM). "I was the team leader that set up GBI [Green Building Index]. The level of awareness for green buildings is quite good in Malaysia [especially in the major cities]; in fact, when it comes to that, we're one of the advanced countries in the world."
Tan did his architectural training at Deakin University and obtained his doctorate from the University of Melbourne. His doctoral studies were on social and self-help housing and he has experience in most parts of urban and rural Australia, Uruguay, Argentina and Brazil.
Tan, who is also ArchiCentre Sdn Bhd founding director and DTLM Design Group founder, is known for his contemporary-yet-green designs.
The three firms have an extensive portfolio of projects ranging from private residential projects to commercial ones, such as Verandah House in Bukit Damansara, Universiti Malaya masterplan, Tunku Abdul Rahman University College in Kuala Lumpur, PJKita in Kelana Jaya, Almas Puteri Harbour in Johor, The Metis Iskandar in Johor, District 7 in Ho Chi Minh City, The Wood Box and M Marini in KL and Setia City Mall in Shah Alam, to name a few.
Emphasis on design
"For DrTanLM Architect, we rely on our green technology company, Greenscapes Sdn Bhd, to conduct design analysis for us. We have a good mix of staff and a lot of new blood. We encourage our architects to travel to gain inspiration and to attend design lectures. Our management philosophy is rather hands-on as we supervise our projects closely," notes Tan.
One of the firm's most notable designs is S11 House, a residence that was Malaysia's first GBI platinum-rated work (for domestic architecture).
Tan says this project won in the Tropical Building Category of Asean Energy Awards in 2013 and took home the FutureArc Green Leadership Award 2012, gold medal in The Edge-PAM Green Home Award 2011, gold medal in the The Edge-PAM Residential Award 2011 and PAM Architectural Steel Colourbond Award in 2011. It also won in the Residential and Sustainable Categories of Asia Pacific Design Center Excellence Awards in 2011 and was World Architecture Festival (WAF) Awards finalist in 2012.
According to Tan, the firm is judicious in picking its projects. "Our tagline is 'good design creates added value'. Our emphasis is on design, so we choose our projects wisely and we have a select group of clients," he says.
Tan expounds on the firm's design process and rationale. "Firstly, it derives from the design. Once we have a design basis, we will form a DNA for the project [and design within those parameters]. The parameters could be in the form of materials, colours or even a plant. The end result will show that the design still keeps its intrinsic qualities," he says.
House Nos 47 and 100
Tan highlights one of his latest works: house No 47. "No 47 is located in an established leafy suburb in KL. The brief was to design a modern, tropical house for a three-generation family who treasure togetherness, privacy, security and ease of maintenance," he says.
Sitting on a 9,000 sq ft parcel, No 47 is a three-­storey bungalow with seven bedrooms and nine bathrooms. Completed last year, it has a total built-up area of 10,000 sq ft.
In terms of design, No 47 has a sharp and sleek façade. A rock wall shields the house from the street and a large, angular concrete roof canopy is prominent at its entrance. Consistent with the firm's design DNA, the house has a full array of green features comprising insulated roof, rainwater harvesting, solar hot water, double-glazing and low-emission glass, recycled materials, low VOC paints and finishes and vertical louvre sun screens.
The house has a C-shaped floor plan that incorporates a well-ventilated central courtyard. "The sliding glass walls enable the residents to use the courtyard from day to night, in any weather conditions," Tan points out.
"A circular skylight in the roof allows a stream of daylight into the courtyard, much like a stage light. The thick insulation in the roof provides shelter from the sun. The living spaces all look into the courtyard and provide the family with the visual connectivity they desire. The courtyard serves as a playground for their young children as well as a hangout area for their grandparents," he adds.
Another recently completed project is house No 100. Nestled in the Mansions, an exclusive gated community in Desa ParkCity, KL, the four-storey, six-bedroom and seven-bathroom bungalow appears to have a lot of woody elements.
"House No 100 is located on a hilltop with commanding views of the community clubhouse and swimming pool," says Tan. The house has a built-up of about 9,000 sq ft and sits on a 4,000 sq ft site. It was completed last year.
"One of the striking features of the house is the 10m-wide, double-volume rectangular box enclosing the main living spaces on the ground and first floors. The concept is to enhance this large space by transforming it into an intricate, timber-panelled jewel box," says Tan.­
Golden teak plywood was used to create large, vertical fins and shelves that surround the space. "Strip light was built into the rear of each panel of plywood. It creates a golden amber glow for the entire timber-framed sculpture," says Tan.
The house has a white sculptural stairwell that is suspended. It appears like a piece of industrial art that ties all the floors together. Other industrial-like details include a 12-seater teak dinner table and a steel kitchen and bar.
"The flooring of the house is made of textured, neutral grey marble. And the lighting for the entire house is energy saving," says Tan. The configurable LED modules offer a high degree of aesthetic, flexibility and functionality to satisfy the different usage requirements of the space.