This article first appeared in City & Country, The Edge Malaysia Weekly, on February 21, 2022 - February 27, 2022.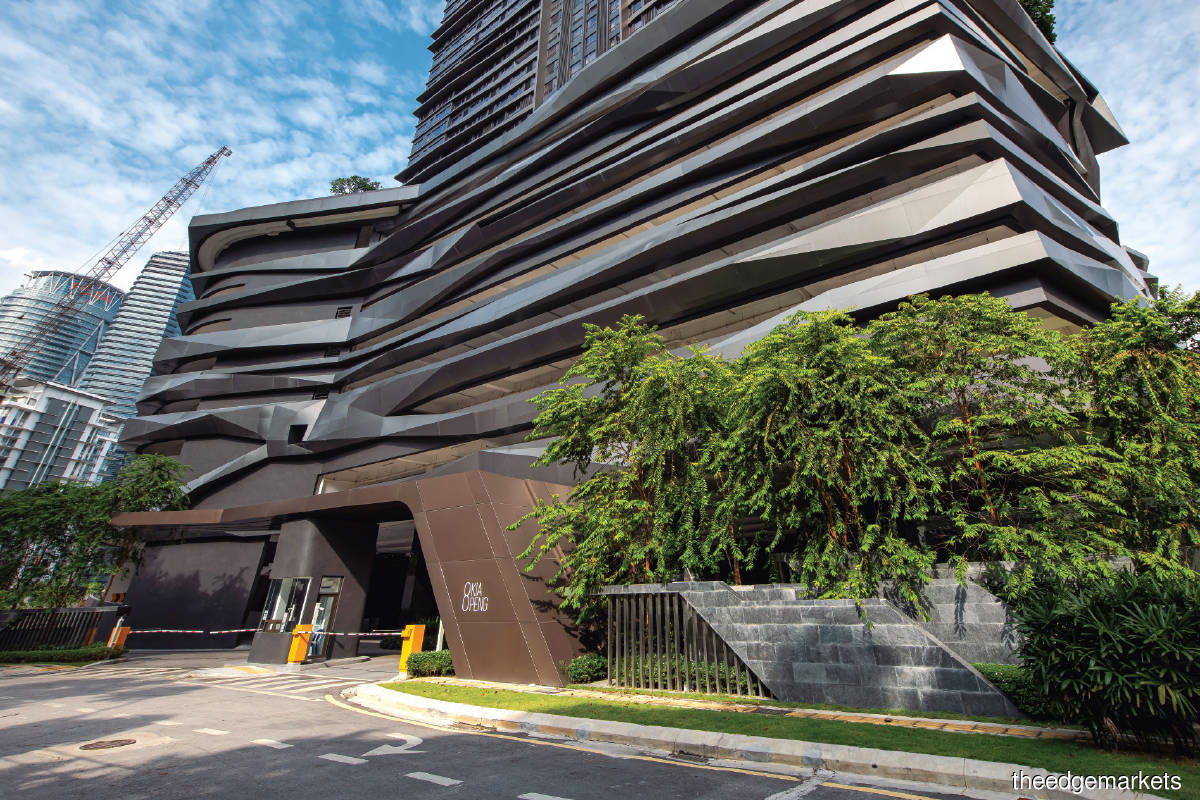 Architects 61 Sdn Bhd believes in creating responsible and meaningful architecture. Its founders Tay Lee Soon and Yang Soo Suan named the firm after the year they graduated from the University of Melbourne, 1961. They started the firm in Singapore in 1974 before launching the Malaysian chapter in 1995. They have since retired.
Director Jeffrey Ling, who was responsible for establishing Architects 61 in Malaysia, is currently the driving force behind the practice. He says: 
"Architects 61 is about collective work and teamwork is very important. We emphasise that everyone in the office is very important … We back each other up, do checks and balances and we come up with solutions together when there are problems. We share knowledge and look out for one another. No one person will handle the job alone as we work as a team."
The firm currently has 16 architects in Kuala Lumpur and five in Penang. Nine of them are registered architects and Ling notes that it is a high proportion in an architectural firm. In total, the firm has 33 staff in Kuala Lumpur and Penang.
The firm's projects include The Ritz-Carlton Kuala Lumpur, 2 Hampshire and 8 Kia Peng in the KL city centre, Wisma Shell in Cyberjaya, Springtide Residences in Penang as well as Mercu Mustapha Kamal in Petaling Jaya.
Responsible and meaningful architecture
Ling says the firm strives for creativity and excellence on its journey to create responsible and meaningful architecture. This is in line with the firm's philosophy of being design-driven. "We constantly aim to be creative and economical in our design approach, and are always refining to deliver the best built product and high-quality service."
"Architects are solution providers in an architectural form, where we have to balance many issues and create an architectural solution that is beautiful and that people can enjoy. We are responsible for whatever we are doing and designing. When we take ownership of our design, we are able to address the various requirements, be it the client's, statutory, economic and environmental … we are able to balance them," he explains.
"All these then translate into a 3D built form, which must be meaningful to all users, so that they are delighted by it and enjoy it. It is a journey from one space to another as we reinterpret what the clients want. And we want to achieve more than what the clients and purchasers expect."
Project director Ken Loo and senior associate Joan Chia concur, noting that going beyond the client's brief will also add value to the development. The initiatives include providing more communal spaces in high-density projects.
Ling reckons that meaningful architecture is also about the end users' experience when they walk into a building, and therefore it is important to study the context of the site and its potential. He cites Springtide Residences in Penang. "We make people drive through the beach [and enjoy the view] before coming into the building because we want to create an experience for people and they will enjoy living there. In many projects, we are also able to maximise the sites by putting in a pool of 50m in length," he explains. He reckons that the pool is a good selling point and adds value to the developments. 
"We must be responsible to our stakeholders, including clients, contractors, purchasers and end users, so every job must be meaningful. If you want to do a job, do it well. As I always say, when we do a job, it must be publishable. We are passionate about what we do."
Continew and 8 Kia Peng
The firm also designed Sarawak-based Ibraco Bhd's maiden project in Kuala Lumpur, Continew. Located in Pudu, the mixed-use development with retail, office and serviced apartment components has recently been completed.
The 1.4-acre project offers two apartment towers — with 510 units in total — that sit above three levels of retail shops and five levels of offices. According to Ling, the different heights of the apartment blocks — one at 47 storeys and the other, 51 — creates a cascading form. There is also a hanging garden that connects the towers at every four floors, and some units on the 22nd and 32nd floors have been replaced with sky gardens. "In total, we have nine hanging gardens and four sky gardens. They are created to maximise opportunities for interaction among residents."
The architects also added mesh and glass lanterns, slanting and undulating hoods and alternative balconies to articulate the buildings' façades and function as shade from the sun and rain.
Another development Architects 61 has recently completed is I-Bhd's 8 Kia Peng in Jalan Changkat Kia Peng. Ling notes that this development is located on one of the highest points of the Kuala Lumpur city centre. Sitting on 1.05 acres, the 50-storey building offers more than 442 small office home offices and serviced apartment units, most of which have views of the city centre.
"It is a high-end project in the KLCC area, so we focused on the view. We want to enhance the experience of driving up the hill to the building. We also designed the sunshades to be more than just functional objects — we opted for bronze aluminium composite panels and when the sunlight reflects off them, the tower glows with a bronze hue. The building looks different at different times of the day because of the sun's reflection," Ling adds.
Architects 61 also worked on Mercu Mustapha Kamal in Damansara Perdana. It is the final parcel of a mixed-use development and measures 1.4 acres. Completed in 2016, there are two MSC-compliant Grade A office towers on top of a podium that consists of a car park, retail space, surau, banquet hall and function hall. 
According to Chia, the design responded to the client's brief to make it an entrance statement for Damansara Perdana, as it can be seen prominently from Lebuhraya Damansara-Puchong (LDP) and Penchala Link.
Meaningful space is also about giving people a sense of space, adds Chia. Thus, people can see the LDP when they reach the lobby. The design allows them to identify where they are by giving them certain reference points.
Another feature is the sky gardens on alternating floors of the office towers. Apart from contributing to the façade's design, they also serve as a place for growing plants and for office workers to chill out. These moves help to create a comfortable office environment, she says. 
Chia adds that the client wanted to invest in green features. Green developments also mean higher costs, but that can be offset by lower operating costs. 
The green features in Mercu Mustapha Kamal include solar photovoltaic panels; double-glazing unit glass, low emissivity glass and reflective coating; rainwater harvesting for the irrigation system; greywater recycling for toilet flushing; and energy-saving motion sensors in common areas.
Also, the firm did several tests and trials on using light troughs to bring sunlight into the development. Chia explains that light troughs installed at the east and west sun paths bring in sunlight that comes through the façade's glazing. Subsequently, the sunlight is distributed into the office space through highly reflective surfaces and acrylic diffusers.
The building also boasts of water-efficient fittings and an insulated roof.
Technology and sustainable practice
Architects 61 also emphasises on technology and sustainability. For sustainability, Ling notes that it is something the firm has been focusing on even before the rating system was established, and he reckons that there must be certain social responsibility when it comes to sustainability.
For technology, the firm is also a pioneer in the Building Information Modelling (BIM), which it adopted some 10 years ago. He explains that BIM allows for more accurate information for buildings, especially on quantity, pricing as well as detecting most construction problems.
"More than that, towards the end, it can become a facility management also. For example, when your air-conditioner breaks down, the system can sense where and which part has broken down. It is intelligent. We are moving in that direction and we have been investing in this software," says Ling.
"The second technology is Project Information Management (PIM), which is an information system we use to store all databases. It can track and manage all the information in terms of construction management. Coming up next in the architectural industry is artificial intelligence, and we are working with software engineers for automation in certain processes."