This article first appeared in City & Country, The Edge Malaysia Weekly, on October 5, 2020 - October 11, 2020.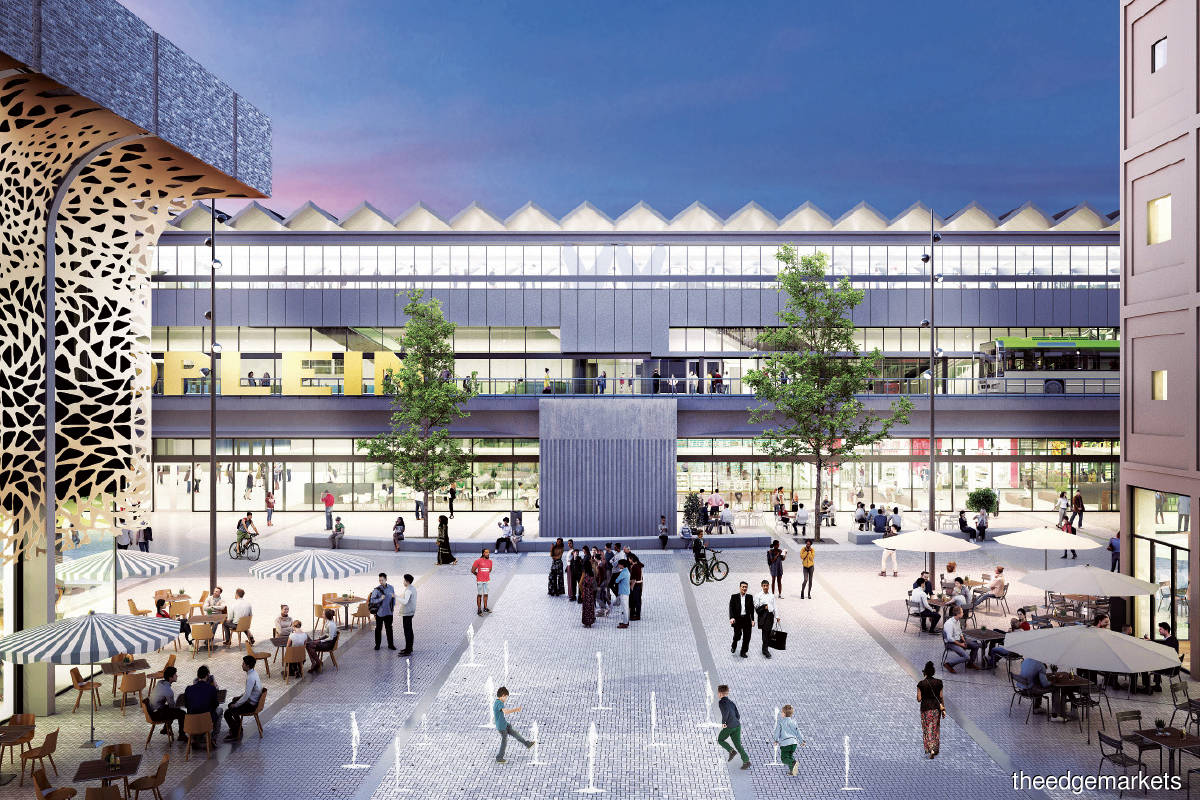 Around the world, people are finding ways to build affordable housing in cities. Land is limited in most cities, and this is where unused, vacant or near-vacant commercial buildings come in.
Rotterdam-based Kraaijvanger Architects provides a solution with its award-winning creation called the Hub, which helps transform vacant commercial buildings into temporary affordable living spaces within a few days.
The Hub was the result of an entry to a competition held in 2015 and organised by Havensteder, a large-scale housing corporation in Rotterdam, says architect partner David Hess at Kraaijvanger Architects.
"The central question for the competition was 'How will we live in the future?' The proposal from Kraaijvanger Architects was born from our fascination with the amount of empty office space and the lack of housing space," he says. An investigation by the firm found a mismatch between these aspects because building owners are discouraged by the idea of large transformational investments.
Thus, Hess and his team proposed a more accessible business case where most of the value investment is maintained. "By entering the Hub into an empty office space, all housing requirements are met," says Hess.
The Hub is a prefab square kit that can be installed into almost any type of empty building with electricity and water connections, and transforms them into homes within a few days. Each 161 sq ft Hub contains a kitchen, bathroom and storage, and utilities such as air-conditioning, electricity, heating, sound system and internet connection.
"It is fabricated in such a way that it is easy to assemble and disassemble into parts, and can be transported through an elevator or open window," Hess explains.
Additional Hubs such as the BedHub offer the option of adding extra rooms. Built using eco panels and solid surface materials, design is aimed at allowing users to rent or lease a Hub rather than own it, so that they can enjoy the comforts of a home without buying it.
If the empty buildings are spacious, more than one Hub can be installed to build multiple "homes", which can accommodate more people.
Today, the Hub remains a working prototype and there is one in the Zomerhof neighbourhood in Rotterdam.
"There have been different inhabitants living in the Hub. The first inhabitant used a diary to keep track of his experiences and ideas for possible improvements. Except for the introduction of a placeholder for the remote control of the lights, no features needed to be improved," says Hess.
The firm is open to suggestions for serial production. "We are an architecture firm and not a producer. So, we would like to implement this in cooperation with a producer," he explains.
Focusing on socially significant architecture
Kraaijvanger Architects was established in 1927 and named after its founders, brothers Evert and Herman Kraaijvanger.
The firm grew rapidly during the post-war reconstruction period. Today, it is a full-­service architecture firm that focuses on socially significant architecture such as public buildings, public interiors and vital urban districts. It has three active disciplines: urban development, architecture and interior.
"The firm's goal remains unchanged — which is to dream big and then make those dreams come true," says Hess.
The diversity of the work and the result of a working method define the firm, he says. "Every project has its unique questions with its unique answers. So, we always start a project with extensive analysis, and search for the question behind the question while listening to the client and end-users.
"We are practical idealists. Our architecture creates space, strengthens the environment and gives something back to society. Socially, sustainably and aesthetically … these are the [aspects of] architecture that matter and it is our mission."
It is difficult for Hess to name the firm's significant projects but he highlights two — the Hart Van Zuid in Rotterdam and City Hall in Venlo.
The Hart Van Zuid development is one of the largest urban projects and covers 65ha. Designing work and construction started in 2012 and 2016 respectively and are ongoing. The development will comprise a mix of functions that include culture, sports, housing, retail and education.
The master plan is based on connecting, decelerating and meeting. Different parts of the city are reconnected by a number of radical interventions. In principle, the urban designs include buildings that are practical, according to the architect.
New and renovated buildings will always be at the service of the public space, and provide streets and squares with lively façades. Shops and hospitality outlets are housed in the bases of buildings.
Meanwhile, the municipality of Venlo commissioned the firm to design the new City Hall, which has a gross floor area of 298,160 sq ft. With 630 flexible workplaces and public functions, the building, which was completed in 2016, presents an opportunity to utilise cradle-to-cradle and circular ideas.
Based on the open-house concept, the building connects people and staff. The offices are located on the floors above, in a secure zone in the tower. The complex comprises a single three-dimensional work environment: Everything is connected to everything.
According to the architect, the air-purifying façade is the world's largest green building façade and forms a protective shell against traffic and railway pollution. It provides biodiversity: Like a vertical city park, it is a natural biotope for more than 100 plants, animals and insect species.
Besides designing, Kraaijvanger Architects recognises its responsibility in helping to make the world a better place. "We are conducting studies to investigate the circular possibilities of the future in our physical environments," says Hess.
The firm's plan is simple. "We want to continue to tackle architecture challenges for another 100 years and keep designing interiors, exteriors and urban areas for a better and circular world," Hess says.