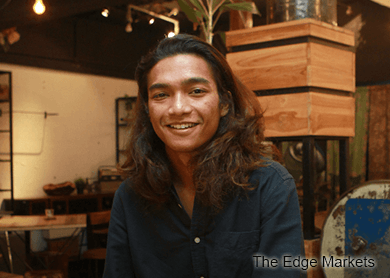 With the help of DESIGNation.co, we identify seven Malaysia-based brands that are making waves with their design-driven products and furniture, from the craft-influenced to the nostalgia-inspired. Will any of the creative minds behind them be our design stars of the future? 
Ierfan Azriff
Wood & Steel 
Who: At the heart of Wood & Steel is an enterprising family whose business revolves around coffee, furniture and art. Overseen by the family patriarch, Wood & Steel has cafés that also serve as a showroom for its brand of furniture and a gallery of artworks by local artists, with one more slated to open this month. 
Twenty-three-year-old Ierfan Azriff is the creative mind behind the furniture. An interior design graduate of SEGi University, Ierfan grew up watching and working alongside his father, a self-taught designer and carpenter who would do contract jobs that involved construction and custom furniture for showhouses and developers. Upon graduating, Ierfan went to the family's furniture factory in Central Java, Indonesia, and spent six months there working with the craftsmen. "The experience was very raw, unlike what we learnt in college. I was working alongside craftsmen who learnt their craft from their fathers, who in turn learnt it from their fathers… they showed me amazing technique and style," recalls Ierfan. "It was this experience that I really apply to my furniture." 
When he returned home, his father gave him the opportunity to rework and rebrand the business, and thus Wood & Steel was born. 
"My father has been a big influence. We were pushed to take an interest in carpentry and aesthetics — our family has always been inclined towards the arts and creative industries. In fact, my great-grandfather was one of the first artists to show outside the country, so it was quite natural for any of us to be drawn to this world," explains Ierfan. 
The young designer's journey is just beginning, so he tells me. It has been 1½ years of continuous creative exploration and discovery, and some success. Legendary singer Amy of local rock band Search and Datuk Seri Idris Jala were among the first to buy his furniture, and one of his first big projects was for hipster café Podgy & The Banker. He was also invited to show at the last Milan Furniture Fair (Salone Internazionale del Mobile) but hesitated because he felt the brand wasn't ready — if he were to do it, he wanted to do it right. "I'm still learning, still in the process of shaping the brand identity. It all happened so fast — we never thought it would take off so quickly," says Ierfan.  
That said, the young designer has defined three pillars to which he adheres: Practicality, personality and interesting, quality materials used. "They all have to make sense, and be beautiful too. A year and a half is a really short time, but I'm pretty proud of the amount of jobs we have been able to be a part of and complete in this period. I feel blessed. I don't think people or designers my age have had that opportunity to design and see it realised — and that really keeps me motivated." 
What: Among the various disciplines, why interior? "I like seeing nice things, and I love creating a good atmosphere," says Ierfan as we sit on the second floor of the Wood & Steel Café & Gallery in Taman Tun Dr Ismail. It is here that we have a taste of the young designer's vibe — raw, urban with a touch of attitude — and it's fairly obvious why the brand is named as such. Wood and steel are the designer's favourite materials to work with, steel because it is sturdy and long-lasting, wood because of its substance and character, and Ierfan uses the pair to great effect in dining and coffee tables, lounge chairs and shelves. 
There are also drawer bureaus carved from oil drums and built from a mix of timber (new and salvaged) embellished with upcycled hardware. 
Most of his designs for retail are produced in limited quantity — five pieces at the most, all different and spread out across three showrooms. 
"I think of what I like to see and use. From memories and experience, and the places I've travelled, to simple geometrical structures, these are what inspire me. It's hard for me to articulate what my style is at this point. All I can say is that there's a different process for each piece, in terms of how I work on creating it," says Ierfan. "I will experiment more with materials in the future. I would really love to play with resin, on wood and on metal." 
The launch of his new signature collection will coincide with the opening of Wood & Steel's new gallery in Subang in April.
Where: Wood & Steel — Coffee. Furniture. Art is located at The Strand, 33G, Jalan PJU 5/20E, Kota Damansara, 47810 Petaling Jaya, Selangor, and 52 Jalan Datuk Sulaiman, Taman Tun Dr Ismail, 60000 Kuala Lumpur (03-7731 6609). The furniture is also available at DESIGNation.co. 
This article first appeared in The Edge haven, on Issue #72 April + May 2015.