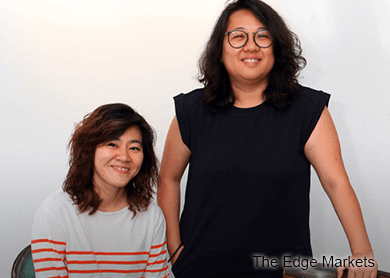 With the help of DESIGNation.co, we identify seven Malaysia-based brands that are making waves with their design-driven products and furniture, from the craft-influenced to the nostalgia-inspired. Will any of the creative minds behind them be our design stars of the future?
Diane Ong and Janice Lim 
Momage Art
Who: Diane Ong and Janice Lim are the creative minds behind Momage Art, a quirky label that began with a collection of thick deep-set photo frames. Ong, the owner of the graphic design company at which Lim is art director, convinced the latter to co-found the venture when Lim presented her with a framed photograph for her birthday in 2012. Both share a passion for photography and Lim's unique framing approach allows the photos to stand sturdily on their own or even be stacked for an arresting display.
A tinge of nostalgia seeps through most of Lim's photos, which veer towards close-ups of textures and vintage scenes. Ong prefers shooting landscapes and everyday moments. "I grew up in Muar and every time I return, another element that defines its small-town atmosphere has disappeared. I can't protect or save each one, so I capture them in photos to keep them alive in the hope that others will appreciate this heritage," says Lim. The melancholy of her images moves customers, who sometimes even ask for the exact locations so that they might pay these sites a visit.
What: Momage is a portmanteau of moment and image. Most frames feature two complementary photos, one within the other, that give the moment context and create a more evocative memory. A photo of a quaint stall, for instance, is placed over a close-up of the textured wall behind it, the overall effect suggesting depth and dimension. The early generations of products comprised frames made from new chengal or durian tree trunks, and reclaimed wood was later introduced.
"Initial pickup was very slow," says Ong, recalling their humble beginnings. The duo would participate in art markets and showcase their products on the brand's Facebook page. "There was a mixed reception for the frames: some people felt the dimensions were too bulky, preferring the slenderness of traditional frames, but it had its fans. We were the only ones doing box frames at the time, though they have since become very popular."
It was Ong who came up with the idea for the next range of products. "I was very into Instagram at the time and liked the way the phone's backlight display lit up pictures, an effect we simply couldn't emulate on matt paper. That's when we thought of introducing the images in light boxes — it brings new life to the photographs, pulling out elements such as sunrays," she says. A light within the box illuminates photos and customers use them as fun decorative lamps on tables or by bedsides. Currently the label's bestselling line, it marked the start of Momage Art's foray into integrating art into functional design. The label has since introduced low tables, featuring a photo frame balanced on sturdy legs. The deep-set frame serves as a tray and the image is printed on water-resistant material. Prices for the photo frames start from RM180 while the light boxes start from RM540 and the tables from RM600.
Customers are a mix of locals, expatriates and tourists, with architects and design enthusiasts showing the greatest interest. The frames can be heavy because of the solid wood used, so Lim and Ong occasionally help to courier the pieces overseas on behalf of tourists with limited luggage space. 
"We were also recently invited to take part in Simple Life, a music and art festival in Taiwan," says Lim. "It was our first international invitation and the products were very well received despite there being a cultural disconnect — most of the scenes we depicted were quintessentially Malaysian and required some explanation."
Where: Momage Art products can be viewed at www.facebook.com.momage. and are available at DESIGNation.co
This article first appeared in The Edge haven, on Issue #72 April + May 2015.