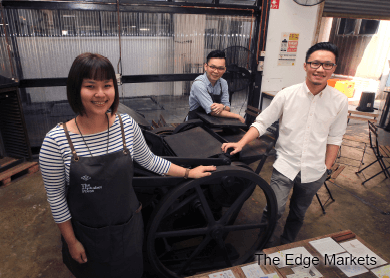 WITH the help of DESIGNation.co, we identify seven Malaysia-based brands that are making waves with their design-driven products and furniture, from the craft-influenced to the nostalgia-inspired. Will any of the creative minds behind them be our design stars of the future?
Cliff Leong, Zeejay Wong, Fidella Ch'ng
The Alphabet Press
Who: Cliff Leong, Zeejay Wong and Fidella Ch'ng were college mates working in the same web design company when they first came across business cards that were letter-pressed. They were so inspired by the artistic value and tactile sensation that they started looking to get their own cards printed in the same way — only to find that it was a very old-fashioned printing style that simply wasn't done in Malaysia anymore. Their interest piqued, and after three years of research, the trio, along with another business partner, took the plunge and turned a passion into a business venture in 2013 with The Alphabet Press, an artisan letter printmaker. 
The Alphabet Press studio is based in a family-run printing outfit in Bangsar, and uses vintage machines and tools that were obtained from overseas with much difficulty. "This is a very labour-intensive process, the machines are hard to come by and the ink and paper have to be imported. But the results are really outstanding, and that is what we are going for," Leong says.
What: Letter pressing dates back to the 1450s — for every word on a page, each letter was typeset and positioned by a different wooden carving or lead casting. The paper would be carefully placed on top of the type and pressure applied to create a deep impression known as letterpress. The Alphabet Press seeks to revive this lost art of printing with products that are modern, fun and wholly Malaysian. 
"In Malaysia, letterpress printing was done a long time ago and during our research, we realised that the machines no longer existed here. We had to go to Melbourne to learn more about letterpress printing. The machines we use now are from 1960s Germany, and all the paper and ink we use are imported too," Wong says. 
The company's product range consists of bespoke paper products like event invitations, business cards, tags, coasters, posters and speciality packaging while its ready-to-go range includes greeting cards, postcards and calendars. The products all subscribe to a distinctly vintage aesthetic, with charming and witty messages that are very representative of a local flavour. The postcards are increasingly a popular choice. 
"We are aesthetically very vintage-inspired but our products appeal to the modern consumer," Ch'ng says. "This sort of look is very trendy now, and that suits the nature of our business anyway. Our design direction is honest and genuine, and that is what we want to say with the products too." 
Postcards emblazoned with a Merdeka message celebrating our 57 years of independence, Aidilfitri cards featuring kuih kapit and other festive goodies, a love note expressed with a bottle of Hacks sweets on the cover — these are just some of the more charming imagery used by The Alphabet Press.
The products are sold at authorised retailers, so customers can directly experience the tactile feel of letterpress printing. Repeat customers can then visit the company's website, which contains interesting information on the printing process, to place their orders. 
"So many tourists come to Malaysia now, and they always look for interesting local souvenirs," Leong adds. "There is a huge opportunity there for The Alphabet Press as our products are beautifully made, represent such a unique craft, and our content is very local. That's what makes them such good keepsakes."
Where: Shop at The Alphabet Press or find its list of retailers on thealphabetpress.com. You can also make an appointment to visit its studio at 29A, Jalan Riong, Bangsar, 59100 KL by calling (012) 288 9921. 
This article first appeared in The Edge haven, on Issue #72 April + May 2015.