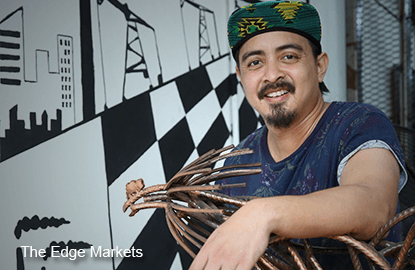 Nizam Abdullah
The Malaysian sculptor who fashions art and home items from metal
WHO: Nizam Abdullah has carved a name for himself in  the local art scene as a sculptor who largely specialises in metal works, although he says he is not limited by his choice of material — he has designed pieces in wood and fibreglass as well, for instance. As a child, he loved to tinker, "opening stuff and trying to put it back together again". His penchant for fiddling with his hands eventually led him to enrol at Limkokwing University of Creative Technology, and he graduated in 2004 with a diploma in visual digital art. 
On why he chose to do art, the 34-year-old artist says, "In art there are no rules… You create your own system or rules of doing things. You can break it up and put it back again."
Nizam, who is also adept in painting, says his art is informed by his highly curious mind, one that is always searching for novel ways to fabricate sculptures and tease new expressions and interesting forms from metal. "I love exploring the physicality of metal, and how you can bend the rules and create something new," he says. 
WHAT: Two kinds of works define Nizam's portfolio, those that are art pieces, and those that are functional. He has done large-scale commissioned sculptures that are displayed at public spaces, commercial and private properties. When it comes to his own explorations, he takes inspiration from a myriad of sources, from nature (tree roots) and animals (horse, fowl and fish) to human anatomy (skull or female torso). One of his most well-known series is The Fighting Rooster, which he began in university and continues to add to whenever he has the time. His ability to fashion hard materials like metal rods into roosters with a sense of movement and fluidity is admirable. 
On the pieces that have a rustic, weathered finish, Nizam says he enjoys the process of achieving that look. "You need to wait. I can make it all shiny, but it's boring. That's the industrial touch, and there's no artist's touch. You need both to turn it into art."
Nizam has created a small collection of items for the home, such as square stools and side tables with the top fashioned from welding metal washers together to form a pattern resembling bubbles and painted over in black, canary yellow or azure blue. On his choice of using washers, Nizam says "I used an industrial material that people may not know and make it into a décor element. It becomes a shape and form. I love to work with these kinds of materials."
The collection also has round mirrors with frames constructed from metal parts. Nizam plans to add more items to the list in the future. 
WHERE: Nizam's home items can be purchased from http://designation.co. To keep up with the artist and his work, visit Nizamsculpture.blogspot.com.
This article first appeared in The Edge haven, on Issue #73 June + July 2015.