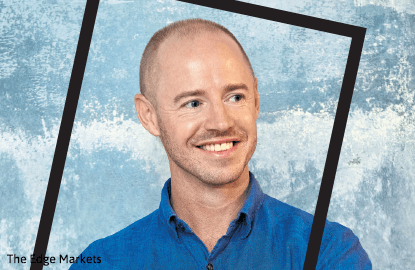 This article first appeared in haven, The Edge Malaysia, on Issue #78 April + May 2016.
WHO: Matt Lorrain's foray into furniture design was almost a fluke. "When I was growing up, I was really interested in horticulture and landscaping, to be honest," he says. "I was constantly drawing in plan — plan views of houses and layouts of gardens." He was all set to enrol in landscape architecture when he had a change of heart at the eleventh hour, realising he was instead attracted to the idea of making something from scratch and channelling his creativity as so.
Lorrain signed up for a course in furniture design at the Royal Melbourne Institute of Technology. Upon graduating, he worked for several years in interior design, refining his concepts in restaurants, bars and residential interiors. A decade ago, he joined Space, an Australian-born showroom that has since become a benchmark for palatial, contemporary furniture in Asia-Pacific.
At Space, his role is largely directorial, ensuring that the diverse and extensive design and cultural influences the company is renowned for are translated into a coherent visual language. He also sets the direction for the collections, seeking inspiration from fashion, interiors, exhibitions and past works that enjoyed particular success. "For each finished piece you see, three have been left on the drawing board and it can be really hard to make that call — I sometimes get attached to designs that ultimately have to be edited out," he says. "I also love the passionate people I work with and constantly meet. In the instance of our manufacturers, I'm working with sometimes third or fourth-generation furniture makers and their commitment to quality is inspirational. Our design team is really wonderful; they have immense experience and are open to almost any new idea."
Materiality, touch and proportion are key considerations in furniture design, according to Lorrain. He emphasises using honest materials, such as timber, fabrics and leathers, sourcing them sustainably and designing them candidly to showcase their inherent character. "Aesthetically, I like interesting shapes, surfaces and fabrics that invite people to touch — that, to me, is what good design is, something that catches the eye and invites me to use it," he says. "Good proportion is an important part of that process: a piece has to sit comfortably alone or relate well to other pieces."
WHAT: Recently, Lorrain and his colleagues at Space came to the conclusion that to appeal to the international clientele the group has in mind, they should create a dedicated and distinct collection unbound by geographical borders or cultures. SP01 was developed with a singular aesthetic and position, incorporating diverse design influences unique among other high-end furniture brands. "We have elements of Scandinavian, Japanese and, of course, Italian design within SP01," says Lorrain. "Our Australian perspective is also present and we use this as a 'lens' for editing and giving the collection focus. That, to me, feels quite natural, especially in this region, and for this I include Southeast Asia. We set out to create a collection that was international and worked across many environments. Our focus on sustainability is evidently setting us apart from the competition."
Lorrain himself developed the original brief, including the designs, cultural references and typologies the group had in mind, and sent this to the contemporary Fattorini + Rizzini + Partners studio, a vibrant team whose cosmopolitan backgrounds inform their varied aesthetics. A partnership was struck and the resultant collaborative collection exemplifies the philosophies of both entities. Rigorous design and honest materials fashion chairs, sofas, armchairs, tables and coffee tables in solid ash, sculpted hand-finished wood, matte-coloured glass and detailed leather and fabric upholstery. 
"We have used a palette featuring soft pastels contrasted with neutrals and black — it's very fresh," says Lorrain of the first collection launched in February. "I'm really pleased with it and this is only the beginning — we will be releasing an extension in September. I love that you can imagine any of the pieces being used in Tokyo, New York, London, Hong Kong, Sydney — basically anywhere in the world."
WHERE: SP01's collection is exclusively available at the Space furniture showroom at The Intermark, Kuala Lumpur.