This article first appeared in City & Country, The Edge Malaysia Weekly, on March 8, 2021 - March 14, 2021.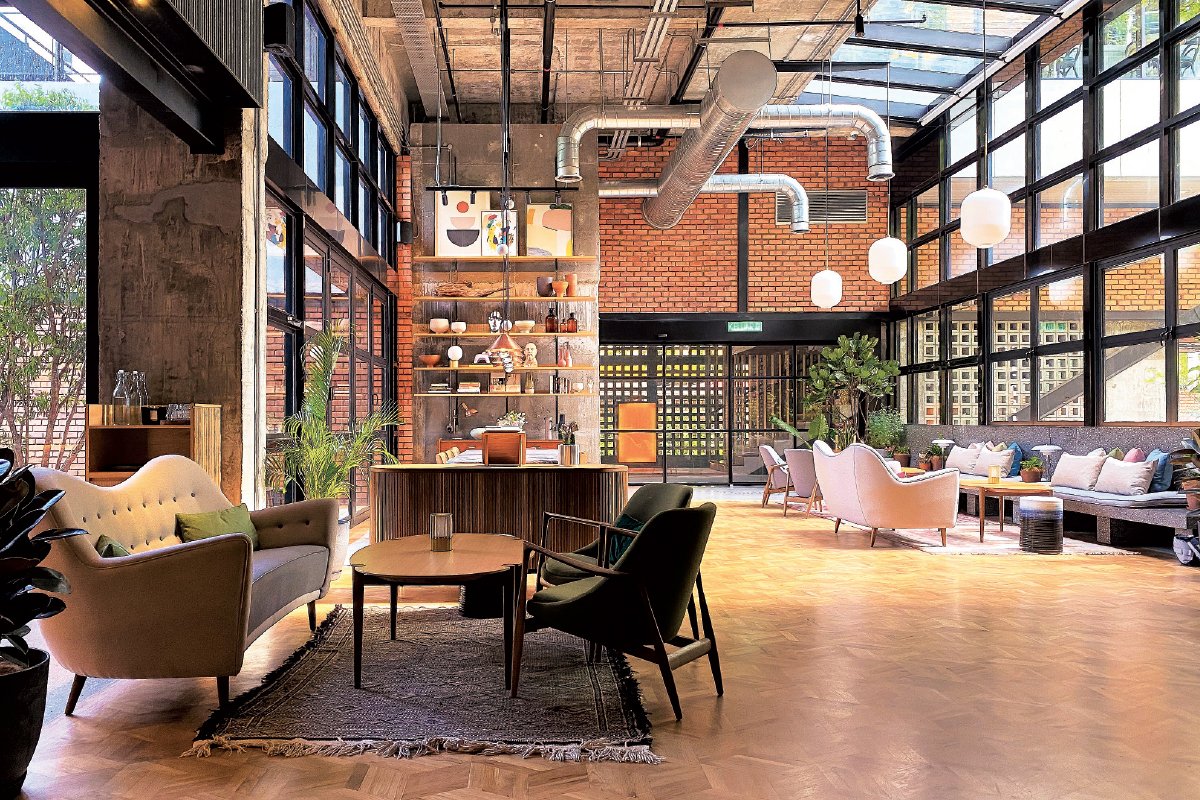 For Masyerin M Nor and Norashidah A Wahab — the husband-and-wife team helming Domaine Architects, architecture is the marriage of art and science. While it is important to focus on the arts side (aesthetics), they believe the science part is equally crucial to ensuring that buildings are practical and easy to use, and it is important to be socially and environmentally responsible at the same time.
They believe the job of an architect does not end upon the completion of a project, but his or her responsibility lasts for the lifespan of the building. Masyerin says, "As architects, we are responsible for a building until the day we die."
In 2004, Masyerin established Masyerin MN Architect with a socially responsible yet innovative and creative architectural intent. At the time, Norashidah was working with a multinational company (MNC). She joined her husband in 2009, and the firm was renamed Domaine Architects.
Masyerin explains that the name "Domaine" is a combination of the scrambled letters of his and Norashidah's names. "'Domaine' also means it is what we do and what we know … It is our expertise and we are good at it. When it comes to design, we share the same passion and our goal is to share that passion with our clients and users, while being socially and environmentally responsible," he says.
Meanwhile, Norashidah explains that she travelled frequently when she worked with the MNC, but the travelling became difficult after the birth of their firstborn. "That was when I joined him and our partnership started [and] I obtained my architect's licence.
"In terms of business, Domaine Architects is not a big company. Our headcount won't go beyond 20 people at any time. Our management style is more family-oriented; so, we have staff who have been with us for more than 10 years and our turnover is pretty low. We are fortunate in that and we'd like to keep it that way. Everyone works as a team. We believe what you give is what you will get back."
Lean and mean
Masyerin says this business decision has also determined the company's direction. He notes that the firm focuses mostly on a few niche projects, rather than many projects at any given time. 
He believes that, once a partnership is formed, it is a journey of many years; it is important for all stakeholders, such as clients, consultants, contractors and architects, to be able to work well together.
"Some projects can go beyond 10 years … It is a long journey, so the selection of clients is very important and we are fortunate to have good ones to work with over the years. We will take time to know new clients and also allow time for them to get to know us. In the end, we might not be the right architect for their projects. It is like dating before a serious commitment," he says with a smile.
Norashidah explains that Domaine Architects is a design-based, rather than production, office. At times, the partners have to reject some jobs, as they are not familiar with the type of design the potential clients have requested. 
She says: "Sometimes, we couldn't do what they requested because it is not what we are good at. We can't take the job just because someone is paying us … It is unfair to them. We are grateful that we have clients who share the same passion and the outcome is a product that people appreciate."
Masyerin reckons that the synergy with clients, consultants and contractors is what makes a project successful. For example, one of Domaine Architects' projects — KLoé Hotel in Bukit Bintang — won The Edge Malaysia-PAM Green Excellence Award 2020. 
The firm's projects include BackHome backpacker hostel in Kuala Lumpur, Aqua Villa in Shah Alam and Kapas Heights in Bangsar.
The aesthetic and the pragmatic
Domaine Architects believes architecture is a marriage of art and science, with art being the aesthetic side of a building and science, the pragmatic side. A building must have a balance of both components.
Masyerin says: "The aesthetic part is to make our buildings unique, different and identifiable, and we like to spend time experimenting with new design ideas and solutions. The pragmatic part is important to us … It is about being socially and environmentally responsible, and a building has to relate to the site on which it sits. It needs to have as minimal a carbon footprint as possible. Green design — especially with passive green features — is important, as it will offer users [a more comfortable environment].
"Good designs are appreciated by users when they can understand what we are trying to create. There are buildings that you don't feel comfortable in: for example, when there is insufficient lighting, poor ventilation or extreme air-conditioning. All this occurs when the building is not designed well. Users' appreciation goes beyond aesthetics; a building should last long and be practical and future-proof, as it should be for long-term use."
It is also important for the buildings to correspond to the Malaysian culture and weather. He says our country has a unique culture, which can be portrayed in architecture. Buildings with a Malaysian identity and that are built according to the climate are more practical in the long term.
Norashidah says the firm wants to leave a good footprint in all its projects, where users understand and appreciate the buildings. At the same time, the building is easily maintained throughout its lifespan. 
"Sometimes, the outcome is not what the architects want … Things get changed halfway and most architects face this problem. They might have a good design, but the main problem is the budget. From a detailed design, it becomes simplified and, alongside other factors over the years, the design changes. It takes a lot of effort to stick to the original. Staying focused, motivated and passionate is very important to move ahead, because it is easier for us to take the easy way out," she explains.
"So, if young people want to take up architecture, they need to toughen up. They need to have the passion to go far and succeed … Architecture is a six-year degree, as long as medicine, and it will take more than 10 years altogether to get the licence to become a professional architect."
Masyerin notes that there are just over 2,000 registered architects in Malaysia — a small number compared with other countries. 
"It doesn't necessarily mean it is good for us because there is less competition. It means we are not that relevant and the number is even lower than orangutan, so we are an endangered species," he quips. 
"Most of these 2,000 architects are in the big cities. We need more architects and for the general public to be more aware that architects are needed in all development projects to ensure project compliance and safety. We see cases in which people were trapped in a fire, probably because there was no architect to supervise the design. These cases are mostly in the outskirts."