This article first appeared in City & Country, The Edge Malaysia Weekly, on May 27, 2019 - June 02, 2019.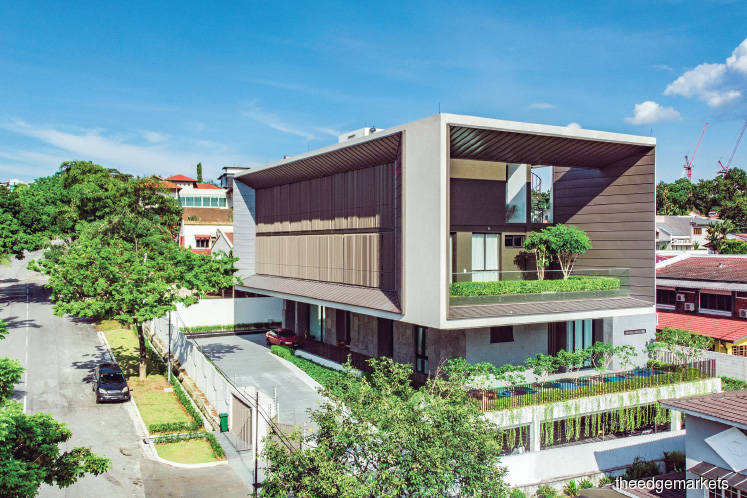 Completed in May last year, C-House is a 3-storey, 12,000 sq ft home designed by DCA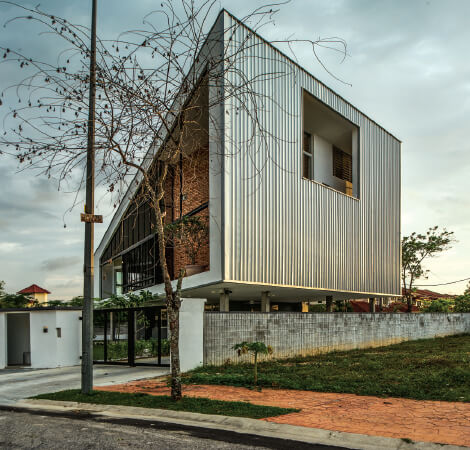 38Mews in Kota Damansara is one of the firm's noteworthy projects
Neatly displayed and stacked in transparent acrylic boxes, an array of ivory-coloured 3D-printed model houses greet us at Design Collective Architects' (DCA) studio in Petaling Jaya, Selangor. Right off the bat, it is clear that the houses had been designed with meticulous care. They are models of the company's projects, according to David Chan and Chan Mun Inn, founders and directors of DCA.
"Our design philosophy is to create bespoke architecture … tailored to the wants and needs of our clients," says David. "We focus on issues and processes concerning customisation in order to create the bespoke designs. We consider ourselves a niche firm.
"The [design] process begins with accumulating a synthesis of site, programme and people. The source of inspiration for a project comes from the special relationship between DCA, our clients and our clients' relationship with their personal circumstances," he says, showing City & Country a series of comprehensive Q&A sheets filled in by the company's past clients.
"Another important thing for us is to add value and timelessness to our designs," David continues. Mun Inn concurs, saying, "The whole point is that architecture should not be cluttered. Life is busy enough as it is, and architecture should not add to it. [The design] form should be simple and easily recognised. Generally, our aesthetic is modern and functional."
"Having identity in architecture is important. If a building is memorable and can be sketched in five minutes, such as the iconic Petronas Twin Towers, that to us is an indication of good design," says David.
"In our case, we have had clients who were able to describe their houses to their respective guests. For example, a house that is shaped like a black box. We believe in creating homes with their own unique identity and landmark quality," he adds.
Founded in 2003, DCA specialises in the design of houses, ranging from terraced homes to mega mansions, and has a prominent clientele.
The firm, founded by David and Mun Inn — with Andrew Low and Wong Pei San joining later — has completed more than 50 houses to date. It also has an associate design practice called Essential Design Integrated, which handles the interior design of its projects.
"Mun Inn and I first met at Limkokwing University Malaysia. We started in a [school] studio. I was a teacher and he was a student. We then began collaborating and subsequently formed DCA," says David. "Today, we have a total of 60 staff in the group," reveals Mun Inn.
DCA's notable projects in the Klang Valley include the Birah House, Benoit House, Skan House, J-House, Miranda House, Carphenie, Ambi House and Paros.
The firm has won a number of accolades, including The Edge/Haven PAM Dreamhome Award, PAM Architectural Awards and CIDB QLASSIC highest achievement awards. Its project, the C-House, exhibits the qualities it values.
The C-House
Sited on two plots of land in the mature, affluent residential area of Damansara Heights is the C-House, one of DCA's latest projects. The building has a sculptural and large, boxy structure. When viewed from a distance, it appears to be floating in the air. The house has clean lines, is divided into private and public areas, and has outdoor gardens and open courtyards.
"The design, in essence, comprises two rectilinear boxes that are placed on top of one another but shifted out of alignment. This shifting of the boxes created a covered veranda on the ground floor and a terrace on the upper level," says David.
"This shift also broke the continuity of the vertical core, allowing for a secured control point and the physical separation of the public and private spaces along the stair core," adds Mun Inn.
Completed in May last year at a cost of RM7 million, the C-House has a total built-up of 12,000 sq ft. The 3-storey house has five bedrooms, a basement, formal living area, dry kitchen, wet kitchen and swimming pool.
"Our client is a young couple who bought the two plots of land with the intention of building a home for their growing family. The house is meant to cater for their long-term needs, including having sufficient space and providing flexibility," says David.
In line with the firm's practice of designing bespoke architecture, it produced a comprehensive and extensive design brief, with details on "rooms for grandparents, maid's quarters, guest rooms and home offices as well as the planning considerations to adhere to for their specific feng shui placements, orientations and guidelines", he adds.
Mun Inn says, despite its modern minimalist feel, the C-House is suitable for our tropical climate. "The C-House adopts a modern minimalist form with the principles of tropical architecture and design. The natural ventilation of C-House is achieved by restricting the building's depth to ensure effective crossing of fresh air throughout the house.
"Operable sliding windows and doors are located on opposite sides to allow air to move through the building. Internal voids and staircases are designed as heat stacks to extract warm air upwards to be exhausted through the openings above."
"The front of the house faces north-west and is considerably warm under a hot afternoon sun. To manage the natural light and avoid excessive heat gain, vertical sun shades were introduced along the north-west façade (front elevation). There is also a landscaped garden that provides shade on the south-western side," adds David.
Apart from C-House, David and Mun Inn highlight J-House as a notable project. "The J-House is actually my first house. It was designed 10 years ago and has won a few awards," says David. Sited on a 22ft by 70ft parcel in Subang Jaya, the terraced house is unique because of its simplicity, open spaces and double-volume height. It adopts the "bungalow" sensibility that the firm's designs are known for.
Meanwhile, the design duo also lists 38Mews in Kota Damansara as a noteworthy project. "It is a simple, 2½-storey terraced house that appears larger than what it is [about 3,000 sq ft with 6,000 sq ft of green space]. Completed in 2014, the entire structure is lifted off the ground," notes Mun Inn, who owns and occupies the house. Similarly, 38Mews has double-volume height, green spaces and an edible garden.
Other than houses, DCA has a number of ongoing and upcoming commercial projects. "About eight years ago, we started venturing into commercial projects. We have different teams working on the houses and the commercial projects here," notes Mun Inn.  The projects include Yolo Signature Suites by OCR Properties Sdn Bhd, UOB Tower 2 by UOB Properties (KL) Bhd and Bokor Highlands in Cambodia. "We will continue to push back the boundaries and break the standard typology of a house or a development," concludes David.