This article first appeared in City & Country, The Edge Malaysia Weekly, on August 19, 2019 - August 25, 2019.
Park Regent sits on a prime 5.6-acre parcel overlooking the lake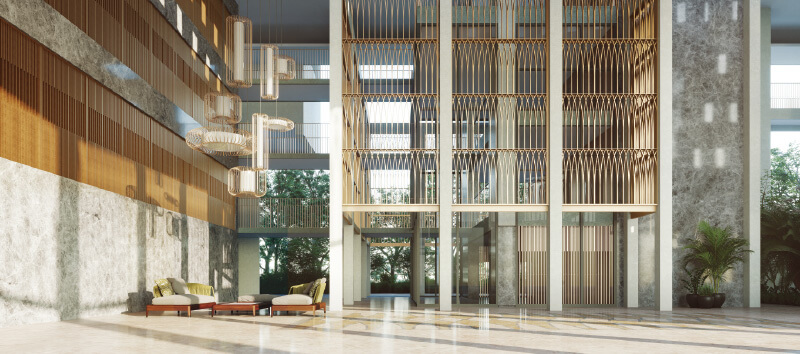 an artist's impression of the lobby and unit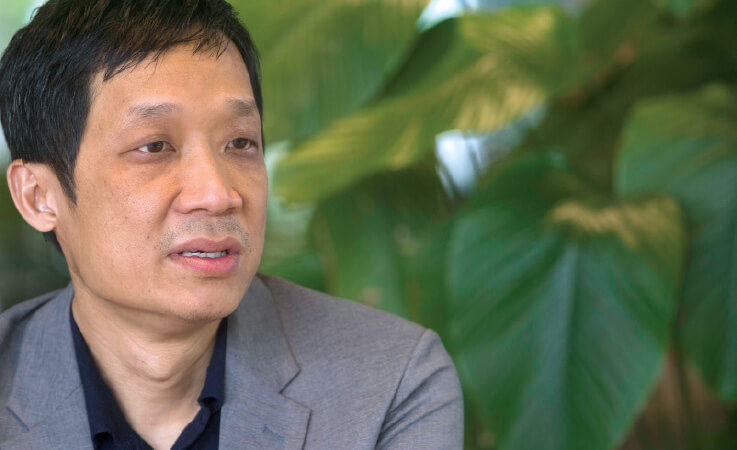 Lee: With Park Regent by the water, it is certainly a model of high-rise living at its finest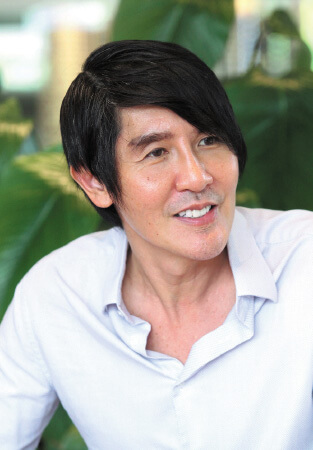 Tay: It is not just about architectural design. It is about landscaping, terrain and communal spaces.
Christopher Lee's interest in urban and architecture history began a long way back. The founder and principal of Serie Architects believes architecture's ability to act as a framework or mute background turns it into an open platform, which allows the richness and diversity of life to unfold.
Serie Architects has offices in London, Mumbai and Singapore. The UK-based Lee was originally from Taiping, Perak. He graduated from the prestigious Architectural Association School of Architecture (AA) in London and was a recipient of the RIBA President's Medal Commendation Award. Lee then received a Doctor of Philosophy in Architecture and Urbanism from the Berlage Institute and Delft University of Technology in the Netherlands.
In 2007, he set up Serie with Mumbai-based architect Kapil Gupta. Serie was awarded the BD Young Architect of the Year Award and was named one of 10 visionary architects for the new decade by the Leading European Architects Forum. It was also selected by Icon — one of the world's leading architecture and design magazines — as one of the 20 Essential Young Architects in the world in 2008.
The firm's projects include the National University of Singapore's School of Design and Environment, Jameel Art Centre in Dubai and Oasis Terraces in Singapore.
A sense of wonder
Serie has started its maiden project in Malaysia — ParkCity Group's Park Regent by the water in the popular Desa ParkCity. Lee's mindfulness of existing typologies and rethinking of the urban landscape feature in the development.
Park Regent by the water is a joint venture between ParkCity Group and CapitaLand. The freehold development sits on a prime 5.6-acre parcel overlooking the lake. It comprises 505 units in two towers with built-ups of 872 to 4,887 sq ft. Prices start at RM1,100 psf and the project was recently launched.
Lee has completely subverted the most dominant urban architecture in Kuala Lumpur — the car park podium — by amalgamating it with the base of the tower, disguising the car park podium as a cascading hill. This creates a more interesting and picturesque landscape within the development.
The architect was impressed by the way landscape is integrated into every corner of Desa ParkCity, allowing him to draw from the Chinese principle of borrowed terrain, which is the philosophy of shaping the background to look like a garden.
"The view from the top of the hill merges with that of the larger site, including the lake and surrounding vistas ... I think it is these gestures that make communal and city living apparent and visible … So I think architecture can bring forth this sense of wonder," says Lee.
Park Regent by the water boasts cascading towers, which Lee believes add a certain rhythm to the otherwise tall buildings. The cascading effect creates intimacy and, at the same time, gives a sense of enclosure that defines the open spaces and frames the vista onto the lake, he says.
The thinness of the towers allows each unit to have a vista from the living area to the dining room as well as natural ventilation and light from both sides.
Lee hopes to continue innovating within the tradition of high-rise living, noting that his generation of architects are more attuned to the culture, environment and history of every city they work in compared with their predecessors.
"With Park Regent by the water, it is certainly a model of high-rise living at its finest," says Lee.
A fantastic space
Interior designer Peter Tay is equally impressed by Desa ParkCity.
"Desa ParkCity is very beautiful in itself, [and] very well manicured. It is not just about architectural design. It is about landscaping, terrain and communal spaces. You see this fantastic space that you don't find elsewhere in KL and you feel an intrinsic value in it," he says.
The Singapore-based Tay is also an AA graduate and the design director of Studio Peter Tay. He is known as a celebrity interior designer, whose clients are Zhang Ziyi, Zoe Tay, Wang LeeHom and Stefanie Sun, among others.
Some of his works include boutiques and showrooms for Armani Casa, Louis Poulsen, Manolo Blahnik and Richard Mille, and luxury show flats for
GuocoLand, Hotel Properties Ltd and SC Global.
Tay has also won a number of awards, including the highest accolade in Singapore, the Designer of the Year at the President's Design Awards in 2014.
Currently, he is designing the interior of two show units for Park Regent by the water as well as the communal spaces, such as the porte-cochère, lift lobby, corridors to the units and the residents' club.
Being able to listen to his clients and then using design language to interpret what they want is key to his success.
"There is no right or wrong in design. The advantage is I have done projects, so I can advise clients on how to execute [things] in a well-planned manner. What's important is that we're geared towards the same goal, so, in the end, what I design is a space they like and enjoy.
"I create the scene for the space, volume and context so there is almost a story. So, when you walk into a home, you understand this is the owner and this is how he likes his space to be," says Tay, who likens his role to that of a movie director.
For this project, Tay is placing functional furniture in a family playground where the children can play while the parents sit and catch up with friends.
"I feel there is life in this project as the landscaped spaces are brought into the design," he adds.
Tay was invited by CapitaLand to pitch for the project. The job marks two firsts for the architect — working with CapitaLand and designing a show flat in KL.
"I thought it would be a good start in KL because CapitaLand is well known in Singapore. As it has teamed up to work with an esteemed developer in KL, I had no doubts that Park Regent would be a high-end project."
Enhancing the spatial parameter
The interaction between space and architecture in Park Regent by the water is meaningful for Tay as Lee is a fellow AA alumnus. He notes that the architecture of the building already creates the volume of its space and the challenge is to use a hand-to-hand design approach and complementary materials that enhance that spatial parameter.
Tay, who sums up his style as classic, modern and luxe, believes that materials and colours play a crucial part in capturing the character of a home and its inhabitants.
"For this project, I proposed the materials to be used in the living room and toilet. Even if a space is bare, just one material can define it and make you say, 'Wow, this is very nice'. I love marble. Hermes Grey Marble has strong veins and is almost a piece of art in itself," says Tay.
Size is immaterial to Tay when it comes to making a space for clients to feel at home. Park Regent by the water's bigger units enable interesting permutations and better utilisation of living areas, he adds.
He sees homes where multigenerational families gather during the weekend, and the smaller units are ideal for those with young children, given the schools and many facilities nearby.
Tay aims to wow clients who enter his Park Regent show units.
"They will freeze for a moment and then stay a little longer. Then you know you have succeeded. I want them to remember, 'Hey, this is something new'. When clients are happy with what I do, that's the happiness I get," says Tay.