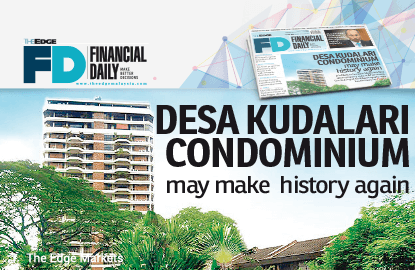 This article first appeared in The Edge Financial Daily, on April 5, 2016.
PETALING JAYA: Tan & Tan Developments Bhd's Desa Kudalari condominium — Malaysia's first condominium when it was completed over 30 years ago — may break new ground once more as it is likely to become the country's first strata property to be sold en masse.
The freehold development's 2.97ha land area is expected to fetch RM2,000 to RM2,500 per sq ft (psf), according to a marketing agent with C H Williams Talhar & Wong Sdn Bhd (WTW), which will be working with Desa Kudalari's management council to represent all 186 unit owners on this collective sale exercise.
The 32-year-old condo, which is nestled between Menara Tan & Tan and Lembaga Tabung Haji's office tower, is located in Kuala Lumpur City Centre.
"Land is scarce in the Kuala Lumpur Golden Triangle area. Currently, the market price of development land in this area ranges between RM2,000 and RM2,500psf. The piece of land which Desa Kudalari is situated on might be able to fetch this selling price range for its prime location," the agent told TheEdgeProperty.com.
In contrast, Tan & Tan co-founder Datuk Tan Chin Nam acquired the land for seven ringgit psf in 1971, according to the company's website.
However, the agent did not disclose further details of the land sale process or any possible talks held with potential buyers.
Tan & Tan executive director Teh Boon Ghee said WTW is expected to call for expressions of interest in the property at the end of April, and will put the property up for bidding once suitable buyers have been shortlisted.
The sale will take at least a year to complete due to lengthy processes such as transfers of titles, he told TheEdgeProperty.com.
Teh explained that the term en masse sale was used because there is currently no legal provision for en bloc sales of strata properties, unlike in Singapore.
According to Singapore's Strata Title Board, an en bloc sale or collective sale is a combined sale by the owners of two or more property units to a common purchaser.
The most common en bloc sale is the sale of all the units in a strata or flatted development to a purchaser. The sale proceeds are then divided among all the unit owners. Other variations of en bloc sales include the sale of all units in a development together with an adjoining development or landed properties, said the board on its website.
Desa Kudalari is one of the flagship developments of Tan & Tan and also symbolises the company's good foresight in predicting the market's trend towards high-rise properties.
The condominium was named "Kudalari" as it offered views of the Royal Selangor Golf Course and Turf Club, which has now been replaced with the KLCC Park and the Petronas Twin Towers.
According to the company's website, it comprises two blocks of 19-storey condominium that were completed in 1984, containing 187 units with built-up sizes ranging from 800 sq ft to 5,152 sq ft.
Rumours of en bloc sales surfaced as early as 2008 on speculation that the developer might buy back the units from owners to redevelop the condominium.
According to data from TheEdgeProperty.com, a 818 sq ft unit in Desa Kudalari was sold for RM1.02 million or about RM1,246psf in February last year.
Zerin Properties chief executive officer Previndran Singhe said Desa Kudalari was put up for sale since two years ago. The en masse sale exercise could be a good way for the owners to unlock the potential of their properties.
"Buying existing old developments and turning the land into a new development could be another way for developers who are interested in development land in city areas," he added.
Association of Valuers, Property Managers, Estate Agents and Property Consultants president Datuk Siders Sittampalam concurred that this exercise could be a way of sourcing development land. However, he noted that pricing and challenges in the process may deter developers from buying property for redevelopment on an en masse basis.
"The price of land and existing high-rise properties in the city centre is not cheap. Unless the development value can exceed the land and construction costs, it is likely that not many developers will consider this option," he explained.
Sittampalam said another challenge is to get all the owners of the high-rise residential project to agree on an en masse sale as not every owner will have the same objective to sell their property.
"Compared with an en masse sale, acquiring land from owners of landed properties might be more viable as the developer will only deal with a single owner and not a big number of sellers," he added.