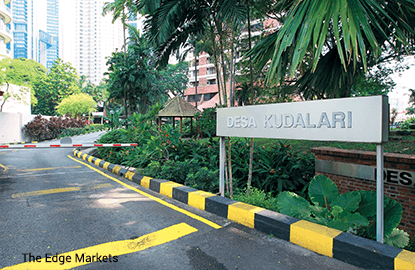 This article first appeared in The Edge Financial Daily, on May 11, 2016.
PETALING JAYA: The en-masse sale of the 7.35-acre (2.97ha) freehold Desa Kudalari condominium in the heart of Kuala Lumpur has attracted 12 local and foreign companies to participate in the bidding process, according to property consultancy firm CH Williams Talhar and Wong Sdn Bhd (WTW).
"All of the bidders are very strong parties … the who's who of the industry," deputy managing director Danny Yeo told TheEdgeProperty.com.
"In this environment where most property developers are cautious, we could still have this number of strong interest. To me this is fantastic as it shows that industry players recognise the long-term value of Desa Kudalari condominium land," he said.
Yeo declined to name the interested bidders, only saying that they were both local and international firms, and some of them owned properties and land near Desa Kudalari.
There is speculation that Tan & Tan Developments Bhd, the developer of Desa Kudalari, may buy back the land for redevelopment as its office is located right next to the condominium.
Besides Tan & Tan Developments, developers who have property near the area include Eastern & Oriental Bhd (E&O), GuocoLand (Malaysia) Bhd, Mah Sing Group Bhd, BRDB Developments Sdn Bhd and KLCC Property Holdings Bhd's subsidiary Layar Intan Sdn Bhd.
Submission of expression of interest (EOI) for the Desa Kudalari condo development closed on April 27.
The condo's joint management body (JMB) will hold the next town hall meeting on May 22 to draft an agreement for the bidders to comply with.
Yeo said the JMB's legal counsel will be present at the town hall meeting to answer questions by individual owners on related issues, such as tax implications, and sale and purchase agreement details.
He noted that the interested parties are now  proceeding with their due diligence to decide on their bidding price, as they are required to submit the pricing bid by end-June this year.
According to the proposed timeline, the execution and binding agreements are expected to be completed by October this year.
"The process might be a bit draggy, but it's expected and planned as there is a need to address all the owners' queries. We want to make sure the corporate governance and transparency process are well adhered to, in order to ensure that the process could gain the support and confidence of the sellers," Yeo explained.
Desa Kudalari JMB has engaged WTW to act as their representative to seek potential buyers for their properties in April 2016.
Yeo said an earlier survey showed that over 90% of the 186 unit owners have showed their interest to sell their units through an en-masse transaction.
The 32-year-old condo, which is nestled between Menara Tan & Tan and Lembaga Tabung Haji's office tower, is located in Kuala Lumpur's city centre.
According to WTW in an earlier report on the en-masse sale, the condo has an indicative value of between RM2,000 and RM3,500 psf.
Yeo noted that if the transaction is successful, it will be the first en-masse sale in Malaysia, paving the way for owners of similar properties to unlock the value of their assets.