This article first appeared in Personal Wealth, The Edge Malaysia Weekly, on October 7, 2019 - October 13, 2019.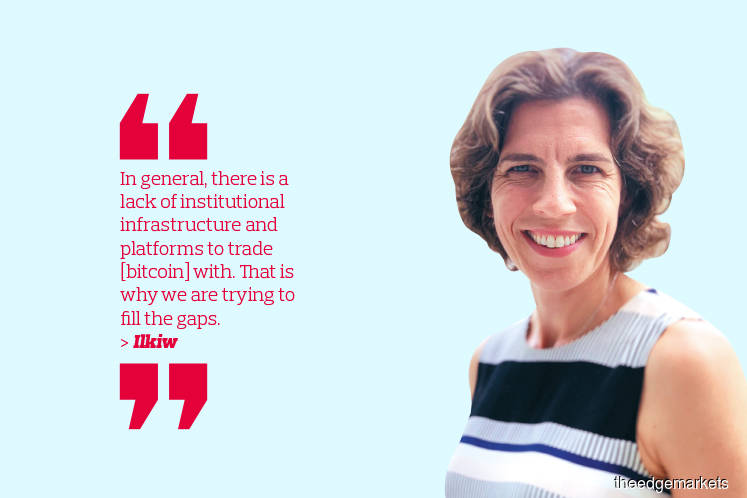 More institutional investors are expressing interest in trading bitcoin futures, says Jennifer Ilkiw, vice-president for Asia-Pacific at Intercontinental Exchange Inc (ICE).
"We have a lot of high-frequency traders who are interested in it. There are also institutional fund managers and brokers calling us to say that they want to trade bitcoin futures," she adds.
In fact, Ilkiw says these futures contracts have engendered more interest than anything she has traded in the past 12 years. However, institutional investors are unable to trade bitcoin futures contracts with many of the existing exchanges as they are unregulated entities, she points out.
Ilkiw says many of these exchanges do not have risk management procedures or a comprehensive market surveillance and supervision system to spot market manipulation.
A reputable exchange that offers such products is the Chicago Mercantile Exchange. The Cboe Global Markets (CBOE) launched its bitcoin futures in December 2017, but ceased to offer it in June this year.
In March, the CBOE announced that it was assessing its approach to offering bitcoin futures contracts and did not rule out the possibility of offering other cryptocurrency derivatives going forward. A CNBC news report said the CBOE's decision to stop offering the product could be due to a drop in demand in the retail market last year when bitcoin prices crashed to about US$13,000 from the peak of about US$20,000.
"In general, there is a lack of institutional infrastructure and platforms to trade [bitcoin] with. That is why we are trying to fill the gaps," says Ilkiw.
That is why ICE, together with other investors, set up Bakkt Trust Company LLC (known as the Bakkt Warehouse) to offer institutional investors bitcoin custody services and "physically delivered" bitcoin futures contracts, she adds.
These are offered through a partnership between Bakkt, ICE Futures US (which provides futures and options trading) and ICE Clear US (which handles confirmation, settlement and delivery of transactions) starting Sept 26.
"Our clients will trade bitcoin futures contracts on ICE Futures US and those transactions will be cleared on ICE Clear US. The physical clearing is done through the Bakkt Warehouse," says Ilkiw.
Bakkt's bitcoin futures contracts are required to deliver bitcoins to buyers on the settlement date. If the buyers do not close their positions before the settlement date, they will receive bitcoins in their custody account by paying the agreed price based on those contracts. However, bitcoin is a virtual asset, not a physical one, as it consists of lines of code.
Differences between Bakkt's and CME's bitcoin futures contracts
The physically delivered feature of Bakkt's bitcoin futures contracts is one of the main things that differentiates these from those of CME, says Ilkiw. She adds that CME's bitcoin futures contracts is a cash-settled product, where the sellers are not required to deliver bitcoin to buyers on settlement dates.
"We believe that physically delivered contracts ensure convergence between the price of futures contracts and the underlying assets at the end of the month, which help increase market quality," says Ilkiw.
She adds that Bakkt bitcoin futures contracts allow investors to trade one bitcoin per contract and they can trade up to 100,000 contracts if they want. CME's futures contracts, on the other hand, allow investors to trade five bitcoins per contract.
On top of this, Bakkt offers investors two types of bitcoin futures contracts — daily and monthly. The settlement date for its monthly contracts is on the third Wednesday of the month and the delivery of bitcoins takes two days. "This is no different from trading a power contract such as one for palm oil," says Ilkiw.
Bakkt is regulated by the Commodity Futures Trading Commission, an independent agency of the US government that regulates futures and options markets. The New York State Department also has to approve the establishment of financial services.
Bakkt's launch, which supposed to be held in November last year, was delayed due to the process of obtaining the necessary regulatory approvals. Ilkiw points out that these approvals are what differentiates its bitcoin futures contracts from those offered by other exchanges.
She says the Bakkt Warehouse that stores bitcoin was built using the cyber and physical security protection that supports the New York Stock Exchange — the world's most actively traded market. She adds that the trading of Bakkt's bitcoin futures contracts are monitored by the ICE Futures US' market surveillance and supervision team. The futures contracts are also covered by the existing guaranty fund of US$35 million at ICE Clear US and bitcoins kept in custody at the Bakkt Warehouse areprotected by US$125 million in insurance.
She says these protection measures are necessary as ICE has a large pool of investors and the amount of money involved in a single default could be huge. Just last year, a Nordic power trader lost US$133 million in a trade, causing a US clearing house and its clearing members to take a huge hit.
"The existing exchanges are relatively small and may only offer cryptocurrency futures contracts to retail investors. An investor may lose a lot of money trading with them, but the counterparties will still receive their money while the exchange continues to operate," she adds.
Preparing for the future
While some major exchanges may adopt a wait-and-see approach before getting involved in bitcoin, Ilkiw says ICE launched Bakkt to position itself for the future trends of digital assets, including other asset-backed and non-asset-backed cryptocurrencies.
The Bakkt Warehouse that is used to store bitcoin can offer cryptocurrency custody services in the future. Bakkt and ICE will be able to offer futures contracts to investors with other physically delivered cryptocurrencies. "We will be offering more products over time even though it is just bitcoin for now. We want to offer custody services for digital assets in general as well," says Ilkiw.
She believes that the market will look very different in the next 5 to 10 years, after more people adopt cryptocurrencies and blockchain technology matures. More cryptocurrencies will emerge and be traded on various exchanges while new cryptocurrency exchanges that are already regulated or not regulated today could become competitors.