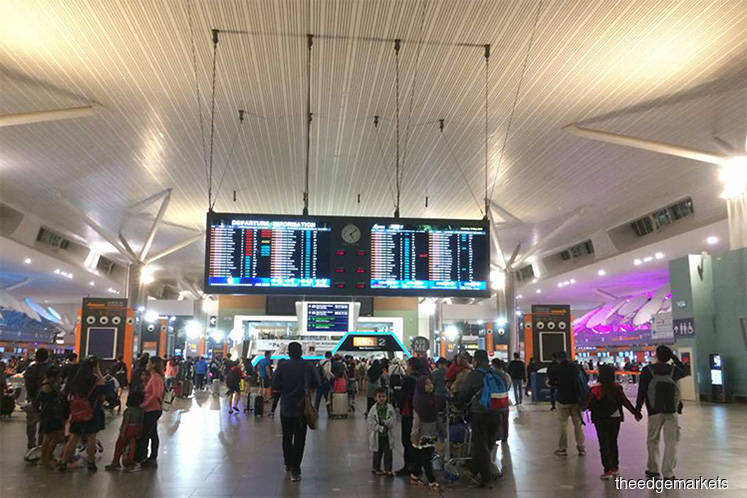 KUALA LUMPUR (Aug 2): Putrajaya has gazetted an order to begin the implementation of the controversial departure levy for departing air travellers on Sept 1, with rates ranging from RM8 to as much as RM150.
The intention of the new tax is to raise revenue for the government, whose debt and liabilities stood at RM1.09 trillion as at end-2018.
According to the Departure Levy (Rate of Departure Levy) Order 2019 gazetted by the federal government on July 31, passengers flying on economy class to Asean destinations will have to pay a departure levy of RM8 and RM20 for those flying to destinations beyond Asean.
Passengers flying on classes except economy to Asean destinations, meanwhile, will pay a departure levy of RM50 and RM150 for those flying to destinations beyond Asean.
The order describes Asean countries as Brunei, Cambodia, Indonesia, Laos, Myanmar, the Philippines, Singapore, Thailand and Vietnam.
The word "economy class" is interpreted as any class of flights advertised, sold and provided by the airlines in the categories that use economic terms or the equivalent, or that offers the lowest package compared to other packages.
Under the order, the federal government also specified five categories of people that are exempted from paying the levy, namely infant and toddler below 24 months, transit passengers who are not staying more than 12 hours, pedestrian, crew on duty, and person who drives or ride any type of vehicle for personal use including aircraft or vessel and any passenger in or pillion rider on such vehicle.
Parties who are exempted from the requirement to register and charging the departure levy are operators of any water or land vehicle; commercial vehicle operators who provide chartered air transport services for oil rig workers, platform or the like; and any government operating-vehicles carrying passengers out from Malaysia.
The Edge Financial Daily had on June 28 reported that the government was expected to gazette the departure levy in July, for implementation in September.
The newspaper quoted sources as saying that the rates will be segmented to passengers flying to Asean countries and those beyond, and further tiered into seat classes.
The Departure Levy Act was initially scheduled on June 1, but was subsequently postponed.
Initially, the charges proposed during Budget 2019 were RM40 for outbound air travellers to non-Asean countries, and RM20 for those flying to Asean countries. 
Since the new tax was proposed in November last year, AirAsia Group Bhd and the International Air Transport Association (IATA), a grouping of 290 airlines including Malaysia Airlines and Malindo Air, had been urging Malaysia to reconsider the imposition of the departure levy on air travellers leaving the country.
Based on IATA's analysis, the introduction of the levy would reduce the number of international air passengers departing Malaysia by up to 835,000 per year, decreasing the aviation sector's gross domestic product contribution by up to US$419 million and see a reduction of up to 5,300 jobs.
Malaysia will not be the first country to impose a departure levy. Travellers leaving Japan now pays a "Sayonara levy" of 1,000 yen (RM36), while those flying out of Singapore will have to pay S$47.30 starting July 1, up from the current RM34.